1st John Jones Research Fellow
Connie Hong-Hung Keung, MD — 2012-2013
Mentors: Dr. Jessica Kandel (R. Peter Altman Professor and Interim Chief, Pediatric Surgery Division), Dr June Wu (Assistant Professor, Division of Plastic Surgery).
Dr. Connie H. Keung was the recipient of the first John Jones Research Fellowship for her research entitled "Lymphatic malformations (imaging and treatment)" under the tutelage of Drs. Jessica Kandel (R. Peter Altman Professor and Interim Chief, Pediatric Surgery Division) and June Wu (Assistant Professor, Division of Plastic Surgery).
At that time, Connie, was a 3rd year resident in General Surgery at New York Presbyterian-Columbia Campus, doing a 2 year Clinical ECMO and Research Fellowship in the Division of Pediatric Surgery at Morgan Stanley Children's Hospital of New York.
After graduating with a Bachelor of Science in Chemistry and International Relations from Wheaton College (2000-2004), she attended the Medical School for International Health at Ben-Gurion University, in collaboration with Columbia University, where she received her medical degree in 2009.
Connie aspires to focus on pediatric surgery and global health in her future career.
Despite the rigors of study, she finds time to prepare and participate in triathlons.
2nd John Jones Research Fellow
Joshua Weiner, MD — 2013-2014
Mentor: Dr. Adam Griesemer Assistant Professor of Surgery, Center for Liver Disease and Transplantation, in the Department of Surgery.
Dr. Joshua Weiner was the recipient of the 2nd John Jones Research Fellowship.
At the time, Josh had completed three years of general surgery residency at Columbia and was in the first of two years in the lab. His research focuses on 1) regulatory T cell-mediated B cell tolerance across the xenogeneic barrier (the subject of the John Jones Award) with Dr. Adam Griesemer, 2) changes in the balance of donor versus recipient leukocyte populations in the gut after intestinal transplantation with Drs. Megan Sykes and Tomoaki Kato, and 3) the relationship of genetic similarities between donor and recipient in liver transplantation on recurrence of autoimmune liver disease with Dr. Jean Emond. Before residency at Columbia, Josh graduated Cum laude from the Yale School of Medicine, during which time he was a Howard Hughes Research Scholar in the Transplantation Biology Research Center at Massachusetts General Hospital under Dr. David Sachs. He previously graduated Magna cum laude from Harvard College with a degree in Government. In college, he was a White House Intern, served on the Executive Board of the Institute of Politics, and ran both the political speaker series and the political humor series.
Outside of work, Josh enjoys playing music (violin, piano, drums, guitar), political organizing, writing, skiing, and cooking with his wife, a dermatology resident.
3rd John Jones Research Fellow
Kazuki N. Sugahara, MD, PhD — 2014-2015
Mentor: Dr. Michael Kluger, Assistant Professor of Surgery, GI Endocrine Surgery, in the Department of Surgery
Dr. Kazuki Sugahara was the recipient of the 3rd John Jones Research Fellowship. He was in his 2nd year of the surgical residency program.
Dr. Sugahara's professional career started in Japan. He earned his MD from Shiga University of Medical Science in 1999, trained in surgery for several years, and earned his PhD in Cancer Biology from the Osaka University Graduate School of Medicine in 2005. He then moved to San Diego, CA, to join the Erkki Ruoslahti laboratory at Sanford-Burnham Medical Research Institute for his postdoctoral research training. After publishing a number of papers in journals such as Science, Cancer Cell, and PNAS, Dr. Sugahara started his career as a Principal Investigator at Sanford-Burnham. He has also been a Clinical Visitor at the Department of Surgery, University of California in San Diego, to facilitate collaboration with their Surgical Oncology team. In 2014, Dr. Sugahara moved to Columbia University with his laboratory to join the General Surgery residency program. Currently, Dr. Sugahara is a PGY2 in the program, and runs his laboratory located in the Irving Cancer Research Center.
Dr. Sugahara studies tumor-targeting drug delivery systems based on peptides. His goal is to accomplish tumor-specific drug delivery to obtain maximal anti-cancer effects with minimal side effects.
Dr. Sugahara and colleagues have discovered a novel class of peptides, tumor-penetrating peptides, which target tumor blood vessels through systemic circulation, and subsequently spread widely into the tumor tissue. The peptides deliver deep into tumor tissue drugs chemically attached to the peptides and even free drugs co-administered with the peptides, providing a simple and effective way to improve the therapeutic index of various forms of anti-neoplastic drugs, such as small chemicals, antibodies, and nanoparticle formulations. An important goal of Dr. Sugahara's research is to facilitate clinical translation of the tumor-penetrating peptides by further understanding the tissue-penetration mechanism, uncovering novel biological effects, and establishing safety and efficacy of the peptides, particularly in patients with fibrotic tumors such as pancreatic cancer. In addition, he aims to broaden the application of the peptides to intraperitoneal drug delivery systems, which target peritoneal carcinomatosis (this project is partly supported by the John Jones Award). He also continues to discover novel peptides that target various pathologies of cancer based on advanced phage display methodologies
4th John Jones Research Fellow
Dustin J. Carpenter, MD, MPH – 2015-2016
Mentor: Donna Farber, PhD., Professor of Surgical Sciences (in Surgery) and Microbiology and Immunology at the Columbia Center for Translational Immunology at Columbia University Medical Center.
Dr. Dustin J. Carpenter was the recipient of the 4th John Jones Research Fellowship (2015-2016), for his research entitled, Immunologic consequences of brain death: cytokine, myeloid, and lymphoid data throughout the body and across the lifespan, under the tutelage of Dr. Donna Farber.
Dr. Carpenter has completed three years of general surgery residency training at Columbia and is currently a Postdoctoral Residency Fellow in Dr. Farber's lab at the Columbia Center for Translational Immunology (CCTI). He is part of a team working to develop a temporal and spatial understanding of the human immune system. Towards this end, he will be a co-investigator on a project that seeks to develop the first whole-body, immunological profile of brain death in humans. They will then analyze the relationship between these donors' immunological profiles to their solid organ transplant outcomes (e.g., ischemia-reperfusion injury, acute and chronic rejection, graft survival). To do this analysis, they will draw from and build on the expertise gained from the Farber lab's longstanding research collaboration with LiveOnNY, the organ procurement organization for the NY metropolitan area.
In coordination with LiveOnNY, the Farber lab studies multiple blood, lymphoid, and mucosal tissue samples obtained from research-consented organ donors at the time of lifesaving organ procurement. With this unique access to pre-transplant organ donors and their tissues, they will be able to:
Collect and analyze an unprecedented amount of information to answer previously unanswerable questions about the human immune system and transplant immunology.
Analyze donors' cytokine profiles, identify and characterize the passenger leukocytes that are transported with the organ at the time of donation, and compile the lab's previously collected myeloid and lymphoid composite cell data from multiple tissue sites throughout the body.
Correlate these findings with multiple donor clinical parameters (cause of death, cardiac arrest, presence of infection, use of steroids, etc.) that occur in donors prior to transplantation.
The combination of these donors' clinical, cytokine, and cellular data will help them understand why certain organ donors develop a pro-inflammatory environment leading to rejection while others foster a more tolerogenic milieu. This could lead to key insights that would change treatment of donor organs prior to transplantation in order to prevent rejection and lessen post-operative immunosuppression. These findings should have implications for all fields of transplantation.
Dr. Carpenter will also be involved in a number of clinical research projects with several attending surgeons in the department of transplantation.
Dustin graduated from the University of Illinois at Urbana-Champaign in 2006 with a degree in Molecular and Cellular Biology. He earned his medical degree from Saint Louis University School of Medicine, Saint Louis, MO. graduating with distinction in research. While at medical school he was elected by fellow medical students to the Arnold P. Gold Humanism Honor Society.  In between his third and fourth years of medical school, he obtained an MPH from Columbia University's Mailman School of Public Health where he was awarded the Top Student Paper Award (national), from the American Public Health Association, Injury Control and Emergency Health Services section
Dusty has a keen interest in wrestling. In 2002, he was awarded Scholastic Wrestler of the Year by the Illinois Wrestler's and Coach's Association (IWCOA), an award given to the all-state wrestler who demonstrates the highest level of academic achievement.
In his spare time Dusty continues to participate in wrestling and enjoys running, reading as well as traveling. His latest hobby is finding NYC's best cheeseburger.
5th John Jones Research Fellow
Scott C. DeRoo, MD, 2017-2018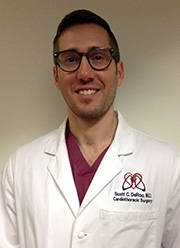 Mentor: Isaac George. MD, Assistant Professor of Surgery, Division of Cardiothoracic Surgery at Columbia University Irving Medical Center
Dr. Scott C. DeRoo is the recipient of the 5th John Jones Research Fellowship (2017-2018), for his research entitled, Assessment of Frailty in Cardiac Surgery, under the tutelage of Dr. Isaac George, Assistant Professor of Surgery, Division of Cardiothoracic Surgery at Columbia University Irving Medical Center.
Dr. DeRoo has completed three years of integrated cardiothoracic residency at Columbia University Irving Medical Center and is currently doing research in the lab with Drs. Isaac George and Hiroo Takayama. 
Dr. DeRoo was born in Danvers, Massachusetts and grew up in Lancaster County, Pennsylvania. After high school he attended Colgate University in Hamilton, New York where he majored in molecular biology and was a 4-year member of the cross-country, indoor, and outdoor track teams. During his time there Scott participated in two summers of research at the Dana-Farber Cancer Institute where he worked to help understand dysregulated cell signaling in pancreas cancer and leukemia. After college Scott attended medical school at the University of Michigan, where he was selected as the recipient of a 1-year Howard-Hughes medical student research fellowship. During this time Scott utilized genome and transcriptome sequencing to help identify novel molecular targets in breast, lung, and prostate cancer. After graduating medical school Scott continued his training in cardiothoracic surgery at Columbia University in New York City where he has been conducting outcomes research on mechanical circulatory support and frailty in cardiac surgery.