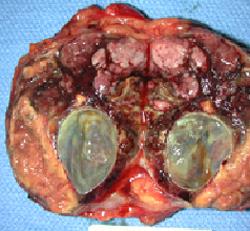 Catecholamines are hormones that increase the heart rate, blood pressure, rate of breathing and amount of energy available to the body. Adrenaline is the most common and well-known catecholamine. The adrenal medulla releases extra adrenaline in response to stress. This increase is known as the "fight or flight response"—i.e. the body is ready to fight or run.
Pheochromocytomas are rare tumors that make too much adrenaline. Pheochromocytoma are found in 2 out of every million people each year and are the cause of high blood pressure in less than 0.2% of people with high blood pressure. However, because pheochromocytoma release adrenaline in uncontrolled bursts, they can cause serious health problems like stroke, heart attacks, and even death. For this reason, many doctors call it the "pharmacologic time bomb." Pheochromocytoma can occur at any age and there are no known risk factors except for certain genetic syndromes. They are often called the "10% tumor" because it was commonly thought that 10% of pheochromocytomas are:
Malignant – 10% behave like cancer and can spread
Bilateral – 10% are found in both adrenal glands
Pediatric – 10% are found in children
Extra-Adrenal – 10% are found outside the adrenal glands
Familial – 10% are genetically caused.
However, as we learn more about this rare disease, we are discovering that some of these numbers may be higher. In fact, research shows that up to 25% of pheochromocytomas are inherited.
Even after removing the tumor it is often impossible to tell the difference between a malignant and benign pheochromocytoma under the microscope. The only definite way to tell if it is a malignant pheochromocytoma is if there is spread into nearby organs (i.e. local invasion), spread to distant sites like the lung and bone (i.e. metastases), or cancer that comes back (i.e. recurrence).
When pheochromocytomas are located outside the adrenal glands, they are called paragangliomas. (See Paraganglioma) Outside the adrenal glands, these tumors can be found anywhere along the sympathetic nervous chain. The most common extra-adrenal site is a point on the abdominal aorta (the largest artery in the abdomen) called the organ of Zuckerkandl.