Left Atrial Appendage Occlusion for Stroke Prevention in Atrial Fibrillation: The Future is Now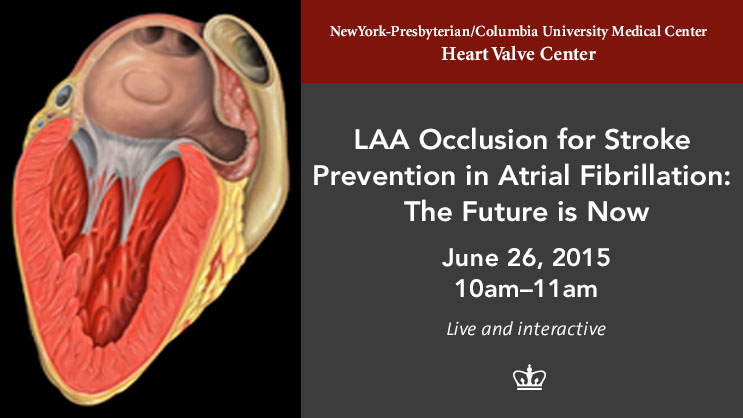 Program Co-Directors
William Gray, M.D.
Rebecca Hahn, M.D.
Robert Sommer, M.D.
William Whang, M.D.
Program Description
Left Atrial Appendage Occlusion for Stroke Prevention in Atrial Fibrillation: The Future is Now is a non-CME webinar discussion, which will focus on education leading to improved patient care and better outcomes.
Target Audience
This activity is designed for surgeons, general surgeons, primary care physicians, interventional cardiologists and clinical cardiologists.
Educational Needs Assessment
The left atrial appendage (LAA) potentially plays a small role in lowering blood pressure although it is not necessary for survival. Sometimes blood can pool in this structure creating the environment for thrombus exponentially increasing the possibility of stroke. The current preferred treatment is placing patients on blood thinner, however there are tangible risks including bleeding issues and many patients are not able to tolerate the medication. In some instances surgical closure of the appendage is required.
There are several new promising percutaneous treatment options — LAA occlusion — being examined as viable treatment options. Each take a slightly different approach from plugging the appendage to lassoing the appendage closed. This program will explore the current standard of care as well as examine the new treatment options with anticipated approval in the next several months.
Learning Objectives
At the end of this program, the attendees will be able to:
Define the potential issues associated with the left atrial appendage
Identify the different treatment options and their efficacy.