Congenital Heart Center treats the sickest of newborns, with outcomes among the best in the nation.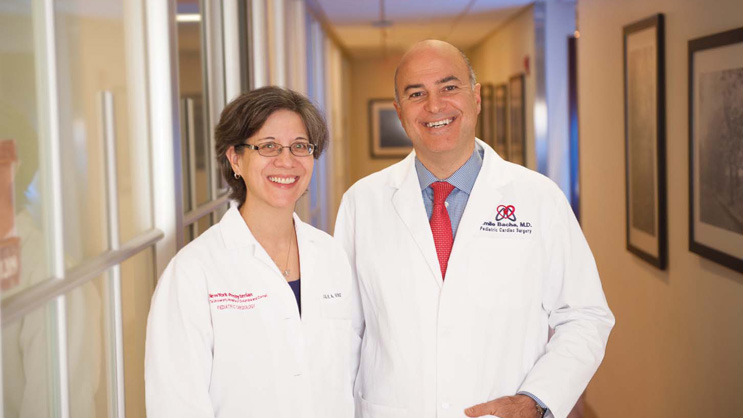 Congenital Heart Center treats the sickest of newborns, with outcomes among the best in the nation.
Every year, about 30,000 children in the United States, about one percent of all live births, are born with congenital heart defects. Many babies require surgery within hours of birth.
Under the direction of pediatric cardiovascular surgeon Emile Bacha, MD and pediatric cardiologist Julie A. Vincent, MD the Congenital Heart Center is one of the largest and most preeminent pediatric cardiology and cardiac surgery centers in the nation. Families come from around the country and around the world to seek the most advanced, safest, and proven treatments for newborns with life-threatening conditions such as transposition of the great arteries, hypoplastic left heart syndrome, and complex left ventricular obstruction.
PRENATAL DIAGNOSIS AND INTERVENTION
For some children, taking care of their hearts must begin even before they are born. The Congenital Heart Center has one of the largest and most experienced maternal-fetal medicine teams in the country; the Carmen and John Thain Center for Prenatal Pediatrics is the only one of its kind in the metropolitan New York area, offering comprehensive, multidisciplinary prenatal diagnosis and therapy in conjunction with pediatric subspecialty consultation.
CARDIAC CRITICAL CARE
A highly specialized team of neonatologists and cardiologists with subspecialties in neonatal cardiac care, the Congenital Heart Center offers the enormous resources needed when treating serious heart defects. The center offers all levels of care and one-to-one patient/nurse ratios.
Surgeons at the center perform more than 600 surgeries for congenital heart disease every year and offer the best possible surgical outcomes. Despite treating babies with some of the most complex heart conditions, survival rates at the center significantly surpass the national average, with children routinely returning to normal levels of activity and living into adulthood. The mortality rate for newborns at the Congenital Heart Center is among the lowest in the nation: 4.6% compared to a national benchmark of 9.8%*. In 2013, U.S. News & World Report ranked NewYork-Presbyterian as one of the top pediatric heart and heart surgery programs nationally, reflecting its reputation and surgical outcomes, the expertise of our surgical teams, volume of cases and other patient-care related data.
According to Dr. Bacha, "By focusing exclusively on neonates with cardiac disease, we feel we have developed unsurpassed expertise in the care of low birthweight and premature babies in particular."
PEDIATRIC INTERVENTIONAL CARDIOLOGY
The center has particular expertise in pediatric interventional cardiology, a unique specialty that involves the non-surgical treatment of congenital and acquired cardiovascular disorders. A few examples of catheter-based interventions include:
Angioplasty, including dilation and stent implantation, to open narrowed arteries and veins
Atrial septoplasty or blade septostomy to treat pulmonary hypertension
Coil and Amplatzer device closure of open ductus arteriosus, atrial septal defect, Fontan fenestration, and patent foramen ovale.
Surgeons and interventional cardiologists at the center use an innovative hybrid technique, combining surgery with a catheter-based intervention, to treat babies with hypoplastic left heart syndrome. This approach achieves comparable results as the Norwood procedure, and can sometimes be safer for high risk infants because it avoids using the heart-lung machine.
Other advanced therapies available at the Congenital Heart Center include:
Minimally invasive, transfusion-free repair of atrial septal defect and ventricular septal defect,
Hybrid procedure to close ventricular septal defect
Percutaneous (under the skin) valve replacement therapy.
The center is renowned for its pioneering work in pediatric heart valve repair, its expertise in ventricular assist devices, and outstanding results with the use of extracorporeal membrane oxygenation (ECMO) in children with cardiorespiratory failure.
*Mortality data provided by Society of Thoracic Surgeons database
For information about The Congenital Heart Center at NewYork-Presbyterian Morgan Stanley Children's Hospital, please visit: nyp.org/kids or call: 212.305.2688.