Heart Valve Center Leads Study of Minimally Invasive Mitral Valve Replacement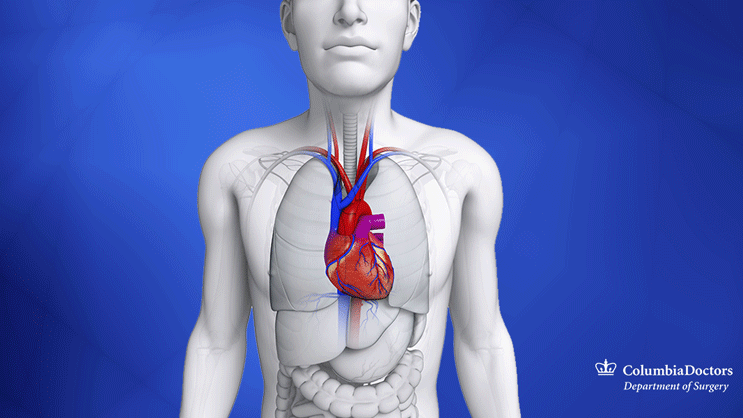 The trend toward smaller incisions and less invasive heart surgery is progressing yet again with the opening of a new trial at the Columbia Heart Valve Center. Following on the heels of TAVR, an important advance in the treatment of aortic valve disease, the Tiara trial is applying the same minimally invasive approach to mitral valve disease.
This early clinical trial is testing the viability of the Neovasc Tiara mitral valve system for patients with severe mitral regurgitation. If proven safe and effective, Tiara could become the first minimally invasive device in the U.S. for full replacement of the mitral valve.
In patients with mitral valve regurgitation, the flaps of the mitral valve fail to close properly, allowing blood to leak back into the heart instead of flowing through the body as it should. Mitral regurgitation affects approximately four million people in the U.S., but only about 20% are eligible for open surgery, leaving many patients without treatment options. Tiara could represent an important option for those with severe disease who require replacement of the mitral valve.
While repair of the mitral valve is sufficient for some patients, in others the valve is too diseased and replacement is needed instead. The Neovasc TMVR system device is designed to replace the mitral valve through a small incision in the chest while leaving all the surrounding tissues intact. Delivered through a catheter, the new valve pushes the diseased leaflets back and conforms to the shape of the mitral opening, fully replacing the function of the diseased valve.
The Heart Valve Center is one of only a few sites in the U.S. to evaluate the Tiara device, in addition to sites in Canada and Europe. The study's Executive Committee includes Co-Chair Martin B. Leon, MD, Director of the Center for Interventional Vascular Therapy, and Michael A. Borger, MD, Director of the Aortic Surgery Program. To learn more, please call 212.342.0444.