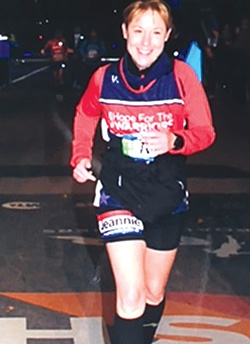 After more than 30 years of smoking, Jean Martin of Manalapan, New Jersey, decided to trade her cigarettes for a pair of running shoes. At age 51, she worked up slowly from a brisk walk to jogging and started feeling pretty good. Then one day her calves began to cramp. When the pain became severe, Jean went to a local hospital and was diagnosed with peripheral artery disease (PAD), a condition that had affected her father. PAD is a narrowing of the arteries carrying blood to the limbs. Smokers are up to 25 times more likely to develop it. Jean had the right idea—quitting—she just didn't do it soon enough.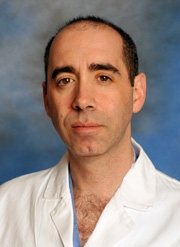 In 2011, Jean had major surgery in a New Jersey hospital, then sought a second opinion from renowned vascular surgeon Dr. Nicholas Morrissey at NYP/Columbia. "Jean came to us after having a bypass to correct a blockage in her iliac artery, the main artery in the pelvis," Dr. Morrissey said. "Unfortunately that repair didn't hold and she was in pain again. We put a stent in to open up the channel and restore blood flow to her legs. Then a very determined Jean started training for the New York City marathon."
A runner himself, Dr. Morrissey planned to enter the race in 2012, to offer Jean support and to raise money for the American Heart Association. But Hurricane Sandy struck, flooding much of lower Manhattan. The marathon was canceled and doctor and patient made a pact to try again the following year. A few weeks before marathon in November 2013, Jean developed a clot behind her knee. The problem started in the middle of an 18-mile training session and by the time Jean got to the OR, her leg had been starved of blood for quite some time. Dr. Morrissey had to work hard to save the limb. For Jean, it looked like a long road to recovery—but there was no way she was giving up. In 2015, she began training again with the New York Roadrunners in Central Park. "We met at many of the same races," says Dr. Morrissey, "then in November 2016, we each crossed the finish line at the New York Marathon."
All Jean ever wanted was to complete this race. "Running gave her the sanctuary and peace of mind to get through all her health challenges," said Dr. Morrissey. "And this accomplishment was something to celebrate."
Now 56, Jean continues to be monitored with ultrasound and keeps Dr. Morrissey posted on her racing schedule. "It's unlikely that she will develop any new problems," he says. "The stent we placed in her pelvis is open, we fixed the clot behind her knee, and her injured artery has remodeled beautifully and gotten better. To watch Jean turn her life around has been inspiring."
To make an appointment, call 212.342.3255.