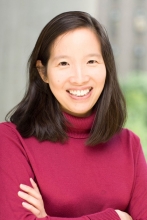 Christine H. Rohde, MD, MPH, FACS
Chief of Microvascular Services
Publications:
Author of essay in Being A Woman Surgeon: Sixty Women Share Their Stories.  Dr. Preeti John, editor, Gordian Knot Books, 2015.
*Rohde, C., Taylor E., Alonso A., Ascherman, J., Hardy K., Pilla A. Pulsed Electromagnetic Fields Reduce Post-Operative IL-1β, Pain and Inflammation: A Double-Blind, Placebo-Controlled Study in TRAM flap Breast Reconstruction Patients. Plast Recon Surg. Accepted for publication.
Chao, J., Spector, J., Taylor, E., Otterburn, D., Kutler, D., Caruana, S. Rohde, C.H.* Pectoralis Major Myocutaneous Flap versus Free Fasciocutaneous Flap for Reconstruction of Partial Hypopharyngeal Defects: What Should We Be Doing? J Recon Microsurg. Accepted for publication.
Engdahl, R., Cohen, L., Pouch, S. Rohde C.* Management of Mycobacterium Abscessus Post-Abdominoplasty. Aesthetic Plas Surg. 2014, 38:1138-1142.
Taylor E, Hardy K, Alonso A, Pilla A, Rohde C.* Pulsed electromagnetic fields dosing impacts postoperative pain in breast reduction patients. J Surg Res. 2014 Aug 9. [Epub ahead of print].
About:
Dr. Rohde graduated from Harvard Medical School in 2000. Following her medical school education, she began her general surgery training at the Brigham and Women's Hospital in Boston. After three years of general surgery training, Dr. Rohde accepted a plastic and reconstructive surgery residency position at Montefiore Medical Center. Interested in microsurgery, Dr. Rohde completed a microsurgical fellowship at New York University Medical School's Institute of Reconstructive and Plastic Surgery in 2006. Her research focuses primarily on outcomes of plastic surgical interventions, particularly as they relate to cancer reconstruction and post-surgical care. In 2013, Dr. Rohde graduated from the Columbia University Mailman School of Public Health with a Masters in Public Health, focusing on comparative effectiveness research.
A highly skilled clinician, researcher and teacher, Dr. Rohde is trained in the diagnosis and treatment of the full range of plastic reconstructive and aesthetic surgery, specializing in microsurgery, abdominal wall reconstruction, body contouring, cosmetic surgery, and breast, trauma, and cancer reconstruction. She has numerous publications and presentations in the field of plastic surgery, and is a frequently-requested speaker. She has also been seen on the Carol Alt FoxNews Show, "A Healthy You" and WABC, discussing her research and breast cancer reconstruction.