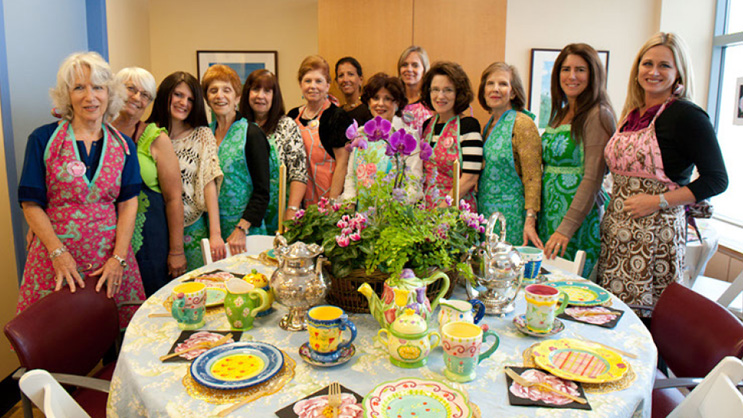 Some people seem to have a gift for turning the most unlikely of circumstances into something beautiful. Claire Pace is one such person, having created a haven of warmth and comfort in the unlikely environs of a hospital floor where shell-shocked parents anxiously pace the halls and wait for news from their children's heart surgeons.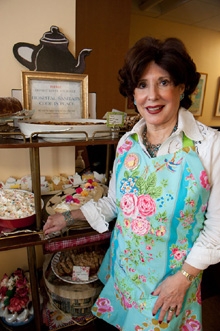 Claire became a fixture in the halls of Columbia Presbyterian Babies' and Children's Hospital after her son Adrian was born with a congenital heart defect. Over the course of his life, he underwent six major surgeries (culminating in a transplant at age 40), hundreds of smaller procedures, and an endless stream of medications (see The Humanitarian Heart in the summer 2012 issue of Healthpoints for Adrian's story). And so, during his childhood, Claire would spend weeks at a time on the children's heart surgery floor, venturing no farther than the cafeteria or chapel.
During one of Adrian's recoveries as a young adult in 1990, Claire was breathing more easily in the knowledge that her son was on the path toward health when a compelling idea took hold: she would use her talents as a baker and interior decorator, and her years of personal experience in the pediatric cardiology ward, to connect with other parents and families going through their children's heart surgeries. She would pamper them with an elegant English tea, complete with fine china, silver, and home-baked delicacies, to provide an island of respite, if even for just a few minutes.
The first tea took place in nothing more than a broom closet, which was abdicated with great reluctance by the hospital. But with her tablecloths, silver, china, flowers, lace, and carts of gourmet baked goods and teas, Claire masterfully transformed that tiny room. Shock and disbelief quickly gave way to smiles of joy as doctors, nurses, and family members came to experience the warmth of her hospitality. Although they might be going through pain and trauma for the other 23 hours of the day, they could relax and find serenity in this oasis for a short while.
For the next 18 years, Claire held tea every Wednesday. She would spend two days baking, and then cart 40 bins of delectables and finery to the hospital, where she would serve what she fondly calls "psychological support in the guise of English tea." As more people learned about her tea room, the broom closet gave way to a larger space, and other volunteers began to help with the three-hour set-up, serving during the tea, and the three-hour cleanup.
Claire and a team of volunteers, including previous visitors and some who had heart surgery as children themselves, still provide tea at the pediatric cardiology unit each month. The room's bare walls have long ago been transformed by beautiful murals of garden scenes that she commissioned. The volunteers walk around the floors and invite whomever is there that day, and they deliver plates of desserts to nurses and staff who can't leave their desks.
One visitor wrote, "Your tea room with all its magical splendor is an island of peace, warmth, and friendship for those who are on rough seas." Others commonly say they forget they are in a hospital for that hour or half hour.
Claire, who had trained as a nurse but who had sidelined her career to care for her son, says, "There is an air of empathy because the volunteers have all been touched by children who have heart disease. There is never a day in the tea room that doesn't make a difference in someone's life. It is so much fun to bring joy into people's lives."