2016 Ruth Leff Siegel Award Winners
On behalf of the Siegel Family and the awards selection committee, it is our pleasure to announce the 2016 winners of the Ruth Leff Siegel Award for Excellence in Pancreatic Cancer Research.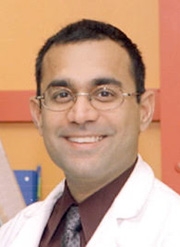 Dr. Raghu Kalluri of the University of Texas MD Anderson Cancer Center is the recipient of the $50,000 award. His laboratory is broadly interested in the study of cell and tissue microenvironment and its impact on tissue injury/regeneration and cancer. Recent work from Dr. Kalluri's group unraveled new patho-mechanisms of pancreatic cancer and offered insights into novel strategies for diagnosis and treatment of pancreatic cancer. His seminal paper was titled "Depletion of Carcinoma-Associated Fibroblasts and Fibrosis Induces Immunosuppression and Accelerates Pancreas Cancer with Diminished Survival".
Dr. Kalluri is the Chairman and Professor of the Department of Cancer Biology and the Director of the Metastasis Research Center at the University of Texas MD Anderson Cancer Center. Prior to this, he was Chief of the Division of Matrix Biology and a Professor of Medicine at Harvard Medical School. Dr. Kalluri currently holds the Olla S. Stribling Distinguished Chair for Cancer Research and previously held the Rebecca and Joseph Brown Endowed Chair at MD Anderson Cancer Center. In 2015 Dr. Kalluri received the Jacob Henle Medal from the Georg-August University in Germany to honor his contribution to medical research. He serves on science and health advisory panels in the USA and European Union and on the editorial boards of several academic journals representing biology and medicine.
The recipients of the $25,000 are Dr. Timothy C. Wang and Professor Jeanine Genkinger from Columbia University Medical Center. Dr. Wang is being recognized for his findings on Doublecortin-like kinase-1 (Dclk1), a molecular protein, as a marker of quiescent pancreatic progenitor cells that are candidates for the origin of pancreatic cancer, in his paper titled, "Dclk1 Defines Quiescent Pancreatic Progenitors that Promote Injury Induced Regeneration and Tumorigenesis". 
Professor Genkinger is being recognized for her studies on the relationships between central adiposity, a high BMI during early adulthood, and weight gain after early adulthood, in regards to pancreatic cancer risk. Her paper, "Central Adiposity, Obesity During Early Adulthood, and Pancreatic Cancer Mortality in a Pooled Analysis of Cohort Studies" found an association between pancreatic cancer mortality and central obesity, independent of BMI.
Dr. Wang is a Silberberg Professor of Medicine, Chief of the Digestive & Liver Diseases at Columbia University Medical Center, and Director of the GI Cancer Program at CUMC. He received his BA from Williams College and his MD from the Columbia College of Physicians & Surgeons. He has led an independent research lab for over twenty-five years focused on the relationship between inflammation, stem cells and cancer, and the molecular mechanisms of gastrointestinal carcinogenesis. Author of over 250 publications, he has headed up numerous multidisciplinary research programs, including the CUMC NCI U54 Tumor Microenvironment (TMEN) program, the CUMC Barrett's Esophageal Translational Research Network (BETRNet) program and the Intestinal Stem Cell Consortium (ISCC) at Columbia. He is a recipient of the Merit Award (R37) from NIDDK and the Outstanding Investigator Award (R35 OIA) from the NCI, and the Arthur and Irene Fishberg Prize for outstanding research from CUMC. He is currently President of the American Gastroenterology Association (AGA) Institute.
Professor Genkinger is a cancer epidemiologist who has been driven to understand how modifiable factors, molecular pathways and related biomarkers may impact cancer risk and progression, particularly for pancreatic cancer, a rare but highly fatal cancer. Prevention through determining modifiable risk factors and improved early detection through identifying markers of risk and molecular pathways offer the most promising approaches to reducing morbidity and mortality of these diseases. Her area of methodological specialty is in nutritional epidemiology, longitudinal design and complex pooled and meta-analytic techniques. Dr. Genkinger has conducted her research in large scale international consortia, namely the Pooling Project of Prospective Studies of Diet and Cancer and the NCI Cohort Consortium, and has conducted research in numerous cohort studies, such as the Breast Cancer Family Registry.
2015 Ruth Leff Siegel Award Winners
On behalf of the Siegel Family and the awards selection committee, it is our pleasure to announce the 2015 winners of the Ruth Leff Siegel Award for Excellence in Pancreatic Cancer Research.
The external $50,000 award went to Dr. Steven Leach of Memorial Sloan Kettering Cancer Center, whose animal studies have led to important new understandings of the mechanisms by which pancreatic cancer develops. This investigation has identified a new therapeutic target for chemoprevention and treatment of pancreatic cancer. His seminal paper was titled Oncogenic Kras activates a hematopoietic-to-epithelial IL-17 signaling axis in preinvasive pancreatic neoplasia.
Dr. Leach is the David M. Rubenstein Chair and Director of Memorial Sloan Kettering's new Rubenstein Center for Pancreatic Cancer Research. He is also an Attending Physician at Memorial Sloan Kettering, Professor of Surgery at Weill-Cornell Medical College and a Member of the MSKCC Human Oncology Pathogenesis Program. Prior to this he was Professor of Surgery, Oncology and Cell Biology, and the Paul K. Neumann Professor in Pancreatic Cancer at Johns Hopkins.
Dr. Leach's lab has a long track record of research productivity in the field of pancreatic cancer biology, and is known for establishing important links between pancreatic development and pancreatic cancer. These include the discovery of abnormal Notch pathway activation as an important driver of pancreatic tumorigenesis, development of the first zebrafish model of pancreatic cancer, identification of adult acinar cells as effective cells of origin for the initiation of pancreatic "ductal" neoplasia, and the recent discovery of a new stem cell associated with the earliest pre-invasive stages of the disease. Together with their extensive additional studies of pancreatic development and pancreatic epithelial plasticity, work from Dr. Leach's group has generated important new insights regarding early events in human pancreatic cancer.
Dr. Leach also has extensive administrative experience, including the management of large multi-investigator and multi-institutional research initiatives. He previously served as both Chief of the Division of Surgical Oncology and Vice Chair for Academic Affairs in the Department of Surgery at Johns Hopkins, and he also serves on the Princeton University Board of Trustees.
The internal award of $25,000 went to Dr. Kenneth Olive of the Herbert Irving Comprehensive Cancer Center, for his findings on pancreatic stroma (the "filler cells" that surround pancreatic tumor cells). His paper, Stromal Elements Act to Restrain, Rather Than Support, Pancreatic Ductal Adenocarcinoma, explains how certain stroma cells may actually help restrain pancreatic tumors, and it helped explain the recent failures in human trials of Smoothened inhibitors.
Dr. Olive began his doctoral studies in 1998 in the laboratory of Prof. Tyler Jacks at the MIT Center for Cancer Research, investigating the function of cancer-associated mutations in a tumor suppressor gene called p53. While at MIT, he also helped develop a new model of advanced lung adenocarcinoma. After graduating in 2005, Dr. Olive began a fellowship in the laboratory of Prof. David Tuveson at the University of Pennsylvania, later moving with the lab to the University of Cambridge in England. There he built a translational research facility for studying novel anticancer therapeutics in genetically engineered mouse models of pancreatic cancer. Using this infrastructure, he determined that stroma cells limit the delivery of drugs to pancreatic tumors, providing an explanation for why pancreatic tumors are resistant to so many different drugs. Dr. Olive joined the faculty of the Columbia University Herbert Irving Comprehensive Cancer Center in January of 2010, where he is continuing his investigations into the response of pancreatic tumors to therapeutic interventions. He is also the founding director of the Small Animal Imaging Shared Resource (SAISR) within the Herbert Irving Comprehensive Cancer Center.
2014 Ruth Leff Siegel Award Winners
On behalf of the Siegel Family and the awards selection committee, it is our pleasure to announce the 2014 winners of the Ruth Leff Siegel Award for Excellence in Pancreatic Cancer Research.
Dr. Alec Kimmelman of the Dana Farber Cancer Institute (Harvard Medical School) and Dr. Gloria Su of the Herbert Irving Comprehensive Cancer Center (Columbia University Medical Center) were selected to receive this year's award. A ceremony to celebrate both winners will be held on September 18, 2014 with the Siegel family and the award committee.
Dr. Kimmelman will provide a keynote address at the Herbert Irving Comprehensive Cancer Center 2014 Annual Retreat on Monday, October 20, 2014.
Dr. Kimmelman's work has focused on the unique metabolism of pancreatic cancer cells; essentially he has clarified how pancreatic cancer cells burn fuel to survive. He has identified that these cells are dependent on a process of metabolic recycling called autophagy and that they are uniquely dependent on the amino acid glutamine. His most recent observation is that these changes in cellular metabolism are driven by oncogenic Kras, the most commonly observed genetic alteration in pancreatic cancer. The concepts Dr. Kimmelman has developed are immediately translatable and are being tested in two ongoing clinical trials.
The theme of Dr. Su's work in pancreatic cancer has been in elucidating the genetic drivers of the disease. She has developed mouse models that spontaneously develop both the typical pattern of pancreatic cancer preceded by PanIn changes as well as the less common form that follows the development of intraductal papillary mucinous neoplasia (IPMN). In her critical paper published in the November 2013 issue of Clinical Cancer Research, she identified the importance of the loss of PTEN in the aggressiveness of human IPMN. Deepening our understanding of the genetic events that drive IPMN toward cancer will allow for better selection of patients for prophylactic pancreatectomy to prevent pancreatic cancer.
2013 Ruth Leff Siegel Award Winners
Dr. Ralph H. Hruban was awarded the external prize for his numerous contributions to the genetic and pathologic characterizations of pancreatic cancer. His 2012 paper entitled, "Pancreatic Cancer Genomes Reveal Aberrations in Axon Guidance Pathways Gene," was his most recent contribution which put him over the top for our selection committee. The impact of the huge number of scientists he has inspired to commit their careers to pancreatic cancer cannot be measured but is perhaps his greatest contribution to the field.
Dr. Robert Lance Fine was awarded the internal Columbia University prize for his development of GTX, presented at the American Society of Clinical Oncology (ASCO) 2013 Gastrointestinal (GI) Cancer Symposium. We honor him for his ongoing commitment to advancing pancreatic cancer therapies through basic science and translational research.
Our awardees were chosen from among many highly respected nominees for their work in the field of pancreatic cancer. We would like to commend all the nominees on their contributions and efforts and thank the nominators for their time and effort as well.
Your continued commitment to finding a cure is necessary for the inspiration of future generations. We encourage you to apply for the 2015 award. Information and guidelines will be posted on our website — www.pancreascenter.com.