The Ruth Leff Siegel Award for Excellence in Pancreatic Cancer Research
Congratulations to the 2016 recipients, Dr. Raghu Kalluri, Dr. Timothy C. Wang and Professor Jeanine Genkinger.
On behalf of the Siegel Family and the awards selection committee, it is our pleasure to announce the 2016 winners of the Ruth Leff Siegel Award for Excellence in Pancreatic Cancer Research.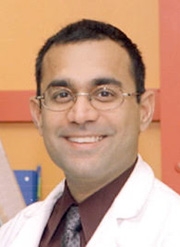 Dr. Raghu Kalluri of the University of Texas MD Anderson Cancer Center is the recipient of the $50,000 award. His laboratory is broadly interested in the study of cell and tissue microenvironment and its impact on tissue injury/regeneration and cancer. Recent work from Dr. Kalluri's group unraveled new patho-mechanisms of pancreatic cancer and offered insights into novel strategies for diagnosis and treatment of pancreatic cancer. His seminal paper was titled "Depletion of Carcinoma-Associated Fibroblasts and Fibrosis Induces Immunosuppression and Accelerates Pancreas Cancer with Diminished Survival".
Dr. Kalluri is the Chairman and Professor of the Department of Cancer Biology and the Director of the Metastasis Research Center at the University of Texas MD Anderson Cancer Center. Prior to this, he was Chief of the Division of Matrix Biology and a Professor of Medicine at Harvard Medical School. Dr. Kalluri currently holds the Olla S. Stribling Distinguished Chair for Cancer Research and previously held the Rebecca and Joseph Brown Endowed Chair at MD Anderson Cancer Center. In 2015 Dr. Kalluri received the Jacob Henle Medal from the Georg-August University in Germany to honor his contribution to medical research. He serves on science and health advisory panels in the USA and European Union and on the editorial boards of several academic journals representing biology and medicine.
The recipients of the $25,000 are Dr. Timothy C. Wang and Professor Jeanine Genkinger from Columbia University Medical Center. Dr. Wang is being recognized for his findings on Doublecortin-like kinase-1 (Dclk1), a molecular protein, as a marker of quiescent pancreatic progenitor cells that are candidates for the origin of pancreatic cancer, in his paper titled, "Dclk1 Defines Quiescent Pancreatic Progenitors that Promote Injury Induced Regeneration and Tumorigenesis". 
Professor Genkinger is being recognized for her studies on the relationships between central adiposity, a high BMI during early adulthood, and weight gain after early adulthood, in regards to pancreatic cancer risk. Her paper, "Central Adiposity, Obesity During Early Adulthood, and Pancreatic Cancer Mortality in a Pooled Analysis of Cohort Studies" found an association between pancreatic cancer mortality and central obesity, independent of BMI.
Dr. Wang is a Silberberg Professor of Medicine, Chief of the Digestive & Liver Diseases at Columbia University Medical Center, and Director of the GI Cancer Program at CUMC. He received his BA from Williams College and his MD from the Columbia College of Physicians & Surgeons. He has led an independent research lab for over twenty-five years focused on the relationship between inflammation, stem cells and cancer, and the molecular mechanisms of gastrointestinal carcinogenesis. Author of over 250 publications, he has headed up numerous multidisciplinary research programs, including the CUMC NCI U54 Tumor Microenvironment (TMEN) program, the CUMC Barrett's Esophageal Translational Research Network (BETRNet) program and the Intestinal Stem Cell Consortium (ISCC) at Columbia. He is a recipient of the Merit Award (R37) from NIDDK and the Outstanding Investigator Award (R35 OIA) from the NCI, and the Arthur and Irene Fishberg Prize for outstanding research from CUMC. He is currently President of the American Gastroenterology Association (AGA) Institute.
Professor Genkinger is a cancer epidemiologist who has been driven to understand how modifiable factors, molecular pathways and related biomarkers may impact cancer risk and progression, particularly for pancreatic cancer, a rare but highly fatal cancer. Prevention through determining modifiable risk factors and improved early detection through identifying markers of risk and molecular pathways offer the most promising approaches to reducing morbidity and mortality of these diseases. Her area of methodological specialty is in nutritional epidemiology, longitudinal design and complex pooled and meta-analytic techniques. Dr. Genkinger has conducted her research in large scale international consortia, namely the Pooling Project of Prospective Studies of Diet and Cancer and the NCI Cohort Consortium, and has conducted research in numerous cohort studies, such as the Breast Cancer Family Registry.