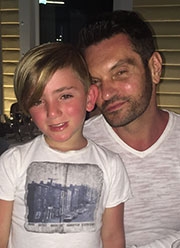 Danny Camaj is a real estate broker, family man and committed athlete. He's been working out since he was 17, running, lifting weights, playing basketball, football, and soccer. "You name the sport, I did it," Danny says. "Being active was my whole identity."
In his late 40s, Danny starting taking blood pressure medication and it made him sick, so he slowly lost ground, and stopped exercising as often. Then one day he felt some pressure in his chest, and a local cardiologist told him that his ascending aorta was enlarged.
"I worried about pressure building up that would pop my aorta, and I was really scared," Danny says. "Then I came to Columbia and saw Dr. Takayama. He made me feel comfortable right away, and urged me to schedule the surgery sooner rather than later. If you need open heart surgery it's not a fun thing. But anything you can cure or fix—well, you count your lucky stars. And I knew I'd come to the right place."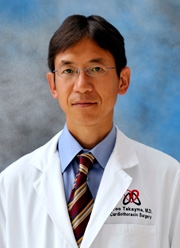 Danny had an ally in Hiroo Takayama, MD, PhD is one of the nation's leading experts in aortic repair. As Director of NYP/Columbia's Aortic Program and of The Cardiovascular Institute, he has outstanding results, and knows how to put patients at ease.
In their first meeting, Dr. Takayama gave Danny his number, saying "Feel free to call me anytime, especially when you notice any change in your health. Don't worry about the hour, or how often you need to talk! When you get better, I don't want to hear from you at all."
"He was so kind and so reassuring, with such a great sense of humor," Danny recalls, "that I actually walked out of his office with a smile on my face."
A few weeks later, Danny was in Miami with his wife and son when he suddenly felt out of breath. "When I described my symptoms, Dr. Takayama told me I was having a panic attack and talked me through it."
Danny scheduled his surgery for May 2015 with one request: "I'm young. Please don't leave me with a big scar!" Though aortic surgery usually requires opening the patient from the belly button to the neck, Dr. Takayama was able to do the repair with only a six-inch incision. "It would have been far easier for him to do the repair if he opened me up all the way," Danny said. "But Dr. Takayama really cares for his patients and goes the extra mile."
Working with such a small opening, the operation took four hours. "I also had to decalcify Danny's aortic valve," Dr. Takayama says, "We ended up with a great result and within six weeks Danny was feeling like himself again."
Right after the surgery, Danny asked, "Can I really lift weights and run?" Dr. Takayama encouraged him, saying, "Danny you're fine, just do what you always did. You can bring your body back to where it was and feel the joy of being active."
As he turns 50 this July, Danny plans to celebrate with his family—and a nice long run.