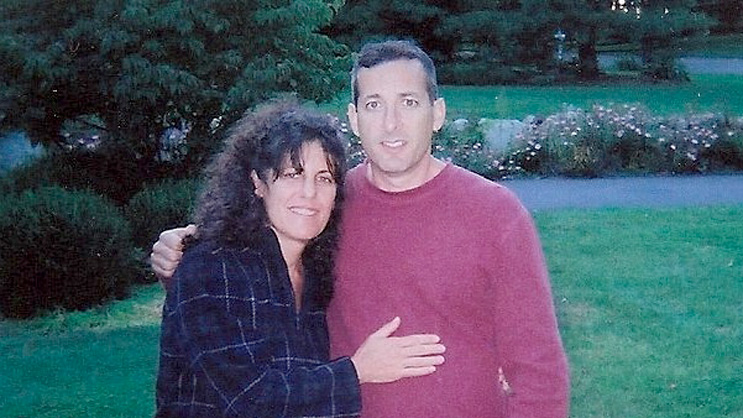 When 46-year-old Sharon Lupo started having stomach pains before Christmas, she brushed it off as a case of too much pre-holiday indulgence. But the pain persisted even after the holidays ended, landing her in the local emergency room. Many tests, scans, and biopsies later, she was shocked to learn the source of her pain: malignant epithelioid hemangioendothelioma, an extremely rare type of liver cancer. This type of cancer affects the lining of the blood vessels within the liver and strikes only 200 to 300 Americans each year.
Referred by her local doctor to Robert Brown, MD at the Center for Liver Disease and Transplantation, Sharon was sick and in great pain. Yet because of the nature of her rare cancer, her entire liver was not affected, and therefore her MELD score – the criteria by which priority for liver transplantation is determined – was low. That meant she was unlikely to receive an organ from the national organ waitlist any time soon. Yet ironically, waiting meant that the cancer could spread beyond the liver, which would disqualify her from eligibility for transplantation.
Sharon accepted Dr. Brown's suggestion of allowing a transplant from the 'extended criteria' list of donor organs. This includes organs that might not meet the usual criteria for transplantation, but are healthy enough for a successful transplant. She knew that living donor transplantation was a potential option, but she did not ask anyone in her family to consider it. She remained on the extended criteria waitlist, all the while undergoing frequent scans and injections of chemotherapy into her liver to try to keep the cancer at bay. She also underwent lung surgery to remove a small lung cancer during this time, a completely unrelated tumor detected during one of her many PET scans.
After the third of the chemotherapy injections (chemoembolisms), her liver suddenly began to fail. "I was in excruciating pain, I couldn't eat, I was losing weight," says Sharon. "Dr. Brown said we need to do the transplant now." Sharon's mother-in-law offered to be a donor, but her age exceeded the accepted limit.
Sharon's brother, Mark Miller, called after learning of her situation. Having been out of touch with him for some time, Sharon was "utterly floored" that he wanted to donate part of his liver. Mark drove from the Philadelphia area to NYPH/Columbia, where he was evaluated as a potential donor. Thorough testing was done to see if their blood types were compatible (they were) and to ensure he was healthy enough to tolerate the operation (he was). Mark mobilized his family so that his children would be cared for while he and his wife were in New York.
According to Mark, "Dr. Samstein explained the risks of the surgery, and they gave me every opportunity to reconsider my decision to donate." But his resolve stayed firm, and the surgeries proceeded in October. There were no complications; the operations went beautifully. The smaller left lobe of Mark's liver was removed and transplanted into Sharon's abdomen, where it would regenerate to the correct size and functionality, as would his remaining liver.
"The first few days after the operation were the most difficult of the recovery," Mark says, because tasks that we take for granted like walking, eating, and breathing were very daunting. In only six days, however, he was well enough to leave the hospital; only a month later, he was back to work.
Mark attributes the speed of his recovery, and his overall success in getting through such a challenging ordeal, to the fact that he went into the operating room fully at peace with his decision to donate. To future donors, he advises preparing oneself both physically and psychologically for the surgery. Being mentally comfortable with the decision, he says, will make the surgery easier to undergo, and the recovery much smoother.
Mark's health is completely back to normal; in fact, he's in better shape than he was before the surgery. He would be doing triathlons if only he were a better swimmer, he jokes, and he's still waiting for Dr. Samstein to take him up on his racquetball challenge.
Sharon's recovery took longer, but today she is cancer-free, back at work, enjoying her family, and very grateful to be alive. "This taught me to live in the moment and enjoy every day," Sharon says. There were bumps in the road, including an incisional hernia, which is very common, as well as two brief episodes of organ rejection that occurred when her doctors tried to wean her off the medications she takes to prevent organ rejection, but overall she feels well. She says she does not understand God's plan in all of this, but she firmly believes that it "happened for a purpose" and that she is still here for a reason.
"I am completely grateful to Mark for saving my life," she continues. "It takes a really special, selfless person to do what he did. I just celebrated my 20-year wedding anniversary, my 50th birthday (last year), and I was able to see my daughter graduate from high school. None of that would have been possible without this transplant." Although the experience was difficult and frightening at many points, Sharon says the doctors, nurses and staff at the center were "incredible… They made something bad into something good," she says.