The Aortic Center at Columbia is dedicated to the comprehensive management of aortic disease, from acute aortic dissections to chronic abdominal aneurysms and everything in between. 
Proud to be part of New York's Top Hospital, our medical and surgical heart programs rank No. 4 in the nation, with special distinction for aortic valve surgery and abdominal aortic repair. We've developed novel minimally invasive surgeries such as the Hybrid Endovascular Procedure, which combines two operations into a single trip to the operating room. 
Our multi-specialist approach means that your care comes from world-leading experts of both the medical and surgical treatment of aortic disease: cardiac and vascular surgery, cardiology, radiology, and genetics. We collaborate on every case and are uniquely equipped to treat the most complex aortic conditions. Distinguished for our outstanding outcomes and state-of-the-art surgical and hybrid approaches, you can count on us.
For all appointments, please call (844) 792-6782

Or complete our online appointment request form and our office will follow up with you soon.
Our Services
Treatments include:
Specialized care for aortic valve disease (leaky valves, bicuspid aortic valve, aortic regurgitation)
Medical and surgical treatment for aortic aneurysms, including:

Aortic root aneurysms 
Ascending aortic aneurysms
Aneurysms of the aortic arch
Descending aortic aneurysms
Thoracic aortic aneurysms
Thoracoabdominal aortic aneurysms
Abdominal aortic aneurysms

Aortic dissection treatments
Treatments for patients at risk of aortic disease due to Marfan syndrome and other hereditary connective tissue disorders
Treatments for all other aortic conditions, like Intramural hematoma or penetrating ulcer
Treatments for patients with aortic disease who are declined by other programs
Highlights
Columbia Virtual Visits
All of our specialists offer telehealth appointments through virtual visits, so you can see your doctor from the comfort of your own home. You'll receive the same quality care you've come to expect from an in-person visit, without having to come into the office. Moreover, our patients find it very helpful that our aortic surgeons can go over  images from CT, echocardiogram, and MRI virtually.  All you need is a smartphone or computer and an internet connection.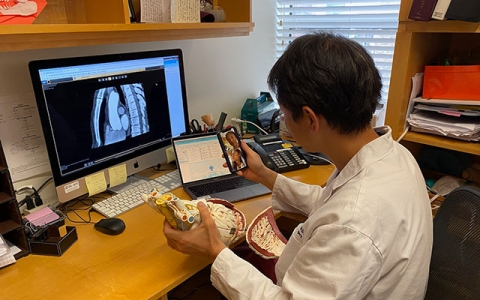 Minimally Invasive and Endovascular Emphasis
The Aortic Center considers endovascular/transcatheter approaches for all patients, even trialing for ascending and arch aneurysm repairs, where open-heart surgery has typically been the only option. Even if open surgery is needed, our aortic surgeons have extensive experience with small incision and open heart approaches to surgery, and will evaluate everyone with aortic disease for minimally invasive and endovascular options. 
Compassionate Therapies for High-risk Cases
True multidisciplinary approach allows us to deliver unique and compassionate treatment options for high-risk or otherwise non-operative aortic cases. This is enhanced with our access to cutting-edge technologies.
Bicuspid Consortium
Therapeutic options for bicuspid valves and associated aneurysms are emerging. Our Center brings expertise from across the Columbia medical center together in order to provide individualized care. While bicuspid valves develop leaks or blockages even at young age, open surgery may not be the right answer. Patients will meet with the most experienced physicians from our Adult Congenital Heart Center and Valve Center.
Collaborative Follow-up Aortic Clinic
Surgery may only be a part of the story for anyone with aortic disease. In order to keep track of our outcomes, the Aortic Center has devised a collaborative follow-up clinic, which works across disciplines to evaluate how those we've treated fare in the long-term. Additionally, we provide recommendations for follow-up imaging at the appropriate time based on an individual's risk and the latest research.
Advanced Aortic Imaging
Accurate imaging is fundamental to establish a diagnosis of aortic disease and determine if and when a procedure is warranted. The Aortic Center features novel technologies that can visualize the aorta for patients who cannot be adequately imaged using conventional cardiothoracic imaging techniques. Our aortic radiologists review images together with our cardiologists and surgeons in order to help personalize the care plan for each patient we see. After aortic surgery, the radiologist remains a key member of the care team by performing periodic follow-up imaging to assess the strength of the repair.
Marfan Clinic
Columbia's Marfan Clinic is one of the premier sites in the New York metropolitan area providing genetic testing, screening, and linkage to care for people with Marfan syndrome and other connective tissue disorders that raise the risk of aortic disease, such as Ehlers-Danlos syndromes, Loeys-Dietz syndrome, Turner syndrome, and familial thoracic aortic aneurysms and dissections. Patients and their families can meet with specialists who take a detailed family history, educate patients about genetic testing, coordinate testing if the patient chooses to have it, and provide counseling based on results. Genetic counseling is done in consultation with our geneticists, cardiologists and the patient's primary physician, and we will make recommendations regarding monitoring and treatment.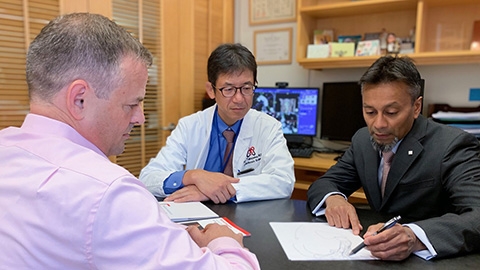 Care Through the Columbia Network
If you need additional care or non-aortic surgery, our team will help coordinate with all of our highly-specialized care centers and programs across NewYork-Presbyterian/Columbia. You will have the resources of one of the country's highest-ranking hospital systems behind you.
Our Team
Surgeons

Hiroo Takayama, MD, PhD
Cardiac Surgeon | Co-Director, Aortic Center



Virendra I. Patel, MD, MPH
Vascular Surgeon | Co-Director, Aortic Center



Isaac George, MD
Cardiac Surgeon | Surgical Director, Valve Center



Craig R. Smith, MD
Cardiac Surgeon | Chair, Department of Surgery


Cardiologists
Support Staff

Annie C. Yu, ANP
Surgical Nurse Practitioner


Elizabeth Wist, MS, PA-C
Physician's Assistant



Michelle Castro
Financial Coordinator


Our Location
Columbia University Irving Medical Center
Milstein Hospital Building, 7-435
177 Fort Washington Avenue
New York, NY 10032
Make an Appointment
Our team is available 24/7 for round-the-clock care. 
For all appointments, please call (844) 792-6782 (844 RX.AORTA)
Or complete our online appointment request form and our office will follow up with you soon.
---
Related Articles
An interview with Hiroo Takayama, MD, PhD, Co-Director of the Aortic Center, on the latest in treatment and the future of care.


Aortic surgery experts at Columbia explain how aortic surgery patients benefit from a multidisciplinary approach between cardiothoracic and vascular surgeons.
Co-directors of the Aortic Center, Virendra Patel, MD, and Hiroo Takayama, MD, to discuss the exciting new clinical trial for endovascular total aortic arch replacement—a device called the RelayBranch System.