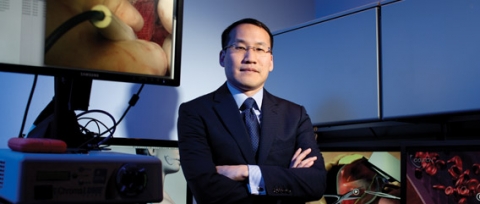 Collectedmed represents the next generation in learning management systems that was created by James A. Lee, MD, Chief of the Section of Endocrine Surgery.  Collectedmed is the Wikipedia for medicine, but with expert review and vivid multimedia. Unlike other wikis that may be influenced by a wide spectrum of contributors without any expert review, Collectedmed relies on a sophisticated model of expert oversight. Experts in each respective field review the content to ensure that it is accurate and up to date.
The goal of Collectedmed is to make medicine safer by training superior healthcare workers through a system of cognitive pre-training. In contrast to the traditional "on-the-job" training model that has been standard for the last century, with cognitive training, healthcare workers learn foundational principles and materials prior to interacting with patients. They then practice these techniques in a safe, conducive learning environment so that when they finally interact with patients, they have already learned what they need to know in order to provide the very best care. 
Collectedmed partners with world-renowned institutions and medical societies to create the highest quality medical information.  Some of Collectedmed's many content partners include:
American Board of Surgery – uses Collectedmed's general surgery pod as one of the tools to train general surgery residents in 97% of training programs in the US
American Society of Breast Surgeons – produces the definitive textbook on breast disease (ASBS's Breast Surgery Manual) and has created the first wiki-with-oversight textbook
Anesthesia Toolbox – a consortium of the top anesthesia training programs in the country that is creating the de facto anesthesia curriculum for medical students, residents, fellows, and continuing education
Heartsource – a consortium of national and international cardiac disease focused institutions that delivers their educational content and provides the ability to perform virtual consultations
Collectedmed's larger mission is to provide the ultimate source for medical information so that healthcare workers may quickly and easily find the information they need. By providing a multimedia resource that is constantly evolving with the needs of its user community, Collectedmed provides the user with the right information, in the right format, at the right time.
Collectedmed is available for use to medical professionals and the public through the web site www.collectedmed.com.