Cardiac Replacement Therapy: LVAD and/ or Transplant for Advanced Heart Failure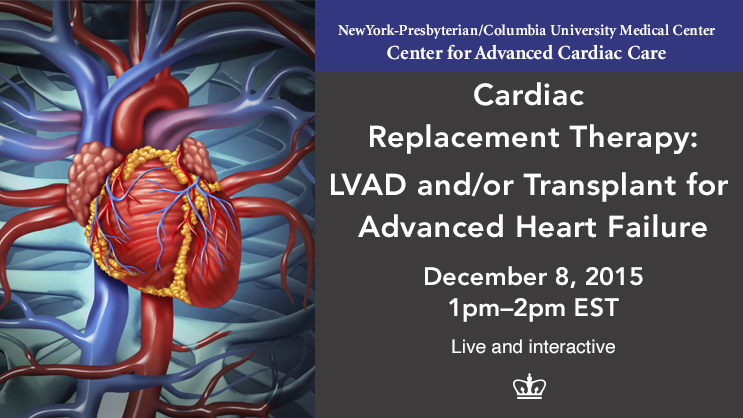 Faculty
Paolo C. Colombo, M.D.
Yoshifumi Naka, M.D.
MaryJane Farr, M.D.
Melana Yuzefpolskaya, M.D.
Program Description
Cardiac Replacement therapy: LVAD or Transplant for Advanced Heart Failure is a non-CME webinar discussion, which will focus on education leading to improved patient care and better outcomes.
Target Audience
This activity is designed for general practitioners, general cardiologist, heart failure specialists, and cardiothoracic surgeons.
Educational Needs Assessment
Despite therapeutic advances that improve longevity and quality of life, heart failure (HF) remains a relentless disease. Although heart transplantation is considered the gold standard for treatment of advanced HF patients, the number of available donor hearts has not changed in over a decade, despite constant attempts being made to increase the available donor pool.
Left ventricular assist devices (LVADs) are becoming an increasingly prevalent therapy for patients with advanced HF. Technological advances have improved the durability of these devices and have significantly lengthened survival in these patients. Quality of life is also improved, although adverse events related to device therapy remain common. Nevertheless, with the continuing organ donor shortage, left ventricular assist devices are frequently serving not only as bridge-to-transplantation, but also as a substitute for transplant, particularly in the elderly patients.
This program will explore the current standard of care for advanced HF patients with specific focus on:
patient selection for advanced therapies and appropriate referral times;
current indications for transplantation and LVADs;
potential complications and available treatments;
review new technologies and ongoing trials.
Learning Objectives
At the end of this program, the attendees will be able to:
Discuss challenging advanced heart failure cases
Understand in depth topics pertaining to heart transplantation and MCS what is this therapy