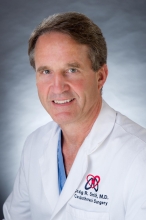 Craig R Smith Jr., MD
Chair, Department of Surgery
Surgeon-in-Chief, NewYork-Presbyterian Hospital/Columbia University Medical Center
Publications:
Heyer EJ,Lee KS, Manspeizer HE,Mongero L, Spanier TB, Caliste X, Esrig B, Smith CR. Heparin-bonded cardiopulmonary bypass circuits reduce cognitive dysfunction. J Cardiothor Vasc Anes; 16(1):37-42.
Williams MR, Stewart JR, Bolling SF, Freeman S, Anderson JT, Argenziano M, Smith CR, Oz, MC. Surgical treatment of atrial fibrillation using radiofrequency energy. Ann Thorac Surg 2001;71:1939-44.
John R, Rajasinghe HA, Chen JM, Weinberg A, Sinha P, Mancini DM, Oz MC, Smith CR, Rose EA, Edwards NM. Long-term outcomes after cardiac transplantation: an experience based on different eras of immunosuppressive therapy. Ann Thorac Surg 2001;72:1-9.
Mongero LB, Beck JR, Manspeizer HE, Heyer EJ, Lee K, Smith CR. Cardiac surgical patients exposed to heparin-bonded circuits develop less postoperative cerebral dysfunction than patients exposed to non-heparin bonded circuits. Perfusion 2001;16:107-11.
John R, Choudhri AF, Weinberg AD, Ting W, Rose EA, Smith CR, Oz MC. Multicenter review of preoperative risk factors for stroke after coronary artery bypass grafting. Ann Thor Surg 2000; 69:30-6.
About:
Dr. Smith earned his MD at Case Western Reserve University in Cleveland, Ohio (Phi Beta Kappa), going on to a general surgery internship and residency and a vascular surgery fellowship at the University of Rochester Medical Center/Strong Memorial Hospital (1977-1982). He completed his cardiothoracic surgery residency at Columbia-Presbyterian Medical Center in 1984, immediately joining the faculty of the Columbia University College of Physicians and Surgeons.
He was Director of Cardiopulmonary Transplantation at Columbia-Presbyterian Medical Center during 1986-1996 and was appointed Chief of the Division of Cardiothoracic Surgery in 1996. He became a full professor of surgery in 1998. In 2010, Dr. Smith became Chair, Department of Surgery.
Dr. Smith's clinical specialties include medical support for pre- and postoperative transplant recipients, use of bioartificial support devices, and alternative immunosuppressive strategies. His research interests focus on mitral valve repair, transmyocardial laser revascularization, long-term heart and lung transplantation outcomes, preoperative risk factors for stroke after CABG, and adaptation in cardiac transplantation. Dr. Smith was named Practitioner of the Year for 2004 by the Society of Practitioners at Columbia University Medical Center. He is co-Principal Investigator for the multicenter PARTNER aortic transcatheter valve trial.