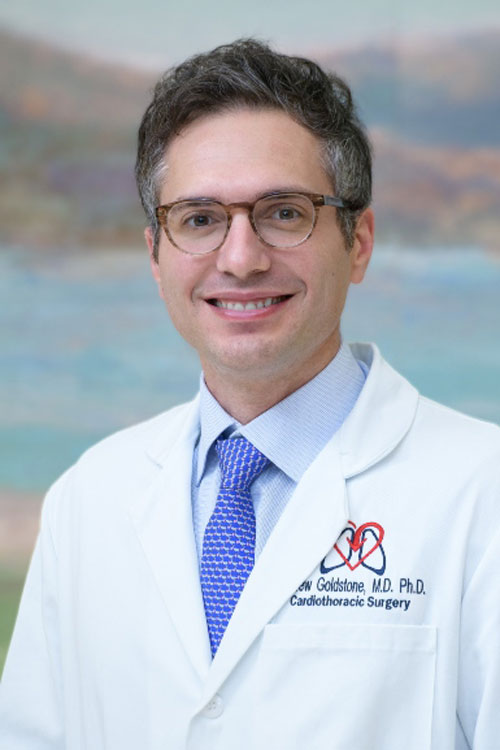 Andrew B. Goldstone, MD, PhD
Expertise:
Adult Congenital Heart Disease (ACHD)
Congenital Heart Disease
Heart Failure
Heart Surgery
Heart Transplant, Pediatric
Mechanical Circulatory Support
Minimally Invasive Cardiac Surgery
Pediatric Heart Transplant
Pediatric/Congenital Cardiac Surgery
Valve Reconstruction/Repair
About:
Andrew B. Goldstone, MD, PhD is a member of the Section of Pediatric and Congenital Cardiac Surgery in the Division of Cardiac, Thoracic, and Vascular Surgery at the NYP/Morgan Stanley Children's Hospital at Columbia University Irving Medical Center and Weill-Cornell Medical Center.
Dr. Goldstone trained in pediatric heart surgery at the Children's Hospital of Philadelphia, the nation's first children's hospital. Prior to that, he completed residency in cardiothoracic surgery at the University of Pennsylvania. He earned his medical degree from the Mount Sinai School of Medicine, where he graduated first in his class. Dr. Goldstone is also a graduate of Duke University, where he graduated summa cum laude with a degree in Chemistry, and Stanford University, from which he earned his PhD in Epidemiology and Clinical Research.
With a focus on neonatal surgery, complex biventricular repair, pulmonary artery reconstruction, and the surgical management of heart failure, Dr. Goldstone treats the full spectrum of congenital heart disease, with patients spanning from birth through adulthood. He believes in a personalized approach to the treatment of heart disease, tailored to each patient's specific needs. As the father of a child who required chest surgery at birth, he understands the importance of an individualized approach to care, as well as the unique challenges faced by parents of children with complicated medical conditions.
Dr. Goldstone has been recognized nationally and internationally for his clinical and basic science research. By applying rigorous statistical methods, his research group leverages population-based data to investigate questions that could not otherwise be answered by the conventional randomized trial. His work has led to changes in the guidelines for the management of heart valve disease. His long-term goal is to continue adding high-level evidence to better inform the surgical treatment of pediatric and adult cardiovascular disease. In the lab, he focuses on mechanisms underlying collateral artery formation and cardiac regeneration. Dr. Goldstone has authored several publications in the top medical and scientific journals, including The New England Journal of Medicine, Cell, Circulation, and the Journal of the American College of Cardiology. He has also served in several national leadership roles, including as President of the Thoracic Surgery Resident's Association (TSRA) and as the Resident Director to the Society of Thoracic Surgeons (STS) Board of Directors.
Dr. Goldstone was born and raised in Manhattan, and is a proud graduate of New York City public schools, including the Bronx High School of Science.
Click here for a complete list of publications from Dr. Goldstone.
Honors:
Merck Index Award – Highest cumulative science GPA
Davis Merit Scholarship – Highest overall academic performance in first year of medical school
Mount Sinai School of Medicine
Arnold P. Gold Humanism Honor Society
Mount Sinai School of Medicine
Doris Duke Clinical Research Fellowship Award
Doris Duke Charitable Foundation
Mount Sinai School of Medicine
Harold Elster Memorial Prize – Highest overall academic standing
Mount Sinai School of Medicine
Frontiers in Cardiovascular Medicine (Korea)
Top Ten Clinical Research Achievement Award in USA for investigation of mechanical vs. bioprosthetic heart valves (Goldstone et al. N Engl J Med 2017)
Robert L. Replogle Traveling Fellowship Award
Thoracic Surgery Foundation