Columbia Surgery Alumni
Tributes on the Passing of a Gentle Giant
Dr. Craig Smith Receives Distinguished Service Award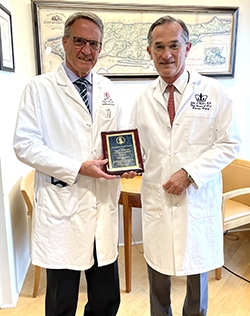 The award recognizes an alumnus who has shown leadership in the service of others. Dr. Smith is only the second recipient to ever be recognized by the John Jones Surgical Society for this honor.
Updates From Dr. Smith
Each day during the peak of the COVID-19 crisis, Dr. Craig Smith, Chair of the Department of Surgery, sent an Update to faculty and staff about pandemic response and priorities. We've collected all of Dr. Smith's Updates from this time, as well as additional Updates he has put out since.
John Jones Fellowship 2024-2025
Applications Open December 4th, 2023
To apply, download and fill out this form and email it with your accompanying requested background information to Trisha J. Hargaden at tjh2104@cumc.columbia.edu
Submission Cutoff:
Monday, March 25, 2024
About The Fellowship
The winner receives a grant of $6,000.00 to conduct research, and is named the John Jones Fellow for 2024-2025. The fellow presents research results at the Annual Meeting of the John Jones Surgical Society in early spring, 2025.
For more information, contact the Administrator, Trisha J. Hargaden, at tjh2104@cumc.columbia.edu