At the annual meeting of the John Jones Surgical Society (JJSS) on Thursday, May 6, 2021, Dr. John Chabot, President of the Society, presented Dr. Craig Smith, Department of Surgery Chair, and Surgeon-in-Chief at NewYork-Presbyterian/Columbia University Irving Medical Center with the John Jones Surgical Society Distinguished Service Award.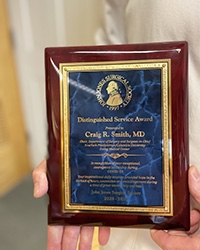 This award, as its name implies, recognizes an alumnus who has shown leadership in the service of others. It has only been given once before to the late Dr. Kenneth A. Forde, Co-Founder, and first President of the Society.
In presenting this special award, the John Jones Surgical Society alumni wanted to show their gratitude to Dr. Smith, for his daily missives, which he initially wrote to inform "his surgery family" of the work being done by frontline workers as the number of COVID-19 cases increased, during the height of the pandemic in 2020, at Columbia University Irving Medical Center. These accounts kept faculty, house staff and administrative staff, whether working remotely or onsite, connected and strong during this time.
News spread as did the sharing of these daily accounts. They became the highlight of the day for JJSS alumni across the country, giving members a sense of connectedness to Columbia and New York Presbyterian where they had trained. More, and more readers found hope in these missives, and learned what might be ahead for their institutions as the virus started spreading. This was a courageous act on Dr. Smith's part to "say it as it was" no sugar coating the events that were unfolding in the converted ORs, and the ICUs at New York Presbyterian during that time.
When it came time to move on as cases dropped, and ORs were returned to their original intent, the daily missives, anticipated by so many readers, came to a natural pause except for a postscript at Thanksgiving and the Winter Solstice.
Dr. Chabot had the pleasure and honor of presenting Dr. Smith virtually (and later in person) with a plaque that captured the sentiments expressed by many who were privileged to read what has now become known as Dr. Smith's essays.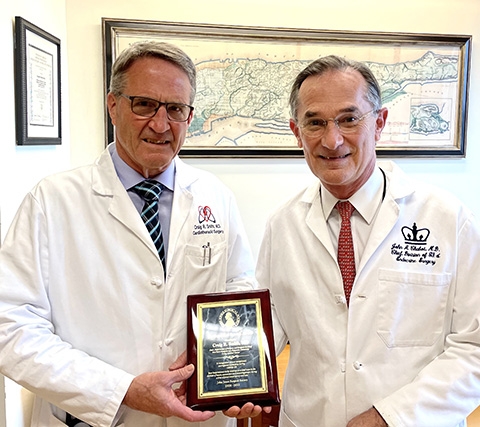 Plaque inscription:
In recognition of your exceptional, courageous leadership during COVID-19
Your inspirational daily missives provided hope in the darkest of hours, connection and encouragement during a time of great uncertainly and loss.
Also at the JJSS meeting, the President had the pleasure of welcoming Dr. Anil K. Rustgi, Interim Executive Vice President and Dean of the Faculties of Health Sciences and Medicine at Columbia University who wished to express his thanks to Dr. Smith, and to inform the membership of another honor he received from his undergraduate alma mater, Williams College.
On April 14, President Maud S. Mandel conferred the Bicentennial Medal to Dr. Craig Smith '70, Chair of the Department of Surgery at Columbia University Irving Medical Center, at the end of a recorded Zoom seminar.
Watch The Video
Read More About The Event
The College bestowed this distinction upon Smith for his accomplishments in humanistic healthcare with a particular emphasis on the leadership he demonstrated throughout the early stages of the COVID-19 pandemic, evidenced by his acclaimed daily updates to healthcare workers.
Read President Mandel's Speech
Related
The Overnight Birth of a Surgical Workforce Access Team, SWAT, in the Time of COVID
Read About SWAT