Transplant Clinical Research Core
The primary mission of the Transplant Clinical Research Core (TCRC) is to be a multidisciplinary intellectual focus for all transplant researchers at CUIMC by bringing the Basic Science, Translational Science, Clinical Research and multidisciplinary clinical departments together. 
The TCRC collaborates closely with the clinical care components of the transplant community at CUIMC and New York Presbyterian Hospital in a mutually supportive relationship that allows both clinical and research aspects of the transplant enterprise to reach their full potential. This creates a positive momentum, making it easier to recruit high quality scientists and clinicians to our transplant program and maintaining CUIMC's status as one of the premier centers for transplant care and transplant related research in the US.
Goals
To create a stimulating scientific environment that is both dynamic and productive
To facilitate collaborative research
To provide support for research career development
To help develop and maintain unique core resources relevant to the transplant research community
To specifically help organize and support collaborative level grant applications especially for the development of junior clinician-scientists, including independent investigator, program project and center grants
To initiate or take part in the research studies that will improve the lives of transplant patients
Research Studies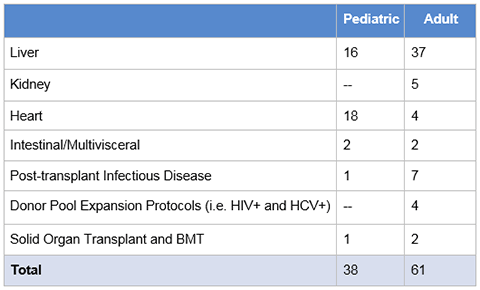 Federal Grants Submitted (1/18 - 9/19): 17
Team
Leadership
Liver
Heart
Kidney
Transplpant ID
Intestinal-Multivisceral
BMT
Contact
Transplant Clinical Research Core Main Phone: (212) 305-3839