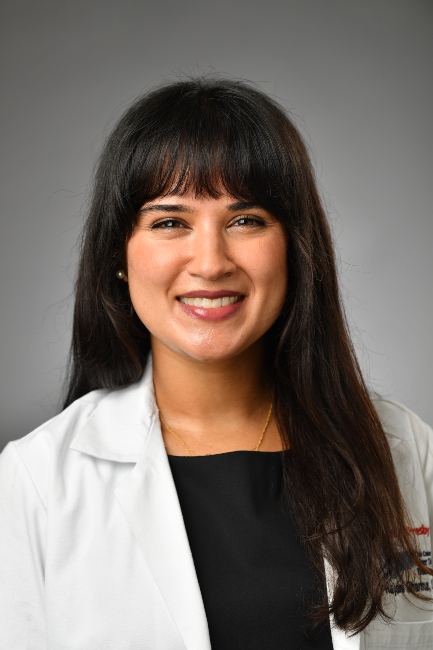 Expertise:
Cirrhosis
Complication of Liver Disease
Gastroenterology
Hepatocellular Carcinoma
Internal Medicine
Liver Disease
Liver Transplant
Liver Transplant Evaluation
Portal Hypertension
Transplant Hepatology
About:
If you need assistance in Chinese (Mandarin & Cantonese), please call 646-317-6325.
Visit Columbia Liver Asian Outreach Office (English | Mandarin)
Dr. Rajani Sharma earned her AB at Princeton University prior to attending Rutgers University-Robert Wood Johnson Medical School. She completed her residency in Internal Medicine at New York Presbyterian Hospital-Columbia University Irving Medical Center, where she received a resident teaching award. She then completed her gastroenterology fellowship and transplant hepatology fellowship also at New York Presbyterian Hospital-Columbia University Irving Medical Center. During her gastroenterology fellowship, she earned a Masters in Patient Oriented Research at the Mailman School of Public Health.
Dr. Sharma strives to provide empathetic and thoughtful care that focuses on the specific needs of each of her patients. Her clinical practice is focused on the management of all types of liver disease. In addition, Dr. Sharma has specialized training in managing complications of end-stage liver disease and caring for patients before and after liver transplantation.
Visit The Center for Liver Disease and Transplantation at columbiasurgery.org/liver
Honors:
2019 Transplant Forum Travel Scholar Award
2019 American Society of Transplantation, Liver and Intestinal Community of Practice Travel Grant for Best Trainee Research Project, American Transplant Congress Conference
2019 Best Trainee Research Award, Young Investigators Forum, Controversies in Liver Transplantation Annual Conference
2017 NIH T32 Training Grant Fund Recipient, Division of Digestive and Liver Diseases, Columbia University Irving Medical Center, PI: Dr. Timothy Wang, MD
2017 Tuition Scholarship for MS in Patient Oriented Research, Columbia University Mailman School of Public Health
2016 Senior Resident Teaching Award, Columbia University Irving Medical Center, Department of Medicine
2013 Highest Academic Achievement Award, Robert Wood Johnson Medical School
2013 Diane Barton, MD Endowed Scholarship, Robert Wood Johnson Medical School and the NJ Health Fund
Interests:
Autoimmune hepatitis
Clinical outcomes of chronic liver disease and post liver transplant patients
Publications:
Sharma R, Axelrad JA, Laszkowska M, Packey C, Rosenberg R, Lebwohl B. Increased healthcare utilization by Medicaid patients with inflammatory bowel disease at a tertiary care?center. IBD Journal. Epub April 2019.
Laurito MP, Silva GF, Cheinquer H, Sharma R, Verna EC, Parise ER. Does insulin resistance impair the virologic response to peginterferon/ribavirin in chronic hepatitis C genotype 3 patients? Arquivos de Gastroenterologia. June 2018; 55 (2): 179-183.
Sharma R, Brown RS. Treatment of hepatitis C virus in advanced renal disease. Clinical Liver Disease. September 2017; 10(3): 79-81.
Sharma R, Roy A, Ramos C, Rosenberg R, Garcia-Carrasquillo R, Lebwohl B. Low adherence to national guidelines for proton pump inhibitor prescription in patients receiving combination aspirin and anticoagulation. Therapeutic Advances in Gastroenterology. 2017, May; 10(5): 387-396.
Sharma R, Prudente S, Andreozzi F, Powers C, Mannino G, Bacci S, Gervino EV, Hauser TH, Succurro E, Mercuri L, Goheen EH, Shah H, Trischitta V, Sesti G, Doria A. The type 2 diabetes and insulin-resistance locus near IRS1 is a determinant of HDL cholesterol and triglycerides levels among diabetic subjects. Atherosclerosis. 2011, May; 216(1): 157-160.