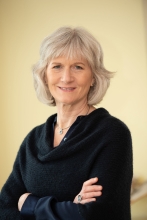 Megan Sykes, MD
Director, Columbia Center for Translational Immunology
Director of Research, Transplant Initiative
Director, Bone Marrow Transplantation Research, Division of Hematology/Oncology
Quote:
Our research is in the areas of hematopoietic cell transplantation, achievement of graft-versus-leukemia effects without GVHD, organ allograft tolerance induction, autoimmune disease and xenotransplantation.
Overview:
Our research has developed ways to utilize bone marrow transplantation as immunotherapy to achieve graft-versus-tumor effects while avoiding the common complication of such transplants, graft-versus-host disease. Another major area has been to utilize bone marrow transplantation for the induction of transplantation tolerance, both to organs from the same species (allografts) and from other species (xenografts). Our laboratory has worked toward the development of clinically feasible, non-toxic methods of re-educating the T cell, B cell and NK cell components of the immune system to accept allografts and xenografts without requiring long-term immunosuppressive therapy. We pioneered xenogeneic thymic transplantation as an approach to tolerance induction. We have demonstrated that non-myeloablative induction of mixed chimerism reverses the autoimmunity of Type 1 diabetes. We have recently developed novel humanized mouse models allowing "personalized" analysis of immune disease pathogenesis and immunotherapy. Additionally, we have developed novel tools for the analysis of the human alloresponse and are using these tools to better understand organ transplant immunobiology and tolerance in patients.
Lab Members:
Nicole Danzl, PhD, Postdoctoral Researcher
Christopher Parks, PhD, Postdoctoral Researcher
Jianing Fu, PhD, Postdoctoral Researcher
Kryscilla Yang, MD, Postdoctoral Researcher
Mohsen Khosravi Maharlooei, MD, Postdoctoral Researcher
Elizabeth Waffarn, PhD, Postdoctoral Researcher
Rachel Madley, Graduate Student
Grace Nauman, Graduate Student
Xiaolan Ding, Staff Associate
Hao Wei Li, PhD, Faculty Researcher
Brittany Shonts, Staff Associate
Publications:
442. Luchsinger LL, Strikoudis A, Danzl NM, Bush EC, Finlayson MO, Satwani P, Sykes M, Yazawa M, Snoeck HW. Harnessing Hematopoietic Stem Cell Low Intracellular Calcium Improves Their Maintenance In Vitro. Cell Stem Cell. 2019 May 31. pii: S1934-5909(19)30206-1. doi: 10.1016/j.stem.2019.05.002. PMID: 31178255 [Epub ahead of print] 441. Hawthorne WJ, Cowan PJ, Bühler LH, Yi S, Bottino R, Pierson RN 3rd, Ahn C, Azimzadeh A, Cozzi E, Gianello P, Lakey JRT, Luo M, Miyagawa S, Mohiuddin MM, Park CG, Schuurman HJ, Scobie L, Sykes M, Tector J, Tönjes RR, Wolf E, Nuñez JR, Wang W. Third WHO Global Consultation on Regulatory Requirements for Xenotransplantation Clinical Trials, Changsha, Hunan, China December 12-14, 2018: "The 2018 Changsha Communiqué" The 10-Year Anniversary of The International Consultation on Xenotransplantation. Xenotransplantation. 2019 Mar;26(2):e12513. doi: 10.1111/xen.12513. PMID: 30980428 440. Khosravi-Maharlooei M, Obradovic A, Misra A, Motwani K, Holzl M, Seay HR, DeWolf S, Nauman G, Danzl N, Li H, Ho SH, Winchester R, Shen Y, Brusko TM, Sykes M. Crossreactive public TCR sequences undergo positive selection in the human thymic repertoire. J Clin Invest. 2019 Mar 28;130:2446-2462. doi: 10.1172/JCI124358. PMCID: PMC6546456. [Commentary provided by Antonio La Cava, MD, PhD: La Cava A. Human T cell repertoire: what happens in thymus does not stay in thymus. J Clin Invest. 2019;129(6):2195-2197. https://doi.org/10.1172/JCI128371. PMCID: PMC6546474.] 439. Snyder ME, Finlayson MO, Connors TJ, Dogra P, Senda T, Bush E, Carpenter D, Marboe C, Benvenuto L, Shah L, Robbins H, Hook JL, Sykes M, D'Ovidio F, Bacchetta M, Sonett JR, Lederer DJ, Arcasoy S, Sims PA, Farber DL. Generation and persistence of human tissue-resident memory T cells in lung transplantation. Sci Immunol. 2019 Mar 8;4(33). pii: eaav5581. doi: 10.1126/sciimmunol.aav5581. PMCID: PMC6435356. 438. Alonso-Guallart P, Zitsman J, Stern J, Kofmans B, Woodland D, Ho SH, Sondermeijer H, Buhler L, Griesemer A, Sykes M, Duran-Struuck R. Characterization, biology, and expansion of regulatory T cells in the Cynomolgus macaque for pre-clinical studies. Am J Transplant. 2019 Feb 15. doi: 10.1111/ajt.15313. PMID: 30768842 [Epub ahead of print] 437. Yoshihara S, Li Y, Danzl N, Sykes M, Yang YG. Posttransplant hemophagocytic lymphohistiocytosis driven by myeloid cytokinds and vicious cycles of T-cell and macrophage activation in humanized mice. Front Immunol. 2019 Feb 13;10:186. doi: 10.3389/fimmu.2019.00186. PMCID: PMC6381030. 436. Spitzer T, Tolkoff-Rubin N, Cosimi B, McAfee S, Dey B, Chen YB, Delmonico F, Sykes M, Sachs DH, Kawai T. Twenty Year Follow Up of Histocompatibility Leukocyte Antigen-Matched Kidney and Bone Marrow Co-Transplantation for Multiple Myeloma with End Stage Renal Disease: Lessons Learned. Transplantation. 2019 Feb 12. doi: 10.1097/TP.0000000000002669. PMID: 30801529 [Epub ahead of print] 435. Fu J, Zuber J, Martinez M, Shonts B, Obradovic A, Wang H, Lau SP, Xia A, Waffarn EE, Frangaj K, Savage TM, Simpson MT, Yang S, Guo XV, Miron M, Senda T, Rogers K, Rahman A, Ho SH, Shen Y, Farber D, Griesemer A, Kato T, Sykes M. Human Intestinal Allografts Contain Functional Hematopoietic Stem and Progenitor Cells that are Maintained by a Circulating Pool. Cell Stem Cell. 2018 Nov 21. pii: S1934-5909(18)30543-5. doi: 10.1016/j.stem.2018.11.007. PMCID: PMC6398344. [Commentary provided by Norma Sue Kenyon, PhD: Kenyon NS. We Could Use More Tolerance: Role of Intestinal-Allograft-Derived Human Stem Cells. Cell Stem Cell. 2019 Feb 7;24(2):197-198. doi: 10.1016/j.stem.2019.01.009. PMID: 30735643] 434. Savage TM, Shonts BA, Obradovic A, DeWolf S, Lau S, Zuber J, Simpson MT, Berglund E, Fu J, Yang S, Ho SH, Tang Q, Turka LA, Shen Y, Sykes M. Early expansion of donor-specific Tregs in tolerant kidney transplant recipients. JCI Insight. 2018 Nov 15;3(22). pii: 124086. doi: 10.1172/jci.insight.124086. PMCID: PMC6302945 433. DeWolf S, Grinshpun B, Savage T, Lau SP, Obradovic A, Shonts B, Yang S, Morris H, Zuber J, Winchester R, Sykes M, Shen Y. Quantifying size and diversity of the human T cell. JCI Insight. 2018 Aug 9;3(15). doi: 10.1172/jci.insight.121256. PMCID: PMC6129121. 432. Sykes M. IXA Honorary Member Lecture, 2017: The Long and Winding Road to Tolerance. Xenotransplantation. 2018 May;25(3):e12419. doi: 10.1111/xen.12419. PMCID: PMC6011233. 431. Proto JD, Doran AC, Subramanian M, Wang H, Zhang M, Sozen E, Rymond CC, Kuriakose G, D'Agati V, Winchester R, Sykes M, Yang YG, Tabas I. Hypercholesterolemia induces T cell expansion in humanized immune mice. J Clin Invest. 2018 Jun 1;128(6):2370-2375. doi: 10.1172/JCI97785. PMCID: PMC5983331. 430. Sykes M. Immune monitoring of transplant patients in transient mixed chimerism tolerance trials. Hum Immunol. 2018 May;79(5):334-342. doi: 10.1016/j.humimm.2017.12.011. PMCID: PMC5924718. 429. Watanabe H, Sahara H, Nomura S, Tanabe T, Ekanayake-Alper DK, Boyd LK, Louras NJ, Asfour A, Danton MA, Ho SH, Arn JS, Hawley RJ, Shimizu A, Nagayasu T, Ayares D, Lorber MI, Sykes M, Sachs DH, Yamada K. GalT-KO pig lungs are highly susceptible to acute vascular rejection in baboons, which may be mitigated by transgenic expression of hCD47 on porcine blood vessels. Xenotransplantation. 2018 Sep;25(5):e12391. doi: 10.1111/xen.12391. PMCID: PMC6135720. 428. Fuchs A, GliwiÅ"ski M, Grageda N, Spiering R, Abbas AK, Appel S, Bacchetta R, Battaglia M, Berglund D, Blazar B, Bluestone JA, Bornhäuser M, ten Brinke A, Brusko TM, Cools N, Cuturi MC, Geissler E, Giannoukakis N, GoÅ'ab K, Hafler DA, van Ham SM, Hester J, Hippen K, Di Ianni M, Ilic N, Isaacs J, Issa F, Iwaszkiewicz-GrzeÅ› D, Jaeckel E, Joosten I, Klatzmann D, Koenen H, van Kooten C, Korsgren O, Kretschmer K, Levings M, Marek-Trzonkowska NM, Martinez-Llordella M, Miljkovic D, Mills KH, Miranda JP, Piccirillo CA, Putnam AL, Ritter T, Roncarolo MG, Sakaguchi S, Sánchez-Ramón S, Sawitzki B, Sofronic-Milosavljevic L, Sykes M, Tang Q, Vives-Pi M, Waldmann H, Witkowski P, Wood KJ, Gregori S, Hilkens CMU, Lombardi G, Lord P, Martinez-Caceres EM and Trzonkowski P. Minimum Information about T Regulatory Cells: A Step toward Reproducibility and Standardization. Front. Immunol. 2018 Jan 15;(8):1844. doi: 10.3389/fimmu.2017.01844. PMCID: PMC5775516. 427. Borsotti C, Danzl NM, Nauman G, Hölzl MA, French C, Chavez E, Khosravi-Mararlooei M, Glauzy S, Delmotte FR, Meffre E, Savage DG, Campbell SR, Goland R, Greenberg E, Bi J, Satwani P, Yang S, Bathon J, Winchester R, Sykes M. HSC-extrinsic sex- and intrinsic autoimmune disease-related human B cell variation is recapitulated in humanized mice. Blood Advances. 2017 1:2007-2018; doi: 10.1182/bloodadvances.2017006932. PMCID: PMC5728279. 426. Kato Y, Griesemer AD, Wu A, Sondermeijer HP, Weiner JI, Duran-Struuck R, Martinez M, Slate AR, Romanov A, Lefkowitch JH, Sykes M, Kato T. Novel H-shunt Venovenous Bypass for Liver Transplantation in Cynomolgus Macaques. Comp. Med. 2017 Oct. In Press. 425. Tan S, Li Y, Xia J, Jin CH, Hu Z, Duinkerken G, Li Y, Khosravi Maharlooei M, Chavez E, Nauman G, Danzl N, Nakayama M, Roep BO, Sykes M, Yang YG. Type 1 diabetes induction in humanized mice. Proc Natl Acad Sci. 2017 Sep 5. pii: 201710415. doi: 10.1073/pnas.1710415114. [Epub ahead of print] PMID: 28874533 424. Yamada K, Sykes M, Sachs D. Tolerance in xenotransplantation. Curr Opin Organ Tran. 2017. In Press 423. Tan, S., Xia, J., Hu, Z., Li, Y., Duinkerken, G., Jin, CH., Li, Y., Danzl, N., Nakayama, M., Roep, B., Sykes, M., Yang, YY. Human CD4 cells engineered to express a patient-derived islet autoreactive T-cell receptor cause type 1 diabetes in humanized mice. Proc Nat Acad Sci. 2017. In Press. 422. Sui L, Chen X, Leibel R, Sykes M, Egli D. Beta cell replacement in mice using human type 1 diabetes nuclear transfer embryonic stem cells. Diabetes. 2017. In Press 421. Zuber J, Sykes M. Mechanisms of Mixed Chimerism-Based Transplant Tolerance. Trends Immunol. 2017 Aug 18. pii: S1471-4906(17)30146-1. doi: 10.1016/j.it.2017.07.008. [Epub ahead of print] PMID: 28826941 420. DeWolf S, Sykes M. Alloimmune T cells in transplantation. J Clin Invest. 2017 Jun 30;127(7):2473-2481. doi: 10.1172/JCI90595. Epub 2017 Jun 19. PMCID: PMC5490749 419. Gao B, Gu Y, Rong C, Moore C, Porcheray F, Wong W, Preffer FI, Saidman SL, Fu Y, AB Cosimi B, Sachs DH, Kawai T, Sykes M, Zorn E. Dynamics of B cell recovery following kidney/bone marrow transplant recipients. Transplantation. 2017 Apr 19. doi: 10.1097/ TP.0000000000001789. [Epub ahead of print] PMID: 28422925 418. Sprangers B, DeWolf S, Savage TM, Morokata T, Obradovic A1, LoCascio SA, Shonts B1, Zuber J, Lau SP, Shah R, Morris H, Steshenko V, Zorn E, Preffer FI, Olek S, Dombkowski DM, Turka LA, Colvin R, Winchester R, Kawai T, Sykes M. Origin of enriched regulatory t cells in patients receiving combined kidney/bone marrow transplantation to induce transplantation tolerance. Am J Transplant. 2017 Mar 1. doi: 10.1111/ajt.14251. Epub 2017 Apr 10. PMID: 28251801 417. Weiner J, Zuber J, Shonts B, Yang S, Fu J, Martinez M, Farber D, Kato T, Sykes M. Long-term persistence of innate lymphoid cells in the gut after intestinal transplantation. Transplantation. 2016 Dec 8, DOI: 10.1097/TP.0000000000001593. [Epub ahead of print] PMCID: PMC4228952 416. Duran-Struuck R, Buhler L, Alonso-Guallart P, Zitsman J, Kato Y, Wu A, McMurchy A, Woodland D, Griesemer A, Martinez M, Boskovic S, Kawai T, Cosimi A, Wuu C, Slate A, Mapara M, Baker S, Tokarz R, D'Agati V, Hammer S, Pereira M, Lipkin W, Wekerle T, Levings M, Sykes M. Effect of ex vivo expanded recipient regulatory T cells on hematopoietic chimerism and kidney allograft tolerance across MHC barriers in cynomolgus macaques. Transplantation. 2017 Feb;101 (2):274-283, DOI: 10.1097/TP.0000000000001559. PMCID: PMC5263090 415. Zuber J, Shonts B, Lau S, Obradovic A, Fu J, Yang S, Lambert M, Coley S, Weiner J, Thome J, DeWolf J, Farber D, Shen Y, Caillat-Zucman S, Bhagat G, Griesemer A, Martinez M, Kato T, Sykes M. Bidirectional intragraft alloreactivity drives the repopulation of human intestinal allografts and correlates with clinical outcome. Science Immunology 07 Oct 2016: Vol. 1, Issue 4 eaah3732, DOI: 10.1126/sciimmunol.aah3732 PMCID: PMC5323244 414. Li HW, Vishwasrao P, Holzl MA, Chen S, Choi G, Zhao G, Sykes M. Impact of Mixed Xenogeneic Porcine Hematopoietic Chimerism on Human NK Cell Recognition in a Humanized Mouse Model. Am J Transplant. 2017 Feb;17 (2):353-364. doi: 10.1111/ajt.13957. Doi: 10.11111/ajt. Epub 2016 Aug 10.PMC5414033 413. Xia J, Hu Z, Yoshihara S, Li Y, Jin CH, Tan S, Li W, Chen Q, Sykes M, Yang YG. Modeling Human Leukemia Immunotherapy in humanized mice. EBiomed
About:
Megan Sykes' research career, during which she has published >440 papers and book chapters, has focused on hematopoietic cell transplantation, organ allograft tolerance induction, xenotransplantation tolerance and Type 1 diabetes. Dr. Sykes has developed novel strategies for achieving graft-versus-tumor effects without graft-versus-host disease following hematopoietic cell transplantation (HCT). She developed an approach that has been evaluated in clinical trials of non-myeloablative haploidentical HCT whose safety and efficacy allowed trials of HCT for the induction of organ allograft tolerance, allowing intentional achievement of tolerance in humans for the first time. Dr. Sykes has dissected the tolerance mechanisms and pioneered minimal conditioning approaches for using HCT to achieve allograft and xenograft tolerance. Her work on xenogeneic thymic transplantation for tolerance induction has led, for the first time, to long-term kidney xenograft survival in non-human primates. She has extended the HCT approach to the problem of reversing autoimmunity while replacing destroyed islets of Langerhans in Type 1 diabetes. She has developed novel "humanized mouse" models that allow personalized analysis of human immune disorders and therapies. Dr. Sykes believes that a mechanistic understanding of manipulations used to achieve clinical goals is essential to the translation of these manipulations to the clinic. It is for this reason that she has consistently worked at the interface between basic science and clinical applications, and has been able to translate her research to new treatments for patients requiring bone marrow or organ transplants. Dr. Sykes is a Past President of the International Xenotransplantation Association, served as Vice President of TTS, has repeatedly served on TTS Council and is a member of the Institute of Medicine of the National Academies and of the Association of American Physicians. She has received many honors and awards, including the 2018 Medawar Prize.
In 2010, after 20 years at Massachusetts General Hospital and Harvard Medical School, Dr. Sykes moved to Columbia University to establish the Columbia Center for Translational Immunology (CCTI). The CCTI is a multidisciplinary research center whose scope includes transplantation (organ and bone marrow), autoimmune disease, tumor immunology, infectious immunity and basic immunology. Currently, the CCTI has a staff of >100 scientists and support staff, including 17 faculty members. Dr. Sykes' own laboratory program currently includes major projects in the area of xenograft tolerance induction in humanized mouse models; unique humanized mouse models for the analysis and treatment of autoimmune diseases, including Type 1 diabetes and rheumatoid arthritis (the "personalized immune" mouse); studies of lymphocyte turnover, chimerism and T cell trafficking in patients receiving intestinal and liver transplants; tracking of alloreactive T cells in human transplant recipients; and both pre-clinical and clinical studies of non-myeloablative hematopoietic cell transplantation for the induction of allograft tolerance.