Bilio-pancreatic diversion with duodenal switch (also called Duodenal switch, or BPD-DS) is a complex procedure that induces weight loss by a sleeve gastrectomy and intestinal bypass. This approach results in decreased absorption of food. With this procedure, the surgeon removes approximately 60-70 percent of the stomach so that the stomach takes the shape of a tube (sleeve gastrectomy). The lower intestine is then divided much further downstream than with gastric bypass so that two thirds or more of the intestine is bypassed, leaving only a few feet of intestine where food and digestive enzymes meet. This is the intestinal bypass portion of the operation. The name duodenal switch comes from the fact that in this operation the intestinal bypass starts at the duodenum. The first part of the intestine, the duodenum, is divided and attached to the lower portion of the small intestine, the ileum.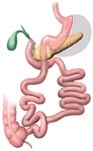 Duodenal switch preserves the outlet muscle called the pylorus that controls emptying of the stomach, so as is the case with sleeve gastrectomy, dumping syndrome is unusual. Duodenal switch results in the greatest, most reliable and longest lasting weight loss of all the weight loss procedures. Since this operation induces a state of decreased absorption, patients will likely experience more frequent and looser bowel movements, increased flatulence, and need to be very closely monitored for vitamin, mineral and protein levels.
In some extremely overweight patients this operation is performed in 2 stages: sleeve gastrectomy is performed first, followed 9-12 months later by the intestinal bypass portion of the procedure. It may also be used as a revision operation for sleeve patients who have not lost enough weight or who regain significant weight. In such cases the intestinal bypass is added beyond the sleeve rather than dividing the sleeve and converting it to a gastric bypass.
Expected Weight Loss
Most patients can expect to lose 60 to 80 percent of their excess body weight over a 2-year period. Clinical trials have demonstrated durable weight loss of about 70% of excess body weight beyond 10 years.
PDF Downloads
Related Topics
---
Stories & Perspectives
---
Next Steps
Ready for a change? To get started with our program, call (212) 305-4000 or request an appointment online today.