The field of kidney transplant surgery is evolving in dramatic ways thanks to the advent of paired exchanges, or 'kidney swaps.' During a kidney swap, transplant recipients who have willing live donors essentially swaps donor organs. For patients who have a willing but incompatible donor, the strategy allows people who need a kidney to receive an organ that is a better match to his or her blood type and antibodies than their own donor could provide. The success of such exchanges has given rise to transplants among up to six donor-recipient pairs at the Kidney and Pancreas Transplant Program at NYP/Columbia. And when hospitals across regions coordinate efforts, they are able to organize even larger swaps like the recent swap involving 30 donors, 30 recipients, and 17 hospitals across the U.S. over a four-month period.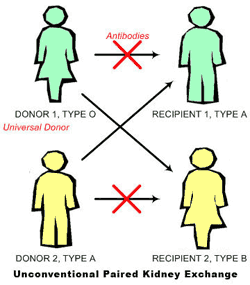 How a Paired Exchange (Kidney Swap) Works
In a paired donor exchange, also known as a kidney swap, two kidney recipients essentially "swap" willing donors. While medically eligible to donate, each donor has an incompatible blood type or antigens to his or her intended recipient. By agreeing to exchange recipients—giving the kidney to an unknown, but compatible individual—the donors can provide two patients with healthy kidneys where previously no transplant would have been possible.
The goal of a paired donor exchange is to make optimal use of willing live donors, while helping potential recipients off the transplant waiting-list and back to leading productive lives. Only a handful of kidney swaps, including swaps involving up to three sets of donor-recipients, have been performed nationwide to date. The Incompatible Kidney Transplant Program at NewYork-Presbyterian/Columbia University Medical Center (NewYork-Presbyterian/Columbia) is one of the few select programs that perform this procedure.
A range of safeguards are in place to ensure fair exchanges. Prior to their operations, the two pairs remain anonymous, to avoid undue pressure on the donors. Both donors must undergo anesthesia and surgery simultaneously, preventing a single individual from backing out at the last minute, leaving one recipient without a donated organ.
As with the donor procedures, the transplant operations are performed at the same time. This poses a substantial logistical and staffing challenge. Four operating rooms must be available at once, as well as four complete surgical teams to staff those rooms. As a large academic medical center, NewYork-Presbyterian/Columbia has the resources and ability to undertake such a challenge.
Transplant Procedure
The transplantation surgeries for donor exchanges are the same as in standard living donor operations. Donor organs are obtained through a laparoscopic nephrectomy. The surgeon then places the donor kidney on one side of the recipient's front lower abdomen, using an 4-10 inch incision. The novel placement of the kidneys—versus its natural position at the back of the body—allows the surgeon to more easily connect the kidney to the bladder. To ensure an adequate blood supply, the surgeon also attaches the kidney to an artery and vein that lead to the legs. In most cases, the patient's own kidneys are not removed, thereby avoiding unnecessary additional surgery.
The transplant operation typically lasts from 2½-5 hours. The patient stays in the hospital for as little as three days and spends approximately six weeks recuperating at home. All organ transplant recipients, including kidney recipients, need to take daily immunosuppressant medications.