A pulmonary embolism is a life-threatening blockage of the lung's blood supply, caused by a blood clot.
Key Info about Pulmonary Embolism
Pulmonary emboli are life-threatening, with 25-30% of cases causing death unless treated immediately. 
Pulmonary emboli can be treated with medication or with surgery such as pulmonary thromboendarterectomy (PTE).
Chronic pulmonary blockages cause high blood pressure in the lungs, called pulmonary hypertension.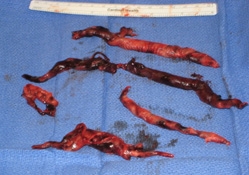 An acute pulmonary embolism is a sudden blockage of the blood vessels feeding the lungs, the pulmonary arteries. The clot begins in a vein elsewhere in the body and travels to the pulmonary arteries. Pulmonary emboli are life-threatening, with 25-30% of cases causing death unless treated immediately. 
Depending upon the type of blockage and its severity, treatment may take the form of medication or surgery. For those at risk for repeat pulmonary emboli (multiple embolisms), a filter may be placed in the inferior vena cava, the large vein that carries blood from the lower portion of the body back to the heart. 
Medical Treatment Options
Medical management of pulmonary embolism includes two steps:
Anticoagulants prevent clots by thinning the blood and include drugs such as warfarin, commonly known as Coumadin, and heparin. 
Once clots have formed, clot dissolvers (thrombolytics) can break them up quickly. Clot-dissolving medication is only used in life-threatening situations because side effects include severe bleeding.
Surgical Treatment Options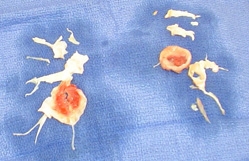 In rare cases, medical management of acute pulmonary emboli fails to adequately treat these clots, or there may be severely unstable blood flow from a very large embolus. In these cases, a surgeon can remove the offending clot and restore proper blood flow to the lungs. 
Pulmonary Thromboendarterectomy (PTE)
A pulmonary thromboendarterectomy (PTE) is an "open-heart" surgery that enables the surgeon to view the pulmonary arteries that connect the lungs to the heart. To achieve this, the person undergoing surgery is connected to the heart-lung bypass machine, which mimics the actions of the heart and lungs, oxygenating the blood and pumping it throughout the body. The heart is stopped to control the blood flow to the heart and lungs.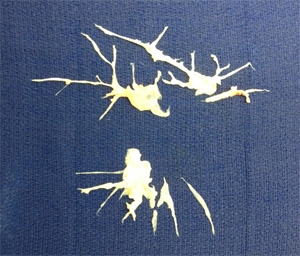 The body is then cooled significantly, reducing the need for oxygen and allowing surgeons to halt the bypass machine periodically to view the vessels they are clearing. Bit by bit, the surgical team gently loosen the clots and remove them. Clots may be as long as 10 inches, extending from the main arteries into the smaller arteries of the lung.
Next Steps
A pulmonary embolism is a medical emergency and requires immediate attention. At Columbia, our Pulmonary Embolism Response Team is on call to provide urgent surgical and medical care. To contact the Pulmonary Embolism Response Team, call (212) 305-5156. 
Related Services
Related Topics