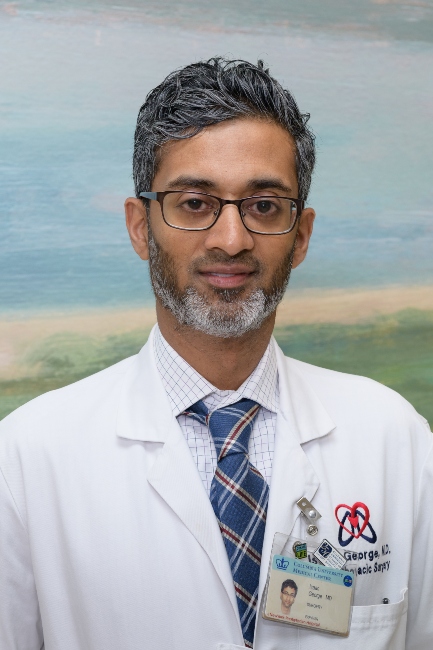 Isaac George, MD
Surgical Director of the Heart Valve Center at Columbia
Surgical Director, Structural Heart Disease, NYP
Expertise:
Aortic Aneurysm
Aortic Aneurysm Repair
Aortic Aneurysm Surgery
Aortic Aneurysm With Dissection
Aortic Arch Surgery
Aortic Disease
Aortic Dissection
Aortic Stenosis
Aortic Stent Grafts
Aortic Surgery
Aortic Valve Surgery
Aortic and Mitral Valve Surgery
Atrial Fibrillation, Surgical Treatment
Bloodless Surgery
Cardiac Surgery
Coronary Artery Bypass Surgery (Off Pump)
Coronary Artery and Valvular Disease
Heart Disease
Heart Disease and Women
Heart Failure
Heart Surgery
Heart Transplantation
Heart Valve Disease
Heart Valve Repair
Heart Valve Replacement
Heart Valve Surgery
High Risk Surgery of the Elderly
Interventional Cardiology
Minimally Invasive Aneurysm Repair
Minimally Invasive Heart Surgery
Minimally Invasive Valve Repair
Mitral Valve Reconstruction
Mitral Valve Repair
Mitral Valve Replacement/Repair
Mitral Valve Surgery
Mitral/Aortic Valve Replacement
Off Pump Coronary Bypass Surgery
Open Heart Surgery
Percutaneous Valve Interventions
Pericardial Disease
Robotic Surgery
TAVR (Transcatheter Aortic Valve Replacement)
Thoracic Aneurysm Repair
Thoracic and Cardiac Surgery
Valve Reconstruction/Repair
Valve Replacement
Valvular Heart Disease
About:
Dr. Isaac George, MD joined NewYork Presbyterian/Columbia University Medical Center in the Department of Surgery in July of 2001 as a resident in general surgery following his graduation from Duke University School of Medicine. Prior to receiving his MD, Dr. George completed a B.S. in Mechanical Engineering at Massachusetts Institute of Technology in 1997. Dr. George also completed a fellowship program in cardiothoracic surgery in 2011 as well as a fellowship program in interventional cardiology in 2012. In July, 2012 Dr. George became an Assistant Professor of Surgery and later an Associate Professor of Surgery and Medicine in 2019.
Dr. George is board certified in thoracic (cardiac) surgery. He performs all types of open and reoperative adult cardiac surgery (aortic, mitral and tricuspid valve surgery, aortic aneurysm surgery, coronary bypass grafting, robotic surgery) with a particular interest in complex valvular and aortic disease. He specializes in minimally invasive mitral valve surgery with small incisions and repair of the mitral valve. He annually performs 150-200+ open heart surgeries a year and is the busiest heart surgeon by procedure volume in New York State. He is one of the few physicians in the world trained in both cardiac surgery and interventional cardiology. Dr. George is currently the Surgical Director of the Structural Heart and Valve Center at Columbia University Medical Center. His surgical outcomes remain some of the best in the state despite taking on the highest risk cases (surgical mortality rate per year ~1.5%).
Dr. George is focused on integrating new technology and innovation into his clinical practice. He is trained in the most current and cutting-edge procedures including Transcatheter Valve Replacement (TAVR, TMVR), transcatheter valvular repair (Mitraclip), percutaneous coronary stenting, and aortic stent grafting. He performs almost 800 transcatheter valve procedures a year, in addition to his busy open surgical practice and has personally done almost 6000 TAVR procedures. Because he is trained in multiple disciplines, he is able to combine strategies to create a treatment plan for each individual patient that is both unbiased and personalized. As Primary Investigator of a national TAVR and tricuspid trials and with involvement in numerous other clinical trials, he has extensive clinical research trial experience.
There are numerous new transcatheter trials for aortic stenosis, aortic insufficiency, bicuspid aortic valves, mitral regurgitation, tricuspid regurgitation, and heart failure that Dr. George is involved. Click here for a full list and description of ongoing trials.
Dr. George is involved in both benchtop and clinical research as well. As former director of the cardiac surgery research laboratory, he oversees surgical fellows, post-doctoral students, masters students, and research assistants in both scientific projects and clinical outcomes in cardiac surgery and TAVR. His projects reflect the translational nature of the lab as well as his clinical interests. His clinical practice allows him to be uniquely positioned to advance this research with a clinical endpoint and potential therapeutic intervention as the goal.
Dr. George can be contacted directly at ig2006@cumc.columbia.edu
Watch: Meet Cardiothoracic Surgeon, Dr. Isaac George
Watch: Dr. Isaac George Discusses Advancements in Heart Valve Surgery
Watch: Decision Making in Aortic Valve Disease with Dr. Isaac George
Watch: Dr. George Discusses Stroke Risk and TAVR
Read: Dr. George Talks Hybrid Cardiac Surgery: A Viable Strategy for Select Patients
Read: What To Expect After A Coronary Artery Bypass, According To Dr. George
Dr. George hosts Taking it to Heart, the Columbia Heart Valve team's podcast. In each episode, Dr. George and the Columbia Heart Valve team discuss a new topic related to valvuar disease. Subscribe to Taking It to Heart.
Click here for a full list and description of ongoing trials from Dr. George.
Click here for a complete list of publications from Dr. George.
Watch: Recovery from COVID
Disclosures: Dr. George is a medical consultant for Atricure, MitreMedical, cardioMech, VDyne, Valcare Medical, Durvena.
Honors:
2019: American Association of Thoracic Surgeons Biology Cup Winner - Best Presentation
2017: Columbia University Deparment of Surgery - Junior Faculty Research Grant
2016: American Association of Thoracic Surgeons Graham Surgical Investigator Award
2015: Columbia University Department of Surgery - Kenneth Forde Research Award
2008: Blakemore Prize – Best Resident Research Award, Columbia University College of Physicians and Surgeons
2007: Blakemore Award - Best Resident Research Award, Columbia University College of Physicians and Surgeons
2006: Blakemore Award - Best Resident Research Award, Columbia University College of Physicians and Surgeons
2004: New Era Cardiac Surgery Conference Scholarship
1995: Pi Tau Sigma, Mechanical Engineering Honor Society
Interests:
Regulation of myostatin signaling in human cardiomyopathy
TGFB regulation in non-syndromic aortic aneurysm formation.
Valve interstitial cell activation mechanisms after surgical and transcatheter valve replacement.
Clinical outcomes after valve and hybrid surgery.
Cardiomyopathy
Aortic aneurysm formation
Surgical and transcatheter valve replacement
Publications:
Nazif TM, Cahill TJ, Daniels D, McCabe J, Reisman M, Chakravarty T, Makkar R, Krishnaswamy A, Kapadia S, Chehab B, Wang J, Spies C, Rodriguez E, Hahn RT, Leon MB, George I. Real-World Experience with the Sapien 3 Ultra transcatheter heart valve: a propensity matched analysis from the United States. (submitted)
Brener MI, Old A, Nemeth S, Kurlansky P, Nazif TM, Vahl TP, Khalique O, Hamid NB, Patel A, Ng V, Chen S, Cahill TJ, Rahim HM, Hahn RT, Bapat V, Ahmed MI, Leon MB, Kodali S, Eudailey KW, George I. Suprasternal Versus Transfemoral Access for Transcatheter Aortic Valve Replacement: Insights from a Propensity Score Matched Analysis. (submitted)
Shahim B, Redfors B, Chen S, Dahlen T, Lindman B, Nazif T, Kapadia S, Gertz Z, Crawly A, Li D, Thourani V, Kodali S, Zajarias A, Babaliaros V, Guyton R, Elmariah S, Herrmann H, Mack M, Smith CR, Leon MB, George I. Prognostic Value of Serial Neutrophil-to-Lymphocyte Ratio in Patients Undergoing Transcatheter or Surgical Aortic Valve Replacement-The PARTNER I-II Trials and Registries. (submitted)
Castillero E, Howsmon B, Rego BV, Keeney S, Driesbaugh KH, Xue Y, Camillo C, George I, Gorman RC, Gorman JH, Sacks MS, Levy RJ, Ferrari G. Altered Responsiveness to Transforming Growth Factor/Bone Morphogenic Protein Signaling and Increased CD45% Fibrocyte Presence in Mitral Valves are Distinctive of Ischemic Mitral Regurgitation After Myocardial Infarction. (submitted)
Shahim B, Malasrie C, George I, Thourani VH, Biviano AB, Russo M, Brown DL, Babaliaros V, Guyton RA, Kodali SK, Nazif TM, McCabe JM, Williams M, Genereux P, Lu M, Yu X, Alu M, Webb JG, Mack MJ, Leon MB, Kosmidou I. Impact of Preexisting Atrial Fibrillation on Clinical Outcomes After Transcatheter or Surgical Aortic Valve Replacement for Severe Aortic Stenosis: an Analysis from the PARTNER 3 Trial. (submitted)
Sadri S, Loeb GJ, Grinspoon A, Elvezio C, Sun SH, Ng VG, Khalique O, Moses JW, Patel AJ, George I, Hahn RT, Nazif TM, Leon MB, Kirtane AJ, Kodali SK, Feiner SK, Vahl TP. Towards a Virtual Future: Augmented Reality Guidance for Cerebral Embolic Protection during TAVR. (submitted)
Yamabe T, Pearsall CA, Zhao Y, Kurlansky P, Bethancourt CN, Nitta S, George I, Smith CR, Takayama H. Incidence, Cause, and Outcome of Reintervention after Aortic Root Replacement. (submitted)
Fam NP, von Bardeleban RS, Hensy M, Kodali SK, Smith RL, Hausleiter J, Ong G, Boone R, Ruf T, George I, Szerlip M, Nabauer M, Ali FM, Moss R, Bapat V, Schnitzler K, Kriedel F, Ye J, Deva DP, Mack MJ, Grayburn PA, Peterson MD, Leon MB, Hahn RT, Webb JG. Transfemoral Transcathetere Tricuspid Valve Replacement with the EVOQUE System for Severe Tricuspid Regurgitation: A Multicenter, Observational, First-in-Human Experience. (Accepted-JACC Cardiovasc Int)
Von Ballmoos MC, Forrest JK, Williams MR, Mangi AA, Kleiman N, Yakubov SJ, Watson D, Kodali S, George I, Tadros P, Zorn GL, Brown J, Kipperman R, Oh JK, Qiao H, Reardon MJ. Three-Year Outcomes with a Contemporary Self-Expanding Transcatheter Valve from the Evolut PRO US Clinical Sudy. (submitted)
Yamabe T, Zhao Y, Kurlansky PA, Nitta S, Kelebeyev S, Bethancourt CN, George I, Smith CR, Takayama H. Chronic Kidney Disease stratifies short- and long-term outcomes after aortic root surgery. (submitted)
Dallan, LA, Forrest JK, Reardon MJ, Szeto WY, George I, Kodali S, Kleiman NS, Yakubo SJ, Grubb KJ, Liu F, Baeza C, Attizzani GF. Transcatheter Aortic Valve Replacement with Self-Expandable Supra-Annular Valves for Failed Surgical Bioprostheses: Insights From TVT-Registry. (submitted)
Gupta A, Mori M, Wang Y, Vahl T, Nazif T, Kirtane AJ, George I, Kodali S, Giersson A, Leon MB, Krumholz HM. Sex- and Race-based differences in Transcatheter and Surgical Aortic Valve Replacement Among Older Adults in the United States, 2012-2017. (submitted)