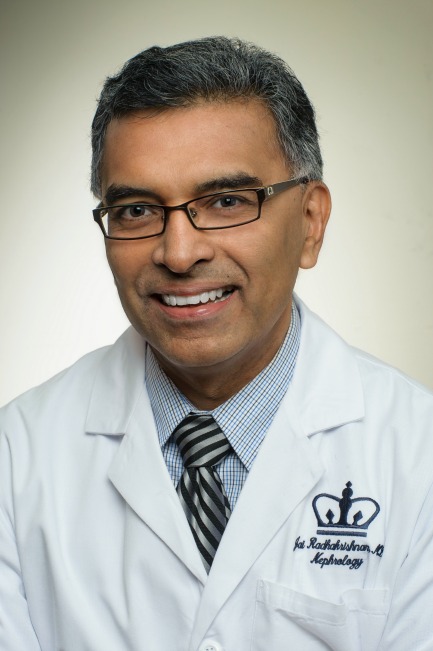 Jai Radhakrishnan, MD
Clinical Chief, Nephrology Division
Expertise:
Biopsies
Glomerular Diseases and Nephrotic Syndrome
Hypertension
Intensive Care
Kidney Disease
Kidney Failure
Kidney Stones
Lupus
Nephrology
Vasculitis
About:
Dr. Radhakrishnan is Professor of Medicine at Columbia University Medical Center. He is the Director of Clinical Services of the Nephrology Division. His clinical and research interests are the in the therapy of chronic kidney disease (including glomerular diseases and lupus kidney disease), hypertension and intensive care nephrology.
He is a co-director of the hypertension center of Columbia Universtiy
He is a fellow of the American Society of Nephrology and National Kidney Foundation. His commitment to medical education and patient care is exemplified by his numerous teaching awards and his inclusion in the Who's Who among America's Teachers & Educators, America's Best Doctors and Castle Connolly's Top Doctor.
Honors:
Teaching Awards 1989: Excellence in Teaching - Golden Apple Award, New York Medical College
1992: Fellow of the Year - Columbia-Presbyterian Medical Center
1994: Junior Attending of the Year, Dept of Medicine
2001: Best Morning Report Attending, Dept of Medicine.
2003: Senior Attending of the Year, Dept of Medicine
2005: Ewig Clinical Education Award, Dept of Medicine.
2006: Daniel V. Kimberg Memorial Teaching Award, Dept of Medicine
2009: Charles W. Bohmfalk Award for Excellence in Pre-clinical Teaching, Columbia University
2010: Member, Glenda Garvey Teaching Academy, Columbia University
2010: Outstanding Teacher of the Year, Columbia University, College of Physicians & Surgeons (Preclinical)
Professional Recognition Whos Who among Americas Teachers & Educators
New York Times Magazine Super Doctors
Castle Connolly, Best Doctors in America
Who's Who Among Executives and Professionals, Honors Edition
Countries Visited for Humanitarian Missions:
Interests:
Epidemiology and treatment protocols for primary glomerular disease
Lupus Nephritis
Publications:
Radhakrishnan J, Moutzouris DA, Ginzler EM, Solomons N, Siempos II, Appel GB. (2010) Mycophenolate mofetil and intravenous cyclophosphamide are similar as induction therapy for class V lupus nephritis. . Kidney Int. 77(2):152-160
Mohan S, Radhakrishnan J (2011) Geographical variation in the response of lupus nephritis to mycophenolate mofetil induction therapy. Clin Nephrol 75(3):233-41
Boyden LM, Choi M, Choate KA, et al (2012) Mutations in kelch-like 3 and cullin 3 cause hypertension and electrolyte abnormalities. Nature 482(7383):98-102
Labban B, Arora N, Restaino R, Markowitz G, Valeri A , Radhakrishnan J (2010) The Role of Kidney Biopsy in Heart Transplant Candidates With Kidney Disease Transplantation 89(7):887-893
Radhakrishnan J, Uppot RN, Colvin RB (2010) Case records of the Massachusetts General Hospital. Case 5-2010. A 51-year-old man with HIV infection, proteinuria, and edema N Engl J Med ;362(7):636-46
Appel GB, Radhakrishnan J, D'Agati V (2008) Secondary Glomerular Disease BRENNER & RECTOR 8 Ed:1067-1126
Bhat P, Radhakrishnan J (2008) B lymphocytes and lupus nephritis: New insights into pathogenesis and targeted therapies. Kidney Int 73(3):261-268
Bomback AS, Smith RJ, Barile GR, Zhang Y, Heher EC, Herlitz L, Stokes MB, Markowitz GS, D'Agati VD, Canetta PA, Radhakrishnan J, Appel GB. (2012) Eculizumab for Dense Deposit Disease and C3 Glomerulonephritis. Clin J Am Soc Nephrol epub: