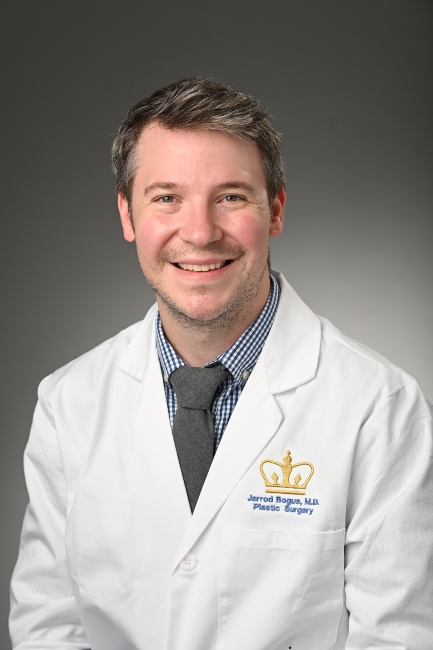 Expertise:
Facial Plastic Surgery
Facial Plastic and Reconstructive Surgery
Plastic & Reconstructive Surgery
Surgery
About:
Dr. Jarrod T. Bogue is a Clinical Instructor in the Division of Plastic Surgery at Columbia. Dr. Bogue graduated magna cum laude and Phi Beta Kappa from the University of Rochester in 2010 with a Bachelor of Science degree in Molecular Genetics. He then graduated from the University of Rochester School of Medicine and Dentistry in 2015 with a Doctor of Medicine degree with distinction in research. While in medical school, he received a highly competitive National Institute of Health funded TL1 fellowship for trainees pursuing careers in multi-disciplinary clinical and translational science to spend a year investigating the structures of reactive RNA molecules related to antibiotic drug mechanisms. After graduating, he began an integrated six-year plastic surgery residency at New York Presbyterian Hospital Cornell-Columbia. He graduated in 2021 after serving as chief resident in charge of education in his final year. During residency, he went to Kathmandu, Nepal on a surgical mission with ReSurge International. While there, he engaged with local surgeons and worked to improve education in order to provide a lasting impact for the community served. Following residency, he completed a one-year fellowship in microsurgery at Memorial Sloan Kettering.
Dr. Bogue authored several peer-reviewed publications. He also has attended and presented at regional and national meetings, including American Society of Plastic Surgeons and American Society of Reconstructive Microsurgery. His current research interests are focused on limb salvage, orthoplastic surgery and cancer reconstruction outcomes.
Dr. Bogue is a compassionate, caring and skilled surgeon. He is well trained in the depth and breadth of plastic surgery. He specializes in microsurgery, orthoplastic surgery, abdominal wall reconstruction, as well as cancer and trauma reconstruction.
Honors:
New York Presbyterian Hospital Plastic Surgery Residency COVID Award 2021
Administrative Chief Resident for Education and Curriculum in Plastic Surgery, New York Presbyterian Hospital, 2020-2021
Distinguished Housestaff Award 2020
Leslie Cohen Award 2019 and 2020
ReSurge International reconstructive surgery mission trip to Kathmandu, Nepal 2019
NIH TL1 Fellow University of Rochester School of Medicine and Dentistry 2013-2014
Simeon Cheatham Award 2008
Bausch and Lomb Honorary Science Award and Scholarship 2006
Publications:
Francis KR, Bogue JT. Invited Discussion on: Percutaneous Intradermal Purse-String Closure for Correction of Male Tuberous Nipple-Areola Complex Deformity. Aesthetic Plast Surg. 2021 Oct;45( 5):2005-2008
LE Cohen, JT Bogue, J Jin, JJ Disa. Explantation in tissue expander and direct-to-implant reconstruction with acellular dermal matrix: how to avoid early reconstructive failure. Plastic and Reconstructive Surgery 2021 April 1;147(4):579e-586e
H Huang, JT Bogue, DM Otterburn. AeroForm Tissue Expander: A case of early accidental inflation. Annals of Plastic Surgery February 2021
JT Bogue, G Wald, S Iosim, J Greenfield, DM Otterburn. Submuscular placement of intrathecal baclofen pumps: safer placement to avoid extrusion. Annals of Plastic Surgery 2020 Jul;85(S 1 Suppl 1 ):S8-S 11
KB Celie, M Yuan, C Cunniff, JT Bogue, C Hoffman, T Imahiyerobo. Rapidly progressive multisutural craniosynostosis in a patient with Jackson-Weiss syndrome and a de novo FGFR2 pathogenic variant. The Cleft Palate-Craniofac Journal 2019 Nov;56(10):1386-1392.