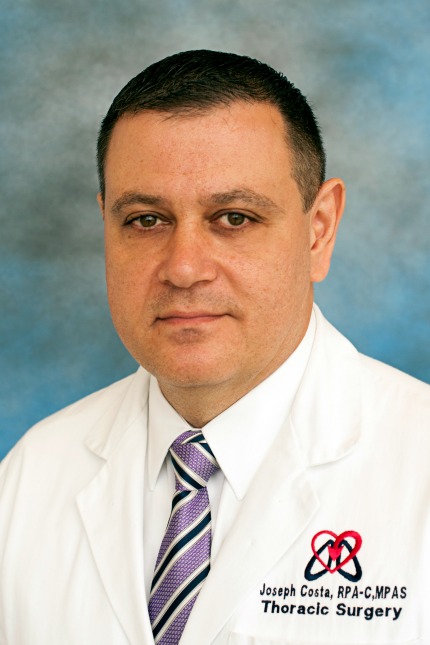 About:
Joseph Costa, DHSc, PA-C, is the first physician assistant to become a faculty member at NYP/Columbia University College of Physicians and Surgeons. His unique path began with his position as Dr. Craig Smith's private PA in Cardiothoracic Surgery (2000-2010). There, he began his role as a key oversight team member on pediatric and adult heart procurements, and later in performing lung procurements.
When he became the chief PA in Thoracic Surgery and Lung Transplantation, his role expanded to include complete responsibility for all aspects of onsite evaluation of potential lung allografts for transplant, which included review of chest x-rays, CT scans, and intraoperative bronchoscopy. His duties as lead surgeon include performing and teaching the intraoperative evaluation, cardiac dissection and cannulation for perfusion of lung allografts, and performing the en-bloc pneumonectomy.
In addition, Dr. Costa is responsible for evaluating and performing the operative phase in re-operative donors and Donation after Cardiac Death (DCD) donors. Along with his clinical responsibilities, Dr. Costa has taught and mentored surgical interns and fellows since 2003. He was featured in the book, "The Surgeons," cast in the movie "Awake" as a transplant surgeon, and is the author of numerous journal articles, abstracts, and poster presentations.
He is the recipient of numerous awards, including CUMC's PA of the Year in 2011. Having earned his Doctorate in Health Science with a focus on Health Policy and in combination with Dr. Costa's unique surgical and teaching experience, a motion was made to appoint him as faculty at Columbia P&S, which was granted in 2013.
Honors:
Columbia University Medical Center "PA of the Year" 2011
New York State Society of Physician Assistants "PA of the Year" 1999
Pfizer Pharmaceuticals Outstanding Clinician of the Year, 1999
Schering Pharmaceuticals Outstanding Family Practitioner of the Year, 1999
Stony Brook University Health Sciences Leadership Award, 1996
State University of New York at Purchase Advanced Genetics & Bio-evolution Lecture Award,1996
Westchester County EMS Lifesaving Awards, 1993(3), 1992 & 1990(3)
Air Force Commendation Medal, 1988
Air Force NCO Leadership Academy Honor Graduate Award, 1987
Air Force Good Conduct Medal, 1986
Air Force Small Arms Expert Medal (Pistol & Rifle), 1985