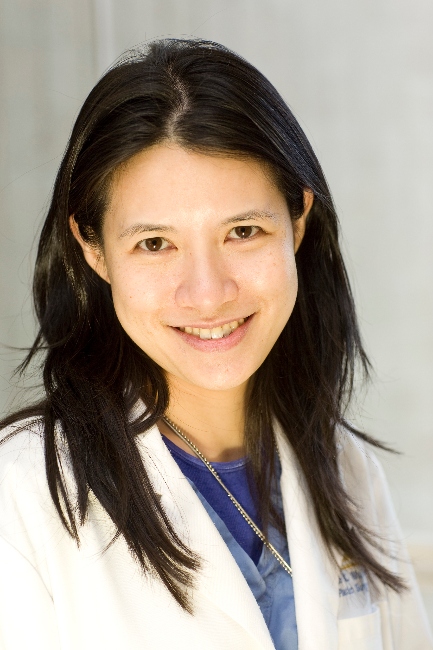 Expertise:
Arteriovenous Malformation (AVM)
Bannayan-Riley-Ruvalcaba syndrome (BRRS)
Blue Rubber Bleb Nevus Syndrome
Facial Plastic Surgery
Facial Plastic and Reconstructive Surgery
Glomuvenous Malformation/Glomangioma
Hemangioma
Hereditary Hemorrhagic Telangiectasia (HHT)
Kaposiform Hemangioendothelioma
Klippel Trenaunay Syndrome
Lymphangioma
Lymphatic Malformation
Lymphedema
PIK3-related Overgrowth Spectrum (PROS, CLOVES, MCAP)
PTEN-Related Overgrowth Syndrome
Parkes-Weber Syndrome
Pediatric Craniofacial Surgery
Pediatric Plastic Surgery
Pediatric Reconstructive Surgery
Pediatric Vascular Anomalies
Plastic & Reconstructive Surgery
Proteus Syndrome
Pyogenic Granuloma
Research Studies
Tufted Angioma
Vascular Anomaly
Vascular Birthmark
Vascular Malformation
Vascular Tumor
About:
June Wu, is a pediatric plastic surgeon/craniofacial surgeon. She is currently an Associate Professor of Surgery at CUIMC Columbia University Vagelos College of Physicians & Surgeons. She has a particular interest in Vascular Anomalies, which are congenital abnormalities of the blood and lymphatic systems that affect patients, and most of these conditions currently have no cure. Dr. Wu is a Co-Director of the NYP/Columbia University Irving Medical Center Interdisciplinary Vascular Anomalies Group and is the Co-Director of the Vascular Anomalies Basic and Translational Research Program that concentrates on understanding the pathophysiology of these lesions in order for biologically targeted therapeutics to be developed. 
Dr. Wu's current research interest focuses on the pathophysiology of hemangiomas and vascular malformations. Recently, her laboratory focuses on how genetic mutations in vascular malformations affect therapeutic response. This research will help direct personalized, precision medicine to patients with vascular anomalies. She has received a research grant from the U.S. Department of Defense to study genetic information and therapeutic implications in vascular malformations. Dr. Wu is a past recipient of the Irving Scholar Award and a K08 Clinical Investigator Award and has been invited to lecture on vascular anomalies both nationally and internationally. She has also co-authored multiple papers on vascular anomalies, published in both clinical and basic science journals.
Dr. Wu completed her undergraduate studies in chemistry at Princeton University, and graduated from Columbia University College of Physicians and Surgeons. She completed her residency in Plastic Surgery at Montefiore Medical Center, after which she completed a Craniofacial Fellowship, followed by a Vascular Anomalies Fellowship, at Boston Children's Hospital. Dr. Wu is a member of multiple professional societies including the American Association of Plastic Surgeons, Plastic Surgery Research Council, American Society of Plastic Surgeons, American College of Surgeons, the International Society for the Study of Vascular Anomalies, and others. Dr. Wu is on the Scientific Committee of both the Plastic Surgery Research Council and the International Society for the Study of Vascular Anomalies. Dr. Wu is a member of the In-service committee for the Plastic Surgery Education Foundation. This committee is responsible for writing examination questions for the In-service examination that every plastic surgery resident in this country is required to take every year during training in order to assess their competency.

Honors:
Recipient, K08 Award, NHLBI, 2010-2015
Inaugural recipient, Forde Junior Faculty Research Grant, 2007-2008
Pilot Award, Irving Center for Clinical Research, 2009-2010
Plastic Surgery Education Foundation Pilot Research Grant, 2010-2011
Leo Davidoff Award (2002)
Joseph Parker Garrison Award (1996)
First Prize, Resident's Research Competition (1997)
Interests:
Plastic, craniofacial, and reconstructive surgery
Vascular anomalies
Publications:
Articles in Peer-Reviewed Journals Outtz HH, Wu JK, Wang X, Kitajewski J. Notch1 deficiency results in decreased inflammation during wound healing and regulates VEGFR-1 and inflammatory cytokine expression in macrophages. J of Immunology, in press.
Wu JK, Adepoju O, Desilva D, Baribault K, Boscolo E, Bischoff J, Kitajewski J. A switch in Notch Gene Expression Parallels Stem Cell to Endothelial Transition in Infantile Hemangioma. Angiogenesis 2010, 13: 15-23. (Epub Jan 2010).
Wu JK and Rohde Christine. Pursestring Closure of Hemangiomas: Early Results of a Follow-Up Study. Journal of Plast Reconstr Aesthet Surg 2009, 62: 581-5.
Wu JK and Kitajewski J. A Potential Role for Notch signaling in the Pathogenesis and Regulation of Hemangiomas. J Craniofac Surg 2009, 20 (Suppl 1): 698-702.
Jacobs S, Simhaee DA, Marsano A, Fomovsky GM, Niedt GN, Wu JK. Efficacy and mechanisms of vacuum-assisted closure (VAC) therapy in promoting wound healing: a rodent model. J Plast Reconstr Aesthet Surg 2009 62:1331-8. (Epub July 2008).
Trousdale RK, Jacobs S, Simhaee DA, Wu JK, and Lustbader WJ. Wound closure and metabolic parameter variability in a db/db mouse model for diabetic ulcers. J Surg Res 2009, 151: 100-7 (Epub March 2008).
Wu JK, Bisdorff A, Gelbert F, Enjolras O, Burrows PE, and Mulliken JB. Auricular arteriovenous malformation: Evaluation, management, and outcome. Plast Reconstr Surg 2005, 115: 985-95.
Weber RV, Navarro A, Wu JK, Yu HL, Strauch B. Pulsed magnetic fields applied to a transferred arterial loop support the rat groin composite flap. Plast Reconstr Surg 2004, 114: 1185-9.
Yu Y, Flint AF, Mulliken JB, Wu JK, and Bischoff J. Endothelial Progenitor Cells in Infantile Hemangioma. Blood 2004, 103: 1373-1375.
Chiu DT, Hu G, Wu J, Rhee S, Rogers L, Gorlick N. Extended rat-ear flap model: A new rodent model for studying the effects of vessel supercharging on flap viability. J Reconstr Microsurg 2002, 18: 503-508.