Center for Acute Respiratory Failure Opens at NewYork-Presbyterian/Columbia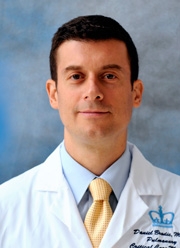 NewYork-Presbyterian/Columbia University Medical Center has officially launched the Center for Acute Respiratory Failure, which offers expertise in using lung bypass technology to help adult patients whose lungs are rapidly shutting down. Already one of the largest centers in the world for respiratory as well as cardiac failure in adults, NewYork-Presbyterian/Columbia is expanding further due to its new ECMO program.
Extracorporeal membrane oxygenation (ECMO) can take over the function of the lungs in adults with acute respiratory distress syndrome (ARDS) to give severely damaged lungs time to rest and heal. The ECMO program has improved the techniques used for delivering ECMO in adults and has developed a novel mini-ECMO unit that can be used to transport critically ill patients to the Center.
While ECMO is used at other centers, very few hospitals in the world treat as many adult patients with ECMO. NewYork-Presbyterian/Columbia treats about 70 a year, and that number is growing. More unusual in the U.S. is the team's ability to travel to area hospitals, place patients on their adapted ECMO unit, and transport them to the Center. This allows the team to bring patients into NYP/Columbia who would otherwise be too sick to be transported by ambulance, so that they can receive ECMO and other advanced respiratory care.
Co-directed by Daniel Brodie, MD, and Matthew Bacchetta, MD, the program's innovative use of ECMO has been highly successful: every adult ECMO patient has recovered and is now thriving. Click here to learn about the Center for Acute Respiratory Failure here.