Image: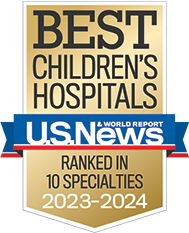 NewYork-Presbyterian Morgan Stanley Children's Hospital is the leading center for surgical and hospital care for children in New York City. The hospital is proud to be recognized by leading publications and medical organizations for its world-class care provided by its specialists, nurses, care teams, and support staff.
The #1 Children's Hospital in New York
Morgan Stanley Children's Hospital has been designated the #1 children's hospital in New York by U.S. News & World Report for 2023–2024. Morgan Stanley Children's Hospital is the only hospital in New York to be nationally ranked in all pediatric specialties evaluated, including:
Neonatology
Pediatric cancer
Pediatric cardiology and heart surgery
Pediatric diabetes and endocrinology
Pediatric gastroenterology and GI surgery
Pediatric nephrology
Pediatric neurology and neurosurgery
Pediatric orthopedics
Pediatric pulmonology and lung surgery
Pediatric urology
This marks the 17th consecutive year the hospital has been rated among the best children's hospitals in the nation.
Recognized for Pediatric Surgical Excellence
Morgan Stanley Children's Hospital partners with Columbia University Irving Medical Center and the Department of Pediatrics at Columbia University Vagelos College of Physicians and Surgeons and is a major referral center for high-risk procedures such as prenatal surgery, heart surgery, neurosurgery, spine surgery, organ transplantation, urologic procedures, and ear, nose, and throat (ENT).
The hospital is recognized as a Level I Children's Surgery Center by the American College of Surgeons (ACS) Children's Surgery Verification Committee. This status indicates that an organization has met strict criteria for demonstrating a commitment to improving care for children with surgical needs. It is the ACS's highest distinction for providing quality pediatric surgical care across all surgical disciplines.
World-Class Emergency Care
The hospital is also an ACS-designated Level I Pediatric Trauma Center, delivering the highest degree of care for pediatric patients with traumatic injuries.
In addition, it is the only hospital in the tristate area named an ECMO Platinum Center of Excellence by the Extracorporeal Life Support Organization (ELSO). ECMO, or extracorporeal membrane oxygenation, is a lifesaving measure used to support patients with critical conditions by using a heart-lung machine to oxygenate the blood.
New York City's Leading Pediatric Treatment Center
Morgan Stanley Children's Hospital combines unmatched clinical expertise, cutting-edge research, and the latest in evidence-based treatments to provide world-class care for children in need in the New York City area and beyond.
Related Links:
---
Sign up for our mailing list for more health news and information from Columbia.