Story by Michelle Tan; Video by Emily Driscoll
First published in Health Matters
As nurses prepared to take her 5-month-old conjoined twins to the operating room and a team of surgeons scrubbed nearby, Isatu Alusine Jalloh softly stroked her daughters' cheeks and whispered to them "I love you" as her husband, Alusine Jalloh, looked on.
Isatu often wondered whether this moment would ever come. After giving birth to triplets — conjoined twins Hassanatu and Hussainatu as well as a baby boy, Chernor Alpha — on September 11, 2019, Isatu and her husband suffered the loss of their son, who died following a fever.
In the wake of that tragedy, the young couple from Freetown, Sierra Leone, was determined to find the specialized care their daughters needed. "I always told my wife, 'We will have the chance for our kids to be separated one day,'" Alusine recalls. "We didn't know when — but we strongly believed we would get this chance."
Their opportunity arrived on February 21, 2020: With a mix of nerves and excitement, hope and fear, Alusine and Isatu took a step back from their daughters' bed and watched as nurses rolled the girls on a gurney down the corridor toward the operating room at NewYork-Presbyterian Morgan Stanley Children's Hospital, where they would undergo a rare and life-changing surgery.
Over the next 9 hours, a team of more than 30 surgeons and specialists, including anesthesiologists, hepatologists, nurses, and technicians, from NewYork-Presbyterian and Columbia University Irving Medical Center would successfully separate Hassanatu and Hussainatu, who were born joined at the abdomen and chest with their liver and the lining of their hearts fused.
"Meticulous planning of every stage of the twins' care led to a successful surgery," says Dr. Steven Stylianos, chief of the Division of Pediatric Surgery at NewYork-Presbyterian/Columbia University Irving Medical Center and surgeon-in-chief at NewYork-Presbyterian Morgan Stanley Children's Hospital.
"World-renowned surgeons and specialists in every area worked together seamlessly to give these girls and their family the opportunity for a better life," says Dr. Tomoaki Kato, chief of the Division of Abdominal Organ Transplantation at NewYork-Presbyterian/Columbia University Irving Medical Center.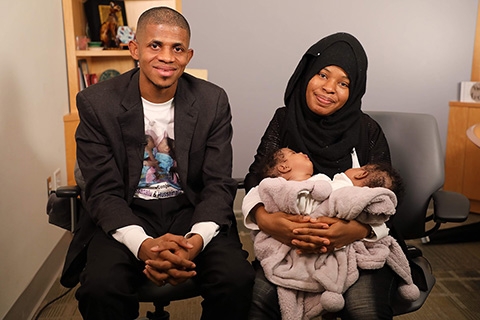 A Rare Occurrence
Conjoined twins develop when an early embryo that should have split to become identical twins does not properly separate. Instead, two independent fetuses form, but they remain attached at the site where the embryo fails to detach.
Conjoined twins occur in 1 in every 200,000 births, and they are three times more likely to happen in girls than boys. Hussainatu and Hassanatu — who were nicknamed Chelsea and Maggie, respectively, during their stay at the hospital due to privacy concerns — are omphalopagus twins, or babies joined at the abdomen.
Over the past two decades, NewYork-Presbyterian has successfully separated five sets of conjoined twins; however, every set of conjoined twins presents a new challenge because each are connected in their own unique ways, with different organs, nerves, bones, and other tissue involved.
"Most conjoined twins share too many vital organs to survive outside of the womb," says Dr. Stylianos, who also organized and coordinated the teams of physicians and nurses who separated previous conjoined twins at what is now NewYork-Presbyterian Morgan Stanley Children's Hospital. "The Jalloh twins shared significant portions of their liver and abdominal wall, but they had separate healthy and strong hearts. That allowed the team to move forward with planning the separation."
"A procedure this complex really benefits from the collective clinical expertise at NewYork-Presbyterian Morgan Stanley Children's Hospital," says Dr. Thomas Imahiyerobo, director of Cleft and Craniofacial surgery at NewYork-Presbyterian/Columbia University Irving Medical Center. "Everyone from the nurses to the surgeons to the critical care team was committed to making the separation of these two girls a reality."
"This was just amazing teamwork, like a well-tuned orchestra," adds Dr. Emile Bacha, chief of the Division of Cardiac, Thoracic, and Vascular Surgery at NewYork-Presbyterian/Columbia University Irving Medical Center and director of Congenital Pediatric Cardiac Surgery at NewYork-Presbyterian Morgan Stanley Children's Hospital.
Facing the Odds Together
While becoming new parents is hard enough, the daily tasks were a bigger challenge for Alusine and Isatu with their conjoined daughters. "It was difficult to hold them and to feed them," says Alusine. "Even changing diapers was tough."
Throughout the early months, Alusine and Isatu searched for the best surgical options for their twin girls. "When we were in Sierra Leone, help came from different people," says Alusine. "So many people told us about [NewYork-Presbyterian] that we knew it would be a very good hospital."
The family's plight first came to the hospital's attention after a member of the Sierra Leone community in the U.S., Zainab Bangurah, told her friend Kathleen Thomas, a nurse at NewYork-Presbyterian. Thomas told world-renowned transplant surgeon Dr. Tomoaki Kato, who championed the family's care at the hospital.
In December 2019, with the help of NewYork-Presbyterian and Sierra Leone community members, the family traveled more than 4,300 miles to New York City, where the medical team prepared the family for a series of complex procedures.
"This young couple displayed such bravery, bringing their children here for us to take care of them and really trusting that we have the correct expertise here to do so," says Dr. Imahiyerobo. "We were so happy to give this opportunity to their girls."
One Surgery, Two Healthy Girls
To prepare for the complex separation procedure, the multidisciplinary team held meetings and surgery simulations to map out the steps of the well-choreographed separation surgery. One of the primary concerns was that one sister was more physically dependent on the other. "In this case, one of them was very small and weak at birth [Hussainatu], but the other twin [Hassanatu] was able to help support her sister's body function and they grew together," explains Dr. Kato.
Meanwhile, Dr. Mercedes Martinez, medical director of the Adult and Pediatric Intestinal Transplant Program at the Center for Liver Disease and Transplantation at NewYork-Presbyterian, developed a comprehensive feeding plan that helped double the babies' weight prior to surgery with the help of a multidisciplinary team at NewYork-Presbyterian Morgan Stanley Children's Hospital that included pediatric nutrition support specialist Caylin Hughes, nurse practitioner Anna Rundle, and registered nurse Genevieve Williams.
"We knew early attention to nutrition would help prepare them to handle the physical challenges from the separation surgery," explains Dr. Martinez. Before the conjoined twins' separation, the girls also underwent a preliminary procedure in January to place tissue expanders into the abdominal wall, which would slowly stretch the babies' skin over the course of six weeks.
"We needed to create more skin and soft tissue in order to have adequate coverage over their organs after we separated them," says Dr. Imahiyerobo.
When the day of the separation surgery arrived, the surgical teams — led by Dr. Imahiyerobo, Dr. Kato, Dr. Stylianos, and Dr. Bacha — were "laser-focused on doing everything we could to ensure our ultimate goal, which was two healthy, separated twins," says Dr. Imahiyerobo.
The team even incorporated a special nod to the family's roots in the operating room: To ensure the lines and monitors for each girl were easy to identify throughout the procedure, they used a color-coded system inspired by the flag of Sierra Leone: green for Hussainatu and blue for Hassanatu. Touched by the gesture, Alusine and Isatu applied green and blue nail polish on the girls the night before the procedure to help the care team keep track of each girl.
When the surgical teams successfully separated the girls' bodies, "we had a magical moment where we took the two girls who were sharing one table and we brought them onto two separate tables. That was the first time they were physically in a separate space," says Dr. Imahiyerobo, who called Isatu and Alusine from the OR to share the news. "They were cheering."
"I was so overjoyed I didn't know what to say hearing my girls are separated!" Isatu recalls. "This was a well-coordinated symphony that culminated with each person using their expertise to create this separation — and these hopeful little masterpieces," says Dr. Imahiyerobo. "I'm thrilled for the girls because the surgery went very, very well," adds Dr. Stylianos. But he noted after the separation surgery, "there are still challenges ahead of them."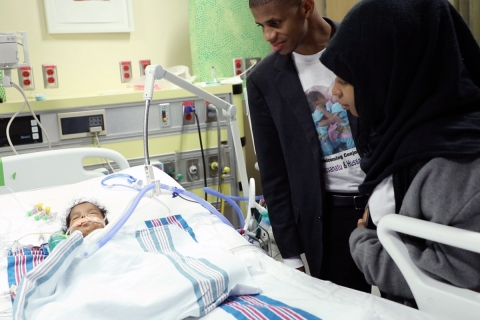 Two Roads to Recovery
Once the girls were separated, their care diverged as well.
"As we suspected all along, although the two girls were conjoined, they are not made equally," says Dr. Imahiyerobo.
Hassanatu, "Maggie," had a smoother path to recovery in the NICU after the reconstruction of her chest and abdomen. "Maggie did remain on the ventilator for some time, but ultimately we were able to successfully extubate Maggie, and the small opening [in her abdomen] that we thought we would have to go back and close ended up healing on its own," says Dr. Imahiyerobo.
However, as Hassanatu's condition improved, Hussainatu, "Chelsea," faced some challenges and needed additional care.
"Chelsea is physically smaller, both in her abdomen and in her chest. So, although the organs were separated, we now had to figure out a way to get them to sit inside her body," explains Dr. Imahiyerobo.
The care team performed a series of surgeries to ensure the optimal placement and performance of Chelsea's heart inside her new body and to repair the area of pericardial lining that she was missing.
She also required additional skin grafting to cover her newly separated organs and torso. "Though we prepared them with an expansion procedure, when we did the split, the expanded skin was not shared equally between the two girls," explains Dr. Imahiyerobo. "Chelsea ended up short."
Throughout it all, the twins remained by each other's side. In the pediatric ICU, the girls were put in individual but adjacent rooms. "We kept them right next door to each other so the nurses could collaborate on the girls' care, and the teams would be able to see one girl and walk right over to the next room to check on the other," says Siena Mariotti-Hills, a clinical nurse who helped care for the girls post-surgery. "They have a special bond. It was important to make sure that they always felt close to each other."
In the meantime, the coronavirus outbreak was quickly spreading throughout New York City. The first COVID-19 patient was confirmed just nine days after the twins' surgery. The city then went into lockdown within five weeks of the twins' separation surgery, significantly altering how Alusine and Isatu navigated New York City and how they could support their daughters during their recovery.
At that time, "each parent had to be with one of the girls, and they weren't allowed to visit the other twin," adds Dr. Martinez. "It was very challenging for the parents. But despite being in the hospital during the peak of the pandemic, the twins did not get infected, which was likely due to the strict hospital policies to minimize transmissions."
(Unbeknownst to the family, one of their surgeons, Dr. Kato, was waging his own battle against COVID-19, having been admitted to the hospital in March 2020.)
Maggie was discharged in April 2020 — as New York City became the epicenter of the pandemic — while doctors recognized Chelsea would need more respiratory support as she healed from her post-separation procedures.
Over the next two months, Chelsea proved to be a fighter and continued to grow, gain weight, and get stronger. By late June 2020, Chelsea was finally ready to leave the hospital, and the separated sisters — as well as the whole family — were reunited at last.
"We were so happy to finally be together," says Alusine. "It was very difficult with COVID."
"It's just another challenge that these girls and this family have dealt with and have been able to overcome," says Dr. Imahiyerobo. "Intertwining their journey with what New York has been through during the pandemic is something that we could not script and really is an amazing testament to their resilience."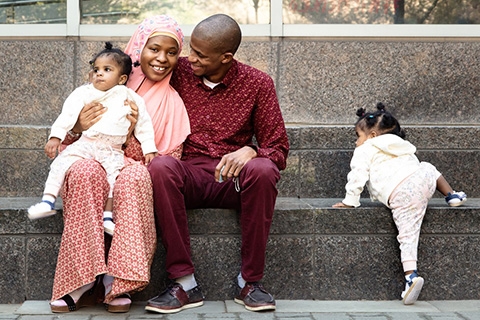 One Year Later
Today, the twins, who turned 2 in September, are curious little girls who aren't shy about approaching new faces, and during a recent visit to the hospital, they often pulled down their parents' masks for an impromptu game of peekaboo.
"You really see them playing together now," says Alusine.
While Chelsea may be smaller, "she has a lot of spunk to her and a lot of strength. Maggie seemed much easier to soothe and a little more docile," says Dr. Imahiyerobo.
But there's no doubt they share the same determination. "When I would look them in the eye," says Dr. Imahiyerobo, "they always seemed to be saying, 'We got this.'"
After the twins were discharged, Chelsea and Maggie continued to receive follow-up care at the hospital.
The girls used feeding tubes as they underwent speech and swallowing therapy because after major surgery, "it's not unusual that young children forget how to eat and lose muscle coordination," says Dr. Martinez.
In terms of their gross motor skills, "their development was delayed because of the connection through the abdomen and their prolonged hospitalization," says Dr. Martinez. "But they are now walking after receiving intense occupational and physical therapies."
More than a year after their initial separation surgery, "the girls are thriving. They are growing and making progress in achieving developmental milestones," says Dr. Martinez. "They both have an opportunity to go forward from here, reaching new heights individually, each as her own person, which never could have been possible without the separation surgery."
A chance for a better life is all Isatu and Alusine ever wanted for their daughters. "We went through a lot before the separation," says Alusine. "We give thanks to each and every one in this hospital."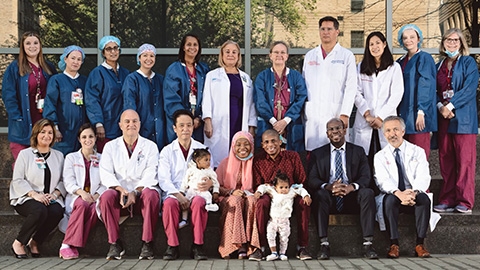 The family recently returned to NewYork-Presbyterian Morgan Stanley Children's Hospital to thank each of the team members who helped their daughters. "Now they get to be like all the other kids," Isatu said, as the girls toddled around the hospital courtyard. "We are so grateful to everyone who helped us."
The Jalloh family also left a lasting impression on their care team.
"Amid all that New York has faced in the past year, seeing the girls now walking side by side — still connected in spirit, though separated in body — is really such a treat," says Dr. Imahiyerobo. "As opposed to some of the challenges and disheartening things that we saw, the girls really signify that, even in the midst of the global pandemic, there were still good things happening — and there were still some things that gave us reason to have hope."
---
Don't miss an update on news and content from Healthpoints, the blog from the Department of Surgery at Columbia.