It was a brisk Sunday morning just before Thanksgiving. Greg Rocco, 61, worked out, got a haircut, and was doing a little holiday shopping, when he lost vision in one eye. He called his son on his cell phone, saying, "Something's not right," and within minutes he was in the ER at a Westchester hospital. 
A few weeks earlier Greg had talked with his doctor about scheduling elective surgery to repair an enlarged aorta. He thought he had time to address this. But that Sunday proved him wrong. A CT scan showed that the aorta had dissected, or torn open, a dangerous situation. Greg was immediately transported to NYP/Columbia, one of the premier centers in the nation for aortic and valve repair. 
At first, Greg was in denial. "When the doctors described what was going on, I asked, Are you sure you have the right patient? I had no chest pain," he recalls. "I jogged, did push ups, and was a very active guy. At Columbia, I was lucky to be cared for by Dr. Takayama who is head of the Aortic Program and the Cardiovascular Institute. He has a real presence, a kindness that goes along with his amazing expertise."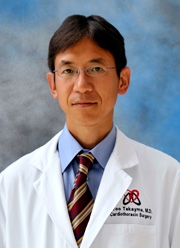 "Greg's carotid artery had collapsed, altering his blood flow and his vision," Dr. Takayama explains. "This was a good thing because it acted as a kind of early warning for the aortic dissection which can be fatal if we can't get to it in time." 
In the OR, Dr. Takayama was able to build Greg a new carotid artery and repair his aorta. The operation took seven hours. 
"I later learned how fortunate I was to be at Columbia," Greg says, "A lot depends on timing and the having the best surgeon. When I woke up, I was in no pain at all—even though I had an incision that went from my belly button to my neck."
"Greg's recovery was unusually fast," says Dr. Takayama. "He quickly regained his stamina, strength and endurance, and was back to work within seven weeks." 
"I owe everything to Dr. Takayama," Greg adds. "His care was above and beyond. My family embraced him and I thanked him for giving me back my full vitality. Not everyone lives to tell this story."