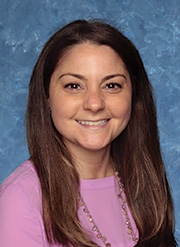 Luisa Dinardi, a teacher from Carmel, NY, had struggled for years with unexplained health problems: fatigue, unexplained weight loss, and unexplained fevers. Taking a shower was sometimes too much to bear. Then, when she was 36, she began feeling like pressure was building in her chest. Her doctors performed physical examinations, EKG testing, and more, but none of these revealed the source of her pain and general malaise. After various specialists tried different approaches, a CT scan revealed a bulge in her aorta – an aneurysm.
Luisa was quickly referred to the Aortic Center at NewYork-Presbyterian/Columbia University Medical Center, where Michael A. Borger, MD, PhD, the director of the Aortic Center at that time, determined she needed emergency surgery. She remembers telling him, "It feels like I have a fever in my chest."
Dr. Borger repaired both her aorta and aortic valve using a special technique called the David procedure, which allowed her to keep her native aortic valve and avoid complications associated with prosthetic aortic valves. After surgery, a biopsy of her tissue finally uncovered the source of her decades-long health problems. Luisa has Takayasu's arteritis, a rare autoimmune disease that causes inflammation of the blood vessels. Not only did the condition cause her unexplained fatigue and illness over time, but it had caused her potentially life-threatening aortic problems.
The Surgeons at NewYork-Presbyterian/Columbia routinely perform complex, emergency procedures such as Luisa's with superb outcomes. Learn more about the Aortic Center's approach to care.
To schedule an appointment, call The Aortic Center at: 844–RX–AORTA (844-792-6782)