Medical Director of the Thyroid Biopsy Program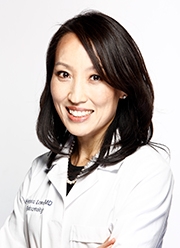 Appointment Phone:
(212) 305-0078
Primary Locations:
Herbert Irving Pavilion
161 Fort Washington Ave, 8th Fl
New York, NY 10032
Fax: (212) 342-0245
51 West 51st Street
Suite 360A
New York, NY 10019
Appointments:
Assistant Professor of Medicine
About:
Hyesoo Lowe, MD is a board-certified endocrinologist at Columbia University, and the Medical Director of the Thyroid Biopsy Program at the Columbia Thyroid Center. Dr. Lowe has a special interest in thyroid disorders including thyroid nodules, thyroid cancer, autoimmune thyroid disease, and thyroid illnesses in pregnancy. She has advanced training in thyroid ultrasound and fine needle aspiration biopsy, and also directs the Active Surveillance Program for thyroid cancer at Columbia.
After graduating from Weill Cornell Medical College, she completed an internship and residency in Internal Medicine at the Yale School of Medicine, and a Fellowship in Endocrinology at Columbia University Irving Medical Center. She is a member of the American Thyroid Association and the American Association of Clinical Endocrinologists. Dr. Lowe is active in medical education at the Columbia University Vagelos College of Physicians and Surgeons, as well as the Endocrine Fellowship program at Columbia Medical Center.
Dr. Lowe is committed to providing compassionate and individualized care according to her patients' unique needs.  She has been recognized as a Castle Connolly Top Doctor for the New York metro area, featured among New York magazine's Top Doctors, New York Times SuperDocs, and listed in Castle Connolly's Exceptional Women in Medicine.
Dr. Lowe is proficient in Spanish and Korean.
Education:
MD: Weill Cornell University Medical College
BA: Cornell University
Fellowship: Columbia University Medical Center
Residency: Yale School of Medicine
Internship: Yale School of Medicine
Honors:
New York Super Doctors, New York Times Magazine
Castle Connolly Top Doctors, New York Metro Area, New York Magazine
Castle Connolly Exceptional Women in Medicine
Top Docs, New Jersey Monthly
Top Doctors, Inside Jersey
Top Doctors, Bergen Magazine
Vitals.com Compassionate Doctor Award
Vitals.com Patient's Choice Award
Vitals.com Top 10 Doctor
Department of Veterans Affairs Special Contribution Award for unique contribution to the mission of the Department; Participated in pilot program to transition out-patient clinic to open-access model
Yale School of Medicine Power Day Award: Chosen for modeling the responsible, positive, and beneficial use of power in health care relationships
Publications:
Peer-Reviewed Research Publications
Lowe H, Cusano NE, Binkley N, Blaner WS, Bilezikian JP. Vitamin D toxicity due to a commonly available "over the counter" remedy from the Dominican Republic. J Clin Endocrinol Metab (2011) 96(2):291-5.
Carrelli AL, Walker MD, Lowe H, McMahon DJ, Rundek T, Sacco RL, Silverberg SJ. Vitamin D deficiency is associated with subclinical carotid atherosclerosis: The Northern Manhattan Study. Stroke (2011) 42:2240-45.
Lowe H, McMahon DJ, Rubin MR, Bilezikian JP, Silverberg SJ. Normocalcemic primary hyperparathyroidism: Further characterization of a new clinical phenotype. J Clin Endocrinol Metab (2007) 92(8):3001-5.
BOOK CHAPTERS
Lowe H, Shane E. Osteoporosis associated with illness and medications. In: Marcus, Feldman, Nelson, Rosen, eds. Osteoporosis, 3rd Ed. San Diego, CA: Elsevier; 2007.