In this section, you can learn more about:
---
The Integrated six year program is equally divided into three year portions. This allows for an opportunity to elect academic enrichment period of one or two years, if the resident wishes.
During the second three year period, gradually increasing exposure and responsibility in adult cardiac, pediatric cardiac, and thoracic surgical areas is acquired. Throughout the training period a rigorous core curriculum along with didactic teaching and conference schedule is woven as an integral part of the training program.
During the final year it is expected that the resident will be able to assume major patient care and intraoperative responsibility in the full range of patients and procedures, including the latest techniques, therapies and devices. The resident will be eligible, upon successful completion, to take the examinations leading to certification by the American Board of Thoracic Surgery.
Program Mission
Our mission is to train the next generation of cardiovascular and thoracic surgeons by incorporating broad and deep exposure to both traditional surgical procedures as well as the latest interventional and hybrid procedures, all in an environment of progressive responsibility and independence.
Program Aims
To train cardiothoracic surgeons with strong clinical skills, including the assessment of patients presenting with diseases along the entire spectrum of cardiothoracic and thoracic disease, surgical and interventional technical proficiency, facility with advanced and emerging technology, as well as understanding of principles of administrative and practice management.
To train cardiothoracic surgeons capable of assessing and identifying strengths, deficiencies and limits in their own knowledge and expertise, as well as the attitude and ability to remain a student for life, constantly learning and improving for the benefit of their patients.
To train cardiothoracic surgeons who exemplify the values of professionalism, empathy, cultural diversity, resilience and who have mastered the art of thoughtful communication, always focused on the patient as the central element of the healthcare system.
To train cardiothoracic surgeons with broad exposure to all aspects of academic surgery and the ability to excel in these areas. These include research, education and applied health care. 
---
Weekly Conferences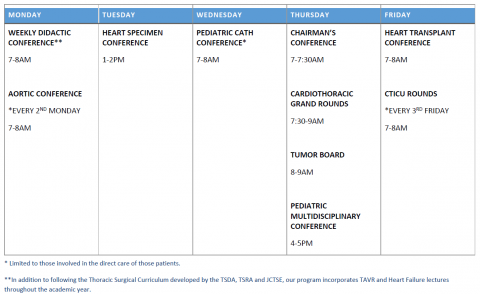 ---
List of Rotations by PGY
PGYs 1, 2 and 3 are integrated into our General Surgery Residency Program providing varied clinical and operative experience.
PGY 1
Adult Cardiac Surgery
Colorectal Surgery
Heart Center Cardiac Unit
Hepatopancreatic Biliary Service
Surgical ICU
Thoracic Surgery
Vascular Surgery
Vascular and Thoracic Night Float
PGY 2 
Acute Care Consult/Service
Adult Cardiac
Cardiology Consult
Cardiothoracic ICU
Echocardiography
PGY 3 
Adult Cardiac
Anesthesia
Breast Surgery
ECMO
Liver Transplant
Perfusion
Thoracic Surgery
Vascular Surgery
PGYs 4, 5 and 6 focus on increased exposure and responsibility in the areas of adult cardiac, pediatric cardiac, and thoracic surgery.
PGY 4
Thoracic Surgery (Three Months)
Pediatric Cardiac Surgery (Three Months)
Adult Cardiac Surgery (Six Months)
PGY 5
Adult Cardiac Surgery (Six Months)
Elective (Three Months)
Possible Electives:

Interventional Cardiology 
TAVR/Structural Intervention
LVAD/Medical Support
Minimally Invasive Cardiac Surgery
General Thoracic Surgery
Congenital Cardiac Surgery
Other (Must Be Approved By PD)

Thoracic Surgery (Three Months)
PGY 6 (CHIEF YEAR)
Chief residents assume major patient care and intraoperative responsibilities.
---
Typical Week Chart