Physician Assistant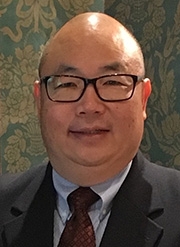 Phone
(212) 305-0914
Location
Presbyterian Hospital Building
622 West 168th Street, PH 14
New York, NY 10032
Asian Outreach Office
136-20 38th Avenue, Suite 8E
Flushing, NY 11354
26 Indian Rock
Suffern, NY 10901
About
Jonathan Yeh is an experienced Physician Assistant with a career span of over 11 years. For the past 5 years, he has worked as a Physician Assistant at the Center for Liver Disease and Abdominal Transplantation at Columbia University medical Center in New York.
He received his Master's of Science in Physician Assistant Studies from Marywood University, Scranton, Pennsylvania. Prior to pursuing his career as a Physician Assistant, he was a business professional, taking various responsibilities in retail and pharmaceutical industry in Taiwan and the U.S. Jonathan received his Master in Business Administration from Rutgers University in Newark, New Jersey.
With extensive experience in the corporate world, he entered the healthcare arena with a desire to help less fortunate fellow world citizens. He now acts as a healer, counselor and facilitator to help patients with liver diseases. He is also involved in clinical research, and assists transplant evaluations.
He is a native Mandarin speaker, and has an excellent command of Cantonese.
Visit The Center for Liver Disease and Transplantation at columbiasurgery.org/liver
Expertise
Viral and non-viral hepatitis
Fatty liver disease
Liver transplant evaluation
Partner Physician
Education
2008 – 2010: Master of Science in Physician Assistant Studies, Marywood University, Scranton, PA 
1996 – 1998: MBA, Rutgers University, Newark, NJ 
1981 – 1985: Bachelor of Science in Natural Resources Management, Chinese Culture University, Taipei, Taiwan 
Publications
Phipps M, Livanos A, Guo A, Pomenti S, Yeh J, Dakhoul L, Burney H, Kettler C, Liu H, Miller E, Gawrieh S, deLemos A, Scanga A, Chalasani N, Wattacheril J. Gender Matters: Characteristics of Hepatocellular Carcinoma in Women From a Large, Multicenter Study in the United States. Am J Gastroenterol. 2020 Sep;115 (9):1486-1495. doi: 10.14309/ajg.0000000000000643. PMID: 32453046.
Russell Rosenblatt, MD, Johnathan Yeh, PA, Paul J. Gaglio, MD, Clinics in Liver Disease, May 2020, Volume 24, Issue 2, Pages 277–290 
Pomenti S, Gandle C, Abu Sbeih H, Phipps M, Livanos A, Guo A, Yeh J, Burney H, Liu H, Dakhoul L, Kettler C, Gawrieh S, deLemos A, Scanga A, Chalasani N, Miller E, Wattacheril J. Hepatocellular Carcinoma in Hispanic Patients: Trends and Outcomes in a Large United States Cohort. Hepatol Commun. 2020 Aug 12;4(11):1708-1716. doi: 10.1002/hep4.1575. PMID: 33163839; PMCID: PMC7603535. 
AASLD Poster Oct. 1, 2014. Performance of Simeprevir‐ and Sofosbuvir‐based HCV Treatment in Real World Clinical Practice. Kian Bichoupan, Rachana Yalamanchili, Keith M. Sigel, Alyson Harty, Michel Ng, Alicia Stivala, Donna Fanelli, Donald Gardenier, David B. Motamed, Badr Aljarallah, David Sachs, Michael Linderman, Viktoriya Khaitova, Meena B. Bansal, Priya Grewal, Ritu Agarwal, Charissa Y. Chang, Jennifer Leong, Gene Y. Im, Lawrence Liu, Joseph A. Odin, Nancy Bach, David C. Perlman, Jonathan Yeh, Albert Min, Henry C. Bodenheimer, Donald P. Kotler, Scott L. Friedman, Thomas D. Schiano, Ponni Perumalswami, Douglas Dieterich, Andrea D. Branch