Board Certified Family Nurse Practitioner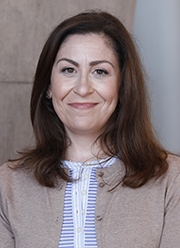 Phone
(551) 996-2959
Location
Hackensack University Medical Center
20 Prospect Avenue, Room 406
Hackensack, NJ 07601
 
 
Gastroenterology Associates of New Jersey
468 Parish Drive, Suite 6
Wayne, NJ 07470
About
Judy Gang is certified by the American Academy Nurse Credentialing Center as a Family Nurse Practitioner. She received both Bachelor of science and Master's of Science in Nursing from Pace University in Pleasantville, NY. Prior to that, she received a Bachelor of Arts in Biology and Jewish History from Yeshiva University's Stern College in New York.
Judy's nursing career spans over 20 years. She began her career as a registered nurse on the Transplant unit at Mount Sinai Hospital in N.Y, caring for liver, kidney, pancreas and Intestinal transplant patients. She instantly found her calling in the area of liver transplantation and continued to serve as clinical nurse coordinator for the liver transplant and hepatobiliary surgery programs at Mount Sinai until 2009. In addition to the daily clinical care of her patients, she served many nights on-call orchestrating the organ allocation and recovery processes.
For the past 11 years she has worked as a Nurse Practitioner in the role of Clinical Coordinator at The Center for Liver Disease and Abdominal Transplantation at Columbia University Medical Center in New York. She has served roles in both the adult and pediatric programs and is currently working in the area of Hepatology outreach.
Areas of Interest:
Provider Outreach
Patient Education
Lifestyle interventions in the treatment of Non Alcoholic Fatty Liver Disease (NAFLD)
Practice Philosophy:
Judy believes the key cornerstones of providing excellent healthcare include empathy, cultural awareness, compassion and education. She focuses on patient-centered care and education, disease prevention and health promotion.
Fluent in Hebrew, French
Visit The Center for Liver Disease and Transplantation at columbiasurgery.org/liver
Expertise
NAFLD
Cirrhosis/Portal Hypertension
Adult and Pediatric Transplant Hepatology
Partner Physician
Education
2007: Master of Science, Family Nurse Practitioner Program, Pace University/Lienhard School of Nursing, Pleasantville, New York
2000: Bachelor of Science and Nursing, Pace University/Lienhard School of Nursing Pleasantville, New York
1996: Bachelor of Arts in Jewish History and Biology, Yeshiva University/ Stern College New York, New York