Hospital Researchers Create New Esophageal Disorders Program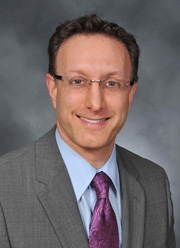 Esophageal cancer rates have risen 600% since 1975, with the American Cancer Society predicting that 15,560 people will be diagnosed with esophageal cancer in 2007. To address this crucial public health need, physicians at NewYork-Presbyterian Hospital have collaborated to create the new Esophageal Disorders Program.
"We have a number of physicians—including gastroenterologists, surgeons, radiation oncologists, and medical oncologists—who are working together on the spectrum of disease from gastroesophageal reflux disease (GERD) to Barrett's esophagus (BE) to esophageal cancer," said Marc Bessler, MD.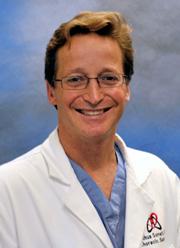 The underlying philosophy of the program is to treat patients for esophageal disorders as early and as noninvasively as possible. Additional team members include Peter D. Stevens, MD (interventional gastroenterology), Joshua Sonett, MD (thoracic surgery), Mark Stoopler, MD (oncology), Shermian Woodhouse, MD (radiation oncology), David D. Markowitz, MD (esophageal function), Charles Lightdale, MD (gastroenterology/BE), and Julian Abrams, MD (gastroenterology/BE).
Most esophageal adenocarcinoma originates from damage caused by acid reflux. For these patients, NewYork-Presbyterian Hospital physicians can use a device called the NDO Plicator to recreate the valve at the gastroesophageal junction and limit acid reflux by 50% to 70%.
"Treatment for reflux by most physicians includes everything from over-the-counter to prescription medications, as well as diet and lifestyle modification," Dr. Bessler explained. "We can then go from medications that might not be helping to using other combinations of medication or endoscopic techniques."
If the endoscopic option is insufficient, patients can undergo fundoplication, a minimally invasive surgical therapy that wraps a small cuff of stomach around the esophagus to strengthen the sphincter. This procedure, which can be done laparoscopically, is approximately 95% effective at getting rid of reflux, according to Dr. Bessler.
In some patients with GERD, repeated contact with gastric acid transforms their esophageal cells from normal squamous epithelium to abnormal intestinalized columnar epithelium, a complication that is known as Barrett's esophagus (BE). Until recently, physicians mainly used photodynamic therapy to blast away the damaged cells. But Charles Lightdale, MD, has been at the forefront of developing a new device called Barrx, which first measures the esophagus' inner diameter with an endoscopic balloon, then ablates cells with radiofrequency energy. He recently participated in a multicenter trial, published in Gastrointestinal Endoscopy (2007;65:185-195), which found that Barrx can completely eliminate nondysplastic BE in 70% of patients at 1-year follow-up. Newer results show, with additional treatment, the complete removal of BE in 98% of patients, who were followed for 2.5 years.
Table. Summary of Efficacy Results: Barrx Trial
Patients, n: 70 (52 men, 18 women)
Mean patient age, years: 55.7
Median symptom scores, 0-100 scale (day 4): 0
Cure Rate for BE at 12 mo*: 70%
*N=69       BE, Barrett's esophagus      Source: Lightdale C. Gastrointest Endosc. 2007;65:185-195..
"It's a very precise removal, so it doesn't damage the deeper layers of the esophageal wall," said Dr. Lightdale, who 3 years ago became the first physician in New York State to use Barrx. "Strictures, where the esophagus gets scar tissue, are very unusual."
For patients with BE who develop small nodules, specialists employ endoscopic ultrasound. The information from this diagnostic and staging tool is used to judge whether endoscopic mucosal resection (EMR) is appropriate. "Before we do endoscopic resection, we always do this to make sure it's not a big cancer we're just seeing the tip of," said Dr. Lightdale. The abnormal tissue removed during EMR can then be evaluated by a pathologist.
Among those patients who need to have cancer removed, minimally invasive esophagectomy can reduce the trauma, pain, and recovery time. The procedure involves several small incisions and the use of a scope, rather than making large incisions in the abdomen and chest.
Having BE greatly increases the risk of developing esophageal cancer. Currently, there are no proven ways to prevent this progression, so close surveillance is the only option. To examine a possible chemopreventive approach, Columbia and Weill Cornell researchers at NewYork-Presbyterian Hospital are involved in a multicenter Phase Ib study developed by the National Cancer Institute (NCI)—sponsored Cancer Prevention Clinical Trials Consortium. This randomized, double-blind, dose-escalation study is examining green tea extract's safety and efficacy in the prevention of esophageal cancer among patients with BE. The extract, Polyphenon E, which is a minimally caffeinated green tea mixture containing epigallocatechin-3-gallate (EGCG), has been shown to inhibit carcinogenesis in a variety of pre clinical cell culture and animal models. The trial, which began recruiting patients in 2006, will study Polyphenon E in doses of 200, 400, and 600 mg, or a placebo, taken twice daily for 6 months. After the medication phase, patients will be followed for an additional 6 months to assess via endoscopy and biopsy how their BE changes over the year. Study results are expected in 2009. "Polyphenon E holds particular promise for esophageal disorders," noted Felice Schnoll-Sussman, MD. "It has been shown to accumulate mainly in the gastrointestinal mucosa and is therefore felt to be a strong candidate for the prevention of gastrointestinal malignancies."
Marc Bessler, MD, is Director of the Minimal Access Surgery Center at NewYork-Presbyterian Hospital/Columbia University Medical Center, and is Assistant Professor of Surgery at Columbia University College of Physicians and Surgeons.
Charles Lightdale, MD, is Attending Gastroenterologist NewYork-Presbyterian Hospital/Columbia University Medical Center, and is Professor of Clinical Medicine at Columbia University College of Physicians and Surgeons.
Felice Schnoll-Sussman, MD, is Gastroenterologist, The Jay Monahan Center for Gastrointestinal Health, Division of Gastroenterology and Hepatology at NewYork-Presbyterian Hospital/Weill Cornell Medical Center, and is Assistant Professor of Medicine and Linda Horowitz Cancer Research Foundation Clinical Scholar in Gastroenterology at Weill Cornell Medical College.