Deborah Gerszberg, RD, CNSC, CDN
Clinical Nutritionist, The Pancreas Center
Beetroots (more commonly known as beets) are not a common food in everyone's diet – but they should be!  Beets are a dark red-purple vegetable, but come in other colors too, such as golden yellow. Beets get their deep color from the betanin (a phytonutrient) and betacyanin (antioxidant) found in them. There are many phytonutrients and antioxidants found in plant based foods, teas, and herbs. These special compounds help fight cancer by getting rid of free radicals in your body. This is one of the many reasons it is important to consume a colorful and varied plant-based diet.
Beets have an abundance of important nutrients. They contain iron, B vitamins, vitamin C, and the electrolytes sodium, magnesium, potassium, and phosphorus. The beet leaves also contain beta carotene, which gets converted in the body to vitamin A, a fat soluble anti-oxidant.
My favorite way to eat this vegetable is roasted and over an arugula, goat cheese, and walnut salad. Another way to enjoy beets is in a soup, such as borscht. There are many variations to making borscht. Below you will find a recipe for borscht that can be served warm or cold.  I like to puree my soup for a thick, unified texture, but if you like a hearty soup with solids, it will taste just as good chunky!
If you are always rushing to prepare your meals, use canned beets as a last resort. Be sure to rinse them before eating, since canned foods are high in sodium, which in large amounts is not healthy. Try tossing beets in with a regular garden salad. See recipes below for ideas.
The leaves from beetroot are edible too, so don't throw them away once you prepare your beets! Here are some suggestions for using your nutrient-packed beet leaves:
Sauté a sweet Vidalia onion, then when nearly done, add chopped beet leaves and crushed garlic, mix and let cook until done (leaves should turn darker green and be wilted). I made this the other night, and my husband finished the entire dish when he got home from work!
Throw them in a pot of water with other leftover vegetable parts for a wholesome veggie soup
Juice them with carrots or an apple (the purple stems juice well too!)
Chop them up in a tossed salad
Make sure to wear gloves while peeling and chopping your beets so your hands don't get stained. Beets are also used as a natural food dye to color foods red and will leave a stain if not treated right away!
RECIPES
Beet, Arugula, and Goat Cheese Salad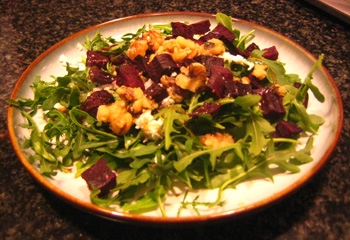 This is an easy to make yet sophisticated salad. You can serve the beets warm with this salad, or prepare them in advance and refrigerate.
Ingredients:
1 bunch beets (3 medium)
1 tsp olive oil
¼ tsp salt
Arugula (4-6 cups, about 1 cup/serving)
Goat cheese (1/4 cup, about 1 tbsp/serving)
Walnuts or almond slivers (1/4 cup, about 1 tbsp/serving)
Preheat oven to 400°F. Using gloves peel and chop beets into ½ inch pieces. Toss with 1 tsp of olive oil and ¼ tsp salt. Line a baking tray with parchment paper, and spread beets evenly on tray. Bake for about 15-20 minutes, then toss and cook another 15-20 minutes, or until slightly browned. As an alternative, you can cover the unpeeled beets in water, bring to a boil, and simmer for about an hour. After they cool, you may easily slip off the skin and cut the beets.
Place ¼ of the roasted beets on top of a bed of arugula. Add 1 tbsp goat cheese and 1 tbsp crushed walnuts or almond slivers. Dress with balsamic vinaigrette of your choice. I make my own dressing with olive oil, Dijon mustard, balsamic vinegar, crushed garlic, salt, and pepper. If you like a bit of sweetness, add a small amount of honey or orange juice to the dressing.
Borscht
I created this recipe from a few different recipes when I didn't have all the ingredients I needed, and liked it so much, I stick with this when I make beet soup. You may also throw in other vegetables you may have, as beets are very versatile!
Ingredients:
1 bunch beets (3 medium), peeled and chopped
2-3 carrots, peeled and chopped
1 onion, chopped
1 zucchini, chopped
1 turnip, peeled and chopped
4 cups stock (I use vegetable, but beef or chicken will work well too)
1 tbsp fresh ginger, grated (or 1 tsp dried powdered ginger)
½ tsp dried thyme
¼ tsp allspice
Salt, pepper to taste
Throw all ingredients into pot, cover and bring to boil. Cook until vegetables are soft (about 30 minutes) and you are able to pierce through beets easily with a fork. Use a handheld blender to puree soup. Can be served warm as well as cold, but I enjoyed it cold best. You may also top with a dollop of Greek yogurt for added protein! For a creamy borscht, if you need to gain weight, add 1 cup whole milk or cream.