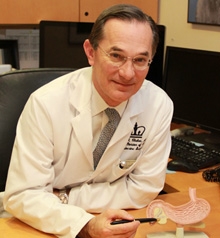 On March 4, 2014, the first robotic Whipple procedure was performed by Dr. John Chabot, Executive Director of The Pancreas Center, and colleagues at NewYork-Presbyterian/Columbia University Medical Center.
This is exemplary of The Pancreas Center's mission to continually advance the quality of pancreatic care.
What is a Whipple Procedure?
For those who may not know, the Whipple procedure is an operation in which surgeons remove the head of the pancreas, which constitutes almost forty percent of the pancreas, as well as the duodenum, the first section of the small intestine. This piece of the intestine is closely attached to the head of the pancreas, so they must be removed together as a unit. A portion of the stomach, as well as the gallbladder and a portion of the bile duct, may be removed as well.
Typically, the Whipple procedure is performed most commonly to treat pancreatic cancer, but also cancer of the duodenum and pancreatic ducts, and occasionally, chronic pancreatitis. Also known by its technical name, pancreaticoduodenectomy, the Whipple procedure received its more familiar name after its founder, Dr. Allen Whipple, who was Chairman of the Department of Surgery at NewYork-Presbyterian/Columbia for twenty-five years.
The robotic Whipple procedure is significant for a few of its advantages, notably that it improves cosmetic outcomes and reduces post-operative pain compared to the traditional approach. Another potential advantage, currently under evaluation, includes shortening patients' recovery time before starting chemotherapy. "If we can enhance patients' recovery, they can begin their post-operative chemotherapy sooner," explains Dr. Chabot. Currently, it's common for patients to wait eight to ten weeks after surgery before starting chemotherapy. "We would much prefer if we started at five to six weeks," says Dr. Chabot.
The Pancreas Center prepared for the procedure with a lot of work and effort, to ensure the right team was in place with a strong background in both robotics and the Whipple procedure itself. "Our team included one of the world's leading experts in upper abdominal robotic surgery, having performed over two hundred robotic operations for gastric cancer. I have extensive experience in pancreatic surgery, especially with the Whipple procedure," explained Dr. Chabot. The team also recruited a dedicated operating room staff with expertise in robotic surgery, spanning numerous departments. "Together, we performed a multitude of simpler pancreatic operations until we developed a sufficient comfort level to complete this more complex surgery."
While the first robotic Whipple procedure was a big step forward, "We're not going to start doing every Whipple procedure robotically," says Dr. Chabot. "I believe in three to four years, however, we might be doing half of our Whipple procedures robotically. We must always assess the patients' needs and perform the treatment best for the patient."
For more information, visit The Pancreas Center website or call our new patient coordinator at 212.305.9467.