HeartMate III Trial Enrolling Patients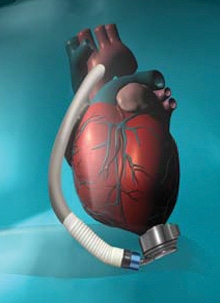 A trial of the HeartMate III Left Ventricular Assist System is now enrolling patients at NewYork-Presbyterian/Columbia University Medical Center, the only center in the New York area to participate in this trial. The device, also called a left ventricular assist device (LVAD), is intended to sustain patients with advanced heart failure whose symptoms are not sufficiently helped by medication.
HeartMate III is an implantable device that takes over the pumping action of the left ventricle. This device provides about the same support as currently approved FDA LVADs (HeartMate II and Heartware), pumping up to 10 liters of blood through the body per minute, but improves upon the earlier designs in several ways.
The pump is smaller than prior versions, situated within the pericardial space, and does not require a pocket to be created in the chest for implantation.
The device is fully magnetically levitated, which means that the parts 'float' rather than rub together. Without contact and friction in the rotor, the device is expected to have greater durability and a lower potential for complications. 
It is designed to periodically increase and decrease the speed of the pump, which has the effect of mimicking the natural pulse rate of 30 beats per minute. None of the other FDA-approved LVADs have this 'artificial pulse' ability.
The design includes large pump flow gaps, which is expected to cause less damage to red blood cells than prior versions of the device with potential for reduced anticoagulation, thrombus and bleeding.
The new device is more energy efficient and requires lower power consumption than prior versions.
Unlike the earlier versions, the modular driveline design of HeartMate III allows doctors to exchange part of the driveline if necessary without removing the pump.
Candidates for HeartMate III trial may include patients with advanced heart failure who need a device either as a bridge to heart transplantation, or who are ineligible for transplant and who will use the device indefinitely (called 'destination therapy').
In the current study, eligible patients will receive either a Heartmate III or Heartmate II pump. Survival, quality of life, heart function, and incidence of device malfunction, need for rehospitalization or reoperation, and other factors will be evaluated to assess the safety and effectiveness of the new device.
For information about the HeartMate III Left Ventricular Assist System Clinical Trial and the Mechanical Circulatory Support Program at NYP/Columbia, visit columbialvad.org or call 212.305.6003.