Congratulations to Angie E. Heller, recipient of the Centers Health Care Patient Advocacy Award!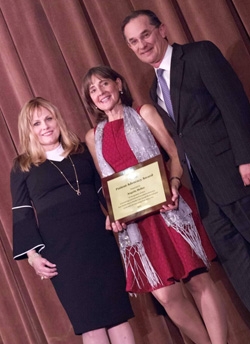 On March 18, 2017, our very own Angie E. Heller was awarded the Centers Health Care Patient Advocacy Award at the Centers Health Care 2017 Award Gala.
The Centers Health Care Patient Advocacy award was created to recognize a social worker who best exemplifies the role of patient advocate and has challenged, impacted, or effected change within a health-related field. The award recognizes a champion of patient rights and a leader who demonstrates professionalism, a collaborative approach to problem solving and a positive attitude.
Angie has been recognized as one of the best by leading professionals within the health care industry. She was chosen by a panel of judges, from among 10 social workers, who were nominated by their peers.
This year's judges were:
Mark Geller, MD CEO of Nyack Hospital
Jeffrey Farber, MD, MBA CMO of Mt. Sinai Health Partners
Kimberly Eisen, MSW
Ginny Mantello, MD Neuroradiologist at Montefiore Medical Center 
Jill P. Farabelli, LCSW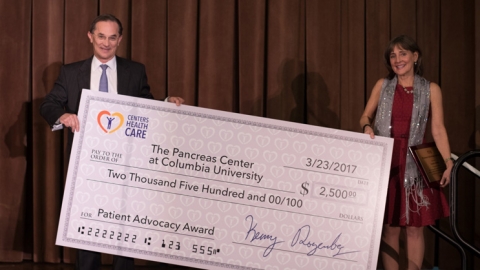 Angie was nominated by Marie Carmel Garcon at New York Presbyterian/ Columbia University Medical Center. In her heartfelt nomination letter, Ms. Garcon wrote "Angela's passion lies with terminally ill patients. Ms. Heller finds all the love in her heart to help them and their family members understand how to communicate with their children … Her contributions provide a foundation for them and their families to develop and maintain healthy relationships throughout the cancer ordeal. … She is brave enough to accept intimacy and directly encounter others who are enduring great suffering. ... She demonstrates that in this exceedingly stressful world of medicine, what we will remember at the end of our careers is how we have touched lives in a compassionate and kind manner".
In addition, Centers Health Care presented a generous donation of $2,500 to a charity of the winner's choice. Angie chose the Pancreas Center at Columbia University Medical Center, a multidisciplinary center specializing in the treatment of pancreas disorders.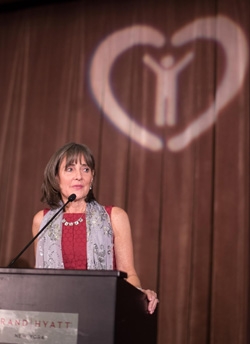 In her graceful acceptance note, Angela wrote that the donation was an opportunity for her to support patients at the center – patients whose courage in the face of overwhelming odds had taught her so much. "The pancreas [support] group I facilitate … has had a profound effect on me. This is a devastating disease and the patients who are diagnosed with pancreatic cancer have shown me the true meaning of love, bravery and resilience."
Dr. John Chabot, Executive Director of the Pancreas Center, had the honor of introducing Angie and accepting Angie's generous gift to our center.
Angie shows us all the true meaning of social work. Congratulations Angie and thank you for all you do.