Pancreatic Cancer Awareness Day: Advances in Surgery and Immunotherapy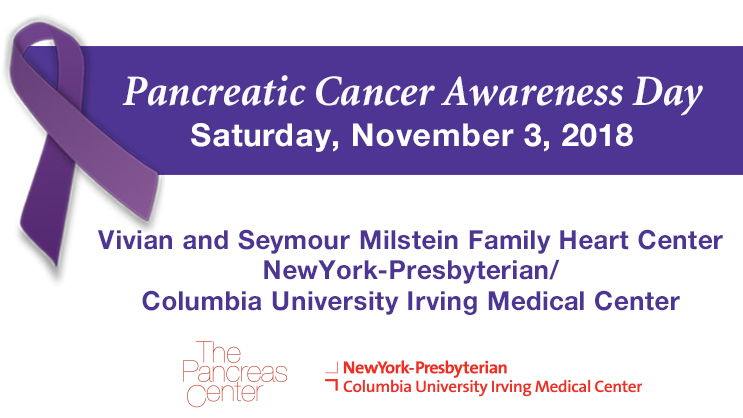 Mark your calendars for Pancreatic Cancer Awareness Day, an educational program for patients and their families on November 3, 2018, from 1 to 3pm at NewYork-Presbyterian/Columbia University Irving Medical Center, 173 Fort Washington Avenue in upper Manhattan.
Now in its eleventh year, Pancreatic Cancer Awareness Day focuses on recovery stories, the latest advances in treatment, and the importance of multi-disciplinary care. Our annual event features experts from the Pancreas Center at NYP/Columbia, the Muzzi Mirza Pancreatic Cancer Prevention & Genetics Program, and Herbert Irving Comprehensive Cancer Center.
"Over the past decade the cure rate for pancreatic cancer has more than doubled," says John Chabot, MD, Director of the Pancreas Center at NYP/Columbia. "Early detection is key and surgery remains the best way to achieve a cure." Dr. Chabot and his team perform the highest volume of surgeries for pancreatic cancer in the New York metropolitan area and are known for their aggressive approach to this condition.
Columbia researchers are exploring another promising treatment, immunotherapy, mobilizing the patient's own immune system to fight the disease. "We are currently testing several combinations of drugs, pairing immunotherapy and chemotherapy, in partnership with Roche Pharmaceuticals. Our goal is to find out which approach will be most effective for our patients," adds Dr. Chabot. On Pancreatic Awareness Day, Dr. Chabot will discuss the advantages of participating in these clinical trials.
In addition, our experts are also making inroads with genetic testing. In the age of personalized medicine, every patient will have genetic testing to help determine the best therapy for them and to find out if other family members are at risk.
The Pancreas Center has the only dedicated patient support group in the city and offers one-on-one psychological counseling as well. "Our patients and caregivers go through hills and valleys of emotions as they cope with this disease," says Dr. Chabot, "and we make sure they have the full range of psychosocial support."
What can you expect on Patient Awareness Day?
This event combines patient stories with presentations by a full range of medical professionals. "We begin with videos of our patients. Then our panel, consisting of doctor, nurse, genetics counselor and psychologist, will talk about how they helped these individuals, and how they work together at the Center to provide the highest level of coordinated care," says Dr. Chabot.
The audience includes patients who are just learning about their disease along with survivors who have been cancer-free for several years. Family members and caregivers are also invited to share their experiences. Refreshments will be served.
This event will be held at the Vivian and Seymour Milstein Family Heart Center Myrna L. Daniels Auditorium 173 Fort Washington Avenue in upper Manhattan.

For more information, contact
Christine Rein
Senior Events Manager/Development Liaison
Columbia University Irving Medical Center
Department of Surgery, CME Office
Phone: 212.304.7814
Fax: 212.304.7811
E-mail: cmr2146@cumc.columbia.edu
Learn more about the Pancreas Center here: columbiasurgery.org/pancreas
To make an appointment, please call 212.305.9467.