Nicholas Morrissey: A Lesson in Humanity with the Accidental Surgeon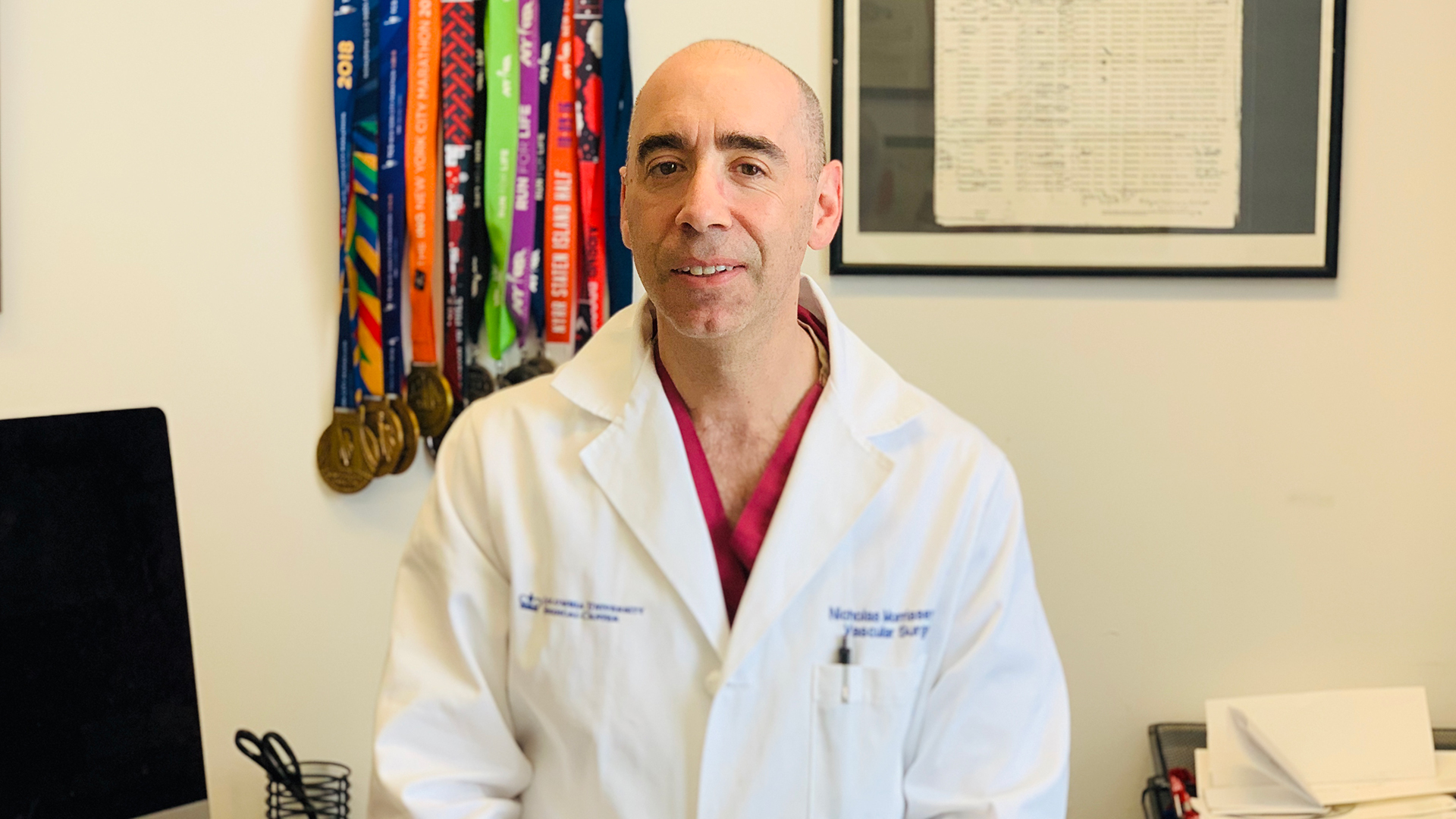 By Lindsay Gandolfo
It was 8 am on a Thursday, and Nicholas Morrissey, MD, had already completed a proper morning. He taught residents from 6:15-7, attended a conference from 7-7:30, then met with his first patient in pre-op. 
Seated at his desk with a warm cup of coffee, he scrolled through the whopping 36 patients on his schedule that day, but his office had an air of tranquility. The small, lit candle by his keyboard probably helped, but it was his presence that filled the room with ease. If he were stressed, you would never know it. 
Dr. Morrissey is a vascular surgeon. He treats diseases of the arteries, veins, and the lymphatic system in every part of the body but the brain and heart. Management of the vasculature is wide-ranging and often includes creating ports for vascular access (like dialysis), clearing plaque from blocked and gnarled arteries, rerouting blood vessels, repairing circulatory issues, restoring wounds, and amputation. 
"In medical school, I realized I really liked doing things. I liked getting things done early in the day and efficiently, so surgery seemed to make sense," he says. "But my sensibilities are much more warm and fuzzy." 
His office lends generous reinforcement to said sensibilities—a yoga mat laid open on the floor, dozens of medals from marathons and half marathons are strung on the wall, mementos and family photos clutter the window sill and bookshelves, and some form of Simpsons memorabilia is usually within view. 
There's a plaque commemorating his service in the Army and a framed copy of the ship's manifest from Ellis Island when his grandfather first emigrated to America that hangs above his desk. He's fun-loving and serious, straightforward and discerning, a self-described open book. 
"I sometimes call myself the accidental surgeon, not because I hate it—because I don't hate it, I love it," says Dr. Morrissey. "But most people when they meet me, they say, you're not a surgeon. You're not that personality."
It's clear what they mean. He's not the arrogant, god-like surgeon character they see in films and television. Nick Morrissey is no stereotype. "It's funny, I'm not an anomaly here [at Columbia] either," he adds.
Five of the 36 appointments this particular Thursday were surgeries: two angiogram/angioplasties, a lymph leak repair in someone who recently underwent a heart transplant, and two arteriovenous fistulas, a type of vascular access for dialysis.
Before he could properly express an ounce of dismay at the timetable, the phone rang—it was the OR scheduler with good news. She was able to secure a back-to-back in the same operating room. To that, Dr. Morrissey exclaimed, "You're the best! I'm so grateful to you today, I really thank you so much," into the receiver. 
Not the stereotype, indeed. 
The day's mental preparation continued until an NP popped her head in with a question about a patient's stagnant wound in an exam room down the hall. He was someone they knew well, a commonality that would soon reveal itself to be the norm around here. 
Without a beat, Dr. Morrissey flowed right into speaking Spanish as he entered the room. Removing the language barrier had an instant impact; the communication created a sense of comfort and clarity amid tremendous pain. He described his fluency as a matter of respect for the many Spanish-speakers he treats. An invaluable skill he learned in high school. 
Unlike many of his surgical peers at the hospital, Dr. Morrissey is from Washington Heights, and he was born at Columbia. "People get a kick out of it when I tell them I was born here, at Babies Hospital [now CHONY]," he says. 
He lived right up the street until his family moved to the suburbs of New Jersey in the seventies, when he was three. But after undergrad, medical school, and residency at the University of Rochester, he returned to his roots and has been on the Upper West Side ever since. This is his home. 
The next thirty minutes were a methodical plunge from curtain to curtain as Dr. Morrissey prepared the second and third surgical patients of the day before heading to the O.R., where his first case—a patient with an artificial heart and severely blocked artery in the groin—awaited angiogram and angioplasty, diagnostic x-ray imaging followed by clearing and expanding of the artery. 
It's not that Dr. Morrissey operates so differently from other surgeons, but he has a unique blend of ease and earnestness that permeates the air. He'll take however many minutes you need to feel comfortable about the condition and treatment at hand. He has this way of getting low, eye level with his patients, and makes a point to initiate physical contact—a squeeze of the hand, or a cup of the shoulder. 
There's a palpable respect for the experience of being injured and sick. Dr. Morrissey strives to earn his patient's trust; he doesn't expect it up front. 
"When I was a third-year med student, my mom died. She was here [at Columbia]. She died at a very young age. She had lung cancer and was barely 50 years old. It was right here," he pointed toward the hallway as he suited up for surgery. "So that has really shaped my personality because I lived my third year of med school as family to a patient. I became pretty sensitive to the things that are important."
Leading with empathy nourishes his work. It's woven through the team too. From residents and PAs to patients and their family members, people went out of their way to share their own stories of his sincerity, even when he wasn't around.
"I do treasure the closeness I have with a lot of people, and it's not fake," says Dr. Morrissey. "I get a lot of joy out of it." 
Those relationships last and grow. People come back. They come back with referrals and family members. Some even treat him as their primary doctor. "I found that the human side of it really had this therapeutic impact, and that just sort of drove me as I went through my years of training," he says. "I think it's truly the reason why I have such a loyal following with my patients." 
The day continued at warp speed. Three surgeries were completed by noon with a flurry of consults and post-op appointments peppered in between. Some cases were straightforward; others were challenging. Dr. Morrissey only ever seemed frustrated when he couldn't provide noticeable relief for someone. 
"The things that affect me the worst are when people are unhappy, when an outcome isn't what we hoped," he says. "You ask yourself if you did everything the right way, and if you can answer yes, then your conscious can be clear."
He continued, "You need to have a healthy respect for the bad things you can do to people. You only stick them, scalpel them, do anything to them when they absolutely need it."
When Dr. Morrissey stopped by his office to take a few bites of a cold lunch in the afternoon, he got a phone call from his best friend, Bill. Their relationship started when Bill was a patient years ago; proof that the loyalty certainly runs deep. After chatting for a moment, he got back to mulling over a tough case, head in his hands, feet propped up on the desk, working through treatment steps.
On the walk back to pre-op before his next surgery, Dr. Morrissey noticed a patient who wasn't on the schedule; he had stopped in before heading overseas. His fistula wound didn't seem to be healing properly after a kidney transplant. Without hesitation, Dr. Morrissey snagged an open exam room in the corner to take a look. It wasn't some performative gesture; it's how the team operates.
"The medicine and the surgery are important, but sometimes people just need to be told that someone cares and that someone is there who understands. It goes a long way," he says. "I'm proud that I've developed a reputation for being kind to people because that's what really drives my practice." 
Through every hour of grind, hustling between moments of tension back to levity, his outlook somehow never wavered. "This is such a lucky job," said Dr. Morrissey before suiting up for the fourth surgery. "How can I be so lucky?"
---