Columbia Colorectal Welcomes Two New Surgeons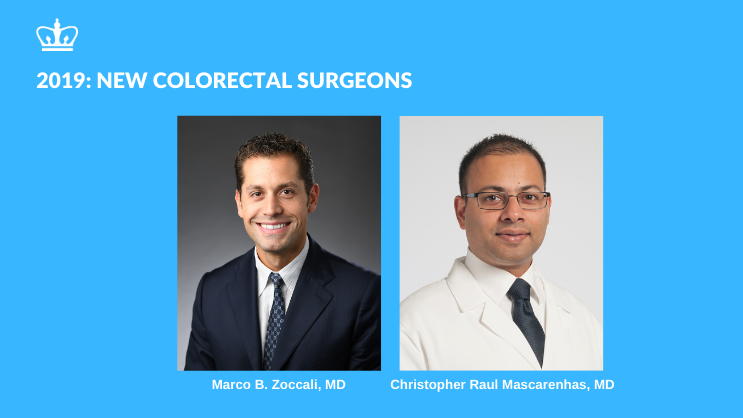 The Division of Colorectal Surgery at Columbia offers wide-ranging surgical care for colon and rectal disease across 11 locations in the New York metro area. In 2019, the Division welcomed two new surgeons with expertise in advanced surgical treatment of inflammatory bowel disease (IBD) and other colorectal conditions. 
Christopher Rahul Mascarenhas, MD, joins the Colorectal Surgery team as an Assistant Professor in Surgery. Dr. Mascarenhas has a special interest in transanal minimally-invasive and transanal total mesorectal excision surgery techniques for treating colon and rectal cancer. He also has an interest in inflammatory bowel disease (IBD), pouch surgery, and advanced colonoscopy procedures. Dr. Mascarenhas received his medical degree from St. John's College in Karnataka, India before coming to Michigan State University for his surgical residency. After a colorectal fellowship at the Ferguson Clinic, Dr Mascarenhas was in colorectal practice for 5 years and then returned to an advanced fellowship in re-operative abdominopelvic colorectal surgery. Dr. Mascarenhas comes to Columbia from the Cleveland Clinic, where he was a clinical associate staff surgeon.
Dr. Mascarenhas sees patients in Hudson Valley, Washington Heights, and New Jersey.
Marco B. Zoccali, MD, also joins the Colorectal Surgery team as an Assistant Professor in Surgery. Dr. Zoccali specializes in minimally-invasive approaches to treat a broad range of colorectal diseases including IBD, colon and rectal cancers, and benign colorectal diseases. Dr. Zoccali received his medical degree at the Catholic University in Rome, Italy where he also completed his surgical training in Italy. He decided to come to the US and completed a Minimally Invasive Gastrointestinal Surgery Fellowship at the University of Chicago followed by a surgical residency at Weill Cornell Medical Center. He then completed his Colon and Rectal Surgery Fellowship at the University of Chicago. Beyond his clinical practice, Dr. Zoccali is also an avid researcher. He has published more than 40 articles in major surgical journals including The Journal of The American College of Surgeons, The British Journal of Surgery and Inflammatory Bowel Disease, and has contributed to several book chapters. 
Dr. Zoccali sees patients in Washington Heights, the Upper East Side, and New Jersey.
Both Dr. Mascarehhas and Dr. Zoccali can be reached for appointments or more questions by calling (212) 342-1155.
---