Facing Colon Cancer In the Time of Covid
Shared from our partners at NewYork-Presbyterian Hospital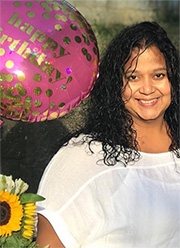 Nadiuska Terrero thought her biggest medical hurdle was behind her after a kidney transplant in 2010. A decade later, in the midst of the COVID19 pandemic, she again found herself facing an uphill challenge – stage I colon cancer.
As part of routine bloodwork in the wake of her transplant, Nadiuska's doctors at NewYork-Presbyterian Hospital/Columbia University Irving Medical Center
discovered an abnormality that led to her eventual diagnosis this past April. Her planned surgery had to be delayed through May, but after a successful procedure, her care team – led by Dr. P. Ravi Kiran, Division of Colorectal Surgery chief and program director – determined Nadiuska was healthy enough to bypass both chemotherapy and radiation.
"I trusted in God and in my doctors," said Nadiuska. "Their care was simply amazing. I never had to worry, and that's made all the difference."
In light of the novel coronavirus, Nadiuska's follow-up regimen has included frequent virtual consultations with Dr. Kiran and periodic in-person visits with medical oncologist Dr. Rachael Safyan – a true multidisciplinary effort to get this mother of two back to her family right on time for her big day: a very happy and healthy 45th birthday—a celebration of life on the road to recovery.
---
Don't miss an update on news and content from Healthpoints, the blog from the Department of Surgery at Columbia.