Fixing the Gap in Breast Cancer Care in African American Communities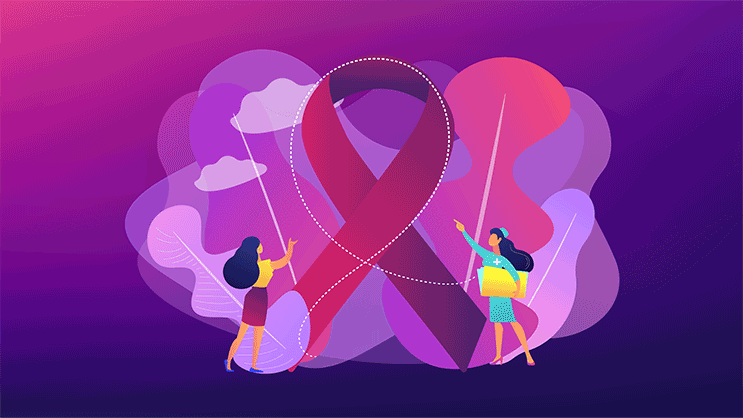 By Michelle Azu, MD
Cancer is a major public health problem worldwide. In the United States, it is the second leading cause of death, and it is estimated that 39% of men and 27% of women will be diagnosed with invasive cancer in their lifetime - that's more than one in three people. According to the latest available data from the New York State Cancer Registry, the overall cancer incidence rate in New York is the fourth-highest among all 50 states and Washington, D.C. 
These incidence rates impact the black community at a much higher level, especially in breast cancer care. While overall survival has improved over time, black women are more likely to die at every stage of breast cancer when compared to other groups. African American women are nearly twice as likely as white women to be diagnosed with triple-negative breast cancer, a more aggressive and difficult-to-treat type of breast cancer.
While many programs and nonprofit organizations exist, there is still a critical need for better collaboration and care between healthcare providers, community leaders, and the public, in order to tackle these issues and reduce cancer through prevention, education, and access.
A Multi-Pronged Approach to Reducing Cancer Risk
#1: Access to Care
Recent studies suggest that removing socioeconomic barriers to care, including more access to care in African American communities and more focus on breast health education, can help ease this disparity, but official action needs to be taken at the state level to help disseminate more equal care.
Bottom line: Speak with your primary care physician, especially if you notice a change in your health and/or breast health, specifically. If you have trouble scheduling an appointment at a convenient location, contact the New York Cancer Consortium for details on care closer to you.
#2: Obesity
A major contributor to cancer incidence is obesity.  Nearly 20 percent of all cancer cases are caused by poor diet, excessive alcohol use, physical inactivity, and excess weight. Obesity is more prevalent among African American adults than among white and non-Hispanic adults, and black women are more heavily impacted by obesity than white, Hispanic, and non-Hispanic women.
Bottom line: start moving and eating healthy. Focusing on improving your activity levels and diet may help lower your overall cancer rate.
#3: Income Inequality
Communities afflicted by income inequality, especially those who have seen an economic recession locally, can benefit from mobile clinics and additional attention from the Department of Health on both obesity and cancer risk education and care.
Next Steps for Healthcare Providers
New York State has a comprehensive cancer control plan that examines many aspects at play in breast cancer care, including early detection, treatment, survivorship, and the healthcare workforce. The New York Cancer Consortium is a network comprised of individuals and organizations, including the New York State Department of Health, designed to collaborate and pool resources aimed at addressing the cancer burden and disparity levels in the state, and keep the New York state cancer control plan in motion over several years.
By improving access to care and income inequality, and by increasing education around healthy foods and lifestyle habits, we can all take small steps every day to reduce cancer and disease risk. 
Michelle Azu, MD, is a breast surgeon at Columbia University. She is the Director of the Breast Surgery Program at NYP/Lawerence Hospital.
---
Don't miss an opportunity to learn more about the magic and mystery of health. Subscribe to Healthpoints and see all sides of medicine.