Heart Safety for Breast Cancer Patients
Innovative approaches limit the radiation-related risk for developing heart disease.
A growing body of evidence has been demonstrating that certain women undergoing radiation therapy for early-stage breast cancer may have an elevated risk of developing cardiovascular disease. In a study published in JAMA Internal Medicine in October 2013, NewYork-Presbyterian/ Columbia University Medical Center researcher David J. Brenner, PhD, DSc and colleagues published their findings that certain treatment factors increased the risk of heart attack and ischemic heart disease.
In their study, Dr. Brenner's team analyzed the effect of four factors:
Radiation dose — The amount of radiation absorbed by the body during treatment.
Baseline cardiac risk — Whether the patient had existing cardiac risk factors, such as elevated cholesterol levels or high blood pressure.
Treatment side — Whether treatment was performed on the left or right side.
Body position — Whether the patient was in a supine or prone position during treatment.
The data revealed that women who had left-sided radiotherapy in a supine position had the highest measured cardiac dose.
"Because the effects of radiation exposure on cardiac disease risk seem to be multiplicative, the highest radiation exposure risks correspond to the highest baseline cardiac risk," wrote Dr. Brenner in the study. That means that women who already have several underlying cardiac risk factors such as smoking, high cholesterol or high blood pressure, need more careful treatment.
Daniel S. O'Connor, MD, PhD, Assistant Professor of Clinical Medicine and Co-director of the Center for CardioOncology, emphasizes the need to treat underlying cardiac risk factors in patients undergoing radiation therapy.
"Cardiovascular health is an important component of long-term breast cancer survivorship. The current successes of early detection, early treatment and high cure rates have changed the patient-physician discussion about the prognosis of breast cancer. Results from Dr. Brenner's study add to the framework of this discussion, including aggressive treatment of high blood pressure, high cholesterol, and smoking cessation to ensure long-term cardiovascular health to breast cancer survivors."
Advances in reducing cardiovascular risk during breast cancer treatment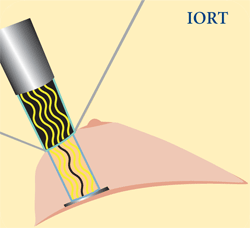 Breast cancer patients should also be aware of the advances made in radiation oncology during the last decade. At NewYork-Presbyterian/Columbia, numerous strategies have been instituted to minimize cardiovascular effects from breast cancer treatments. "We've made some important advances since Dr. Brenner's study began in 2005," says K.S. Clifford Chao, MD, Chair, Department of Radiation Oncology at NewYork-Presbyterian/Columbia.
Today patients at NewYork-Presbyterian/ Columbia have access to innovative approaches which limit the radiation-related risk for developing heart disease, including:
During radiation therapy, a patient can lie on her stomach with her breast suspended downward. Therapy is then targeted at the affected area with no beams directed toward the heart.
With newer, more sophisticated imaging systems, radiation oncologists can now adjust for variations in the patient's anatomy, tumor size, weight, and internal motion, as well as changes in tumor biology and function. This approach, called Adaptive Radiotherapy (ART), enables physicians to create a highly personalized treatment plan for every patient, while also limiting the amount of radiation exposure within the treatment field.
A novel imaging technology called CTVision also helps to reduce radiation to critical body structures. The CT scanner pivots around the patient, taking a series of pictures that pinpoint the exact location to receive radiation therapy.
Partial breast irradiation allows physicians to hone in on the actual field of cancer, delivering a larger dose directly to the affected site.
A technique called hypofractionation allows physicians to give patients higher doses of radiation in fewer treatments, thereby limiting the number of exposures.
Intraoperative Radiation Therapy (IORT) delivers a single highly-targeted dose of radiation immediately after lumpectomy and can significantly reduce the radiation that early stage breast cancer patients receive. "Research shows this is as effective as whole breast radiation for patients with early disease," says Sheldon Feldman, MD, Chief, Division of Breast Surgery.